10 Foods to Boost Your Low Testosterone Levels Naturally
10 Foods to Boost Your Low Testosterone Levels Naturally
Top 10 Foods to Increase Your Testosterone Levels Naturally Testosterone is one of our most essential hormones for both men and women, therefore it's critical that we pay attention to how it's handled in our bodies. In this article, we will look at the top 10 testosterone boosting food items you can consume to boost your testosterone level.
Number 1: Honey
Honey is a sweet, viscous food substance produced by honey bees and similar insects like stingless bees. It contains boron which is a naturally occurring mineral that may be found in both food and the environment. It is said to aid in the growth of testosterone levels, also in the development of strong bones and muscles, as well as the improvement of cognitive abilities and muscular coordination. Therefore, if you are running low on testosterone you may want to consider adding honey to your daily diet.
Number 2:Garlic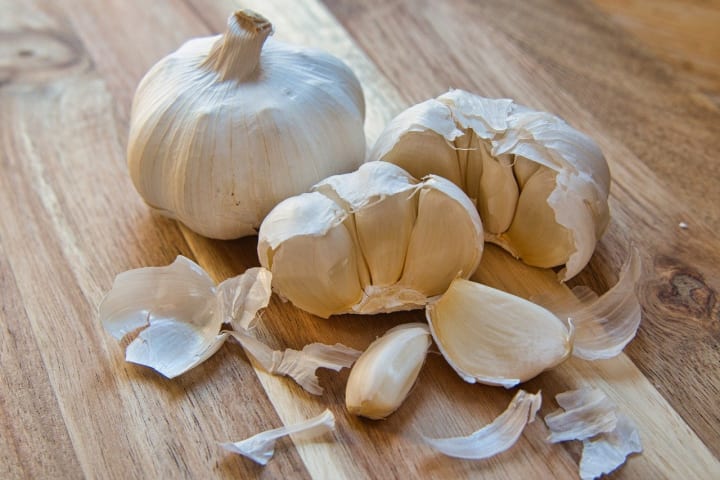 Garlic is one of the world's healthiest spices. It contains a substance called allicin, which can help reduce cortisol levels. The adrenal gland, which also produces testosterone, produces cortisol. When your body is stressed, it generates cortisol, which affects other bodily functions, including testosterone production. As a result, lowering cortisol levels in your system allows the adrenal gland to produce testosterone more efficiently. So, while garlic isn't a testosterone booster itself, it is a cortisol suppressor and by association raises testosterone levels.
Number 3: Eggs
Eggs are of many types, with the most popular being the chicken eggs. Chicken eggs are rich in Protein, cholesterol, vitamin D, and omega-3 fatty acids, these minerals help in testosterone production. Eggs are a multipurpose meal that not only boosts testosterone levels but also aids in muscular growth. Eggs should be consumed as part of a well-balanced diet to get the health advantages.
Number 4: Almonds
Almonds are very nutrient-dense, with a variety of vitamins and minerals. Almonds are high in zinc, a mineral that has been found to boost testosterone levels in men who are deficient in the mineral. The pituitary gland may be unable to produce essential substances that boost testosterone production if your zinc levels are insufficient. You may assist prevent this from happening by consuming zinc-rich foods and avoiding a drop in testosterone levels.
Number 5:Oysters
Oyster is the common term for many groups of salt-water bivalve molluscs that dwell in marine or brackish environments. Oysters are commonly thought to be aphrodisiacs, and there is evidence to support this. Testosterone increases libido, and oysters are naturally high in zinc. As previously stated, zinc is required for the proper production of testosterone, and it's deficiency has also been linked to infertility caused by low testosterone levels.
Number 6:Spinach
Spinach is a flowering plant with lush green leaves that is native to Central and Western Asia. Its leaves are a popular edible vegetable that may be eaten fresh or after being preserved. Spinach has long been thought to be one of the most effective foods for increasing testosterone levels. One of the most well-known superfoods, spinach, is a natural source of magnesium that has been linked to higher testosterone levels. Spinach also contains vitamin B6 and iron, both of which are excellent testosterone builders.
Number 7:Porridge Oats
Porridge oats are high in B vitamins, which are essential for testosterone production. B vitamins come in a variety of forms, and many of them may be found in testosterone-boosting foods. Vitamin B6 is one of the B vitamins that has a direct function in testosterone production by suppressing estrogen production and so allowing testosterone levels to grow. Oats are high in a number of B vitamins, making them one of the best meals for boosting testosterone levels.
Number 8:Lemons
Lemons, as well as other citrus fruits, are excellent testosterone boosters, they, like garlic, assist to decrease cortisol levels, allowing testosterone to be produced more easily. Not only that, but they also contain vitamin A, which is necessary for testosterone production and can help reduce estrogen levels, making testosterone more effective.
Number 9:Salmon & Tuna Fishes
Salmon contains magnesium, vitamin B, and omega-3 fatty acids, which have been shown to enhance testosterone levels, a good quality wild salmon is a great addition to the list of testosterone boosting foods. Not only that, but it also aids in the reduction of the 'Sex Hormone Binding Globulin,' which makes testosterone ineffective. Also, Tuna is high in Vitamin D, which, according to experts, can help increase testosterone levels by up to 90%. If testosterone levels are low, it might have a greater influence on your body. Vitamin D is important for sperm count development, and tuna is a good source of this vitamin, especially if you don't get much time outside.
Number 10: Bananas
Bromelain, an enzyme found in bananas, is known to help increase testosterone levels. Bananas are also great for keeping energy levels up and lowering antioxidants, making them the ideal on-the-go snack. Ensure to take bananas as often as possible to improve your testosterone levels and boost your sex drive. Thank you for reading.