Your Fun Christmas Advent
Reading & Activity Christmas Advent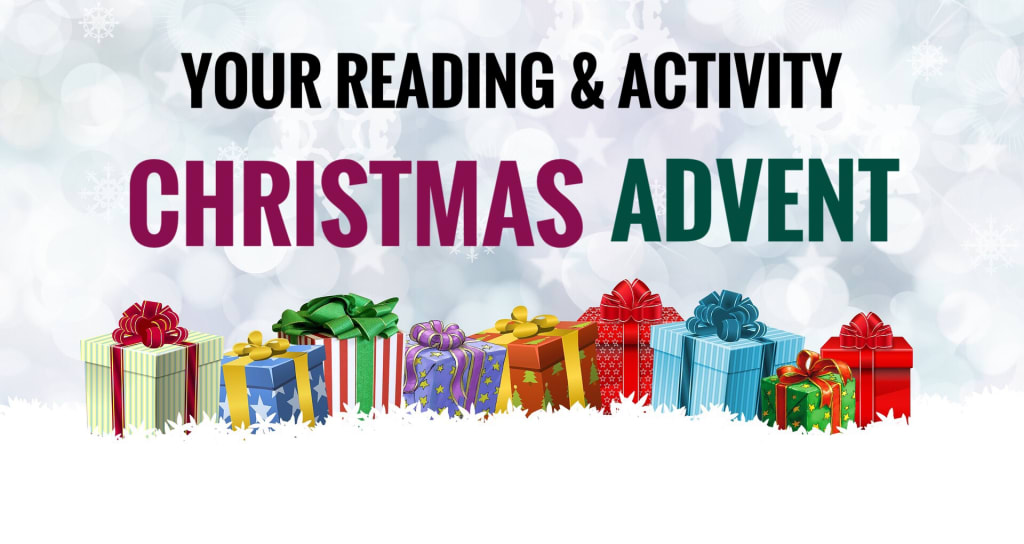 Soon enough Christmas will be upon us. Which, for me, means lots of Christmas book reading and Christmas crafts with the little one. Over the last few years we have gathered a selection of Christmas books for our Book Advent and gained lots of Christmas crafts for our activity Advent. Reading and creating every day up until Christmas makes us feel extra Christmasy and we wanted to share our books and activities with you so that you can join in on the fun. I know it seems early, but everyone needs time to prepare.
Below you will find a Christmas book for every day of Advent, along with a Christmas activity that you and your children can enjoy.
Book Advent—One for each day of Advent
The Snowman by Raymond Briggs
Little Robbin Red Vest by Jan Fearnley
One Snowy Night by Nick Butterworth
Mr. Christmas by Roger Hargreaves
Brambly Hedge 'Winter' Winter Story' by Jill Barklem
Mogs Christmas by Judith Kerr
Christmas Stories by Enid Blyton (25 stories)
Harry the Christmas Mouse by N.G.K
Big Bear, Little Bear by David Bedford
Father Christmas by Raymond Briggs
Stick Man by Julia Donaldson
Is it Christmas Yet? by Jane Chapman
The Best Christmas Ever by Marni McGee
Christmas in Exeter Street by Diana Hendry
Ten Christmas Wishes by Claire Freedman
The Jolly Christmas Postman by Allan and Janet Ahlberg
The Christmas Eve Tree by Delia Huddy
The Nutcracker by Michael Hague
Mrs Pepperpots Christmas by Alf Proysen
Mouse's Christmas Wish by Judi Abbot
The Snowman and the Snowdog by Raymond Briggs
Is it Christmas by John Prater
The Polar Express by Chris Van Allsburg
The Night Before Christmas by Clement C Moore
Activity Advent—One for each day of Advent
1. Fake Snow
Mix baking powder with hair conditioner until you have the desired consistency, then have fund playing in the snow.
Fake Snow Recipe
1⁄2 cup Hair Conditioner
1 cup Baking Powder
How to: Tip your baking powder into a bowl and pour in your conditioner. Mix with a spoon and then tip onto your desired surface.
Make it extra festive by adding some glitter.
2. Green handprint wreath
Print several handprints onto paper using green paint. Allow to dry, and cut out. Stick onto a cardboard wreath and add a lovely red bow.
3. No bake clay Santa decorations
Mix 1 part PVA glue with 2 parts cornflour.
Mix and then knead out any lumps.
Roll out and stamp a handprint in the middle.
Cut around the hand leaving a border.
Poke a hole through the top and allow to dry overnight.
Then paint and draw on your outline.
Hang with ribbon.
4. Footprint Reindeer Cards
Using brown paint stamp a footprint onto the front of a plain card. Allow to dry then draw on antlers. Stick on some googly eyes and a red Pom-Pom nose.
5. Paper chains
Cut strips of coloured paper all at the same width then, using glue or double sided tape, stick them together to create a chain.
6. Write a letter to Santa
This is a great activity to help children develop their writing skills with an element of fun and excitement. Also check online as various places provide addresses for you to send your letters and get a response from Santa.
7. Create a Christmas bunting for the fireplace.
Let your creative juices flow. Draw Christmas pictures or cut out little card Christmas Trees, decorate them and then attach to ribbon to hang.
8. Visit Santa
Visiting Santa is a lovely way to enjoy Christmas. Don't forget to take pictures with Santa and one with the elves. They make great memories and you could even use them as Christmas cards for family.
9. Sing Carols with instruments
Have a music packed morning/afternoon singing carols with different instruments. Example: Jingle Bells whilst ringing bells.
10. Watch a Christmas movie
There is nothing quite like the magic of a Christmas movie. So get some popcorn and snuggle down. Don't forget blankets to make it extra warm and cosy.
11. Do some Christmas Colouring
A nice chilled and quiet activity. There are some great pictures you can print online of Christmas things, or draw and colour your own.
12. Christmas fun bath
Tint bathwater with bath paint or food colouring. Blow up small coloured balloons for baubles and add glow sticks for the lights.
13. Winter walk to see the lights
At Christmas time there are lots of lights to be seen. But check out your local paper as some roads will often all decorate their houses to raise money for charity. Children will love seeing all the magically lit houses.
14. Make Christmas tree decorations
A yearly tradition that everyone can get involved in. Sit and make decorations for the tree. This is something you can do year on year. It will be lovely to see what the children come up with each year.
15. Decorate your own Christmas jumper
This is a really fun activity and kids will love decorating their own jumper to wear on Christmas Day.
16. Make an angel for the tree
You can use all manner of craft materials for this. But the old wooden pegs work really well as the main body.
17. Pine cone Christmas trees
Go for a walk and collect some pine cones. When you get home you can sit and paint them to look like trees. For younger toddlers you can put the paint and cone into a freezer bag and they can shake them up to cover the cones. This is also a lot less messy. Once dry make them into a lovely Christmas scene or Christmas tree farm.
18. Snowflakes for the windows
This super easy activity is full of joy and excitement. Fold paper in half, then again and again. Ensuring you don't cut all the way down your folded sides cut out chunks of paper. Then unfold and stick to windows.
19. Felt Christmas tree
Cut a Christmas tree shape out of green felt and glue a star to the top and pot to the bottom. Then cut circles from different coloured felts and let children decorate it. They can do this time and time again or once finished you can stick the felt down and hang somewhere for all to see.
20. Snow globe Sensory jar
Using an old jar, glue some wintery characters and scenery to the inside of the lid with waterproof glue. Allow to dry. Once dry, put some glitter into the jar with a little glycerin and top up with cool boiled water. Add some more waterproof glue to the top and place the lid on sealing it shut with your wintery scene currently upside down. Once you have allowed to dry turn the right way up and watch the glitter snow down.
21. Make Pom-pom Decorations
Make white pom-poms and thread them onto cotton. Then hang like snow.
22. Bake gingerbread men to eat with hot chocolate
One those cold wintery days, it's nice to stay in with some warm comforts. Either bake from scratch or get ready made gingerbread and bake. Decorate and enjoy with hot chocolate.
23. Make magic reindeer food
On Christmas Eve eve it's good to make some magic reindeer food for Rudolph. Mix porridge oats with glitter and sequins. Then put it in the fridge ready to leave out on Christmas Eve.
24.Candy Cane Hunt
Because preparation on Christmas Eve can be key to getting everything done keep excited children occupied by sending them on a candy cane hunt around the house. Tell them how many there are to find so that it helps with their counting skills too. Leaving you with some time to get things ready for the big day.
I hope you enjoy getting in the Christmas spirit with us.