WHAT I WANT TO BE WHEN I GROW UP
The path of a mid-life crisis-ing lawyer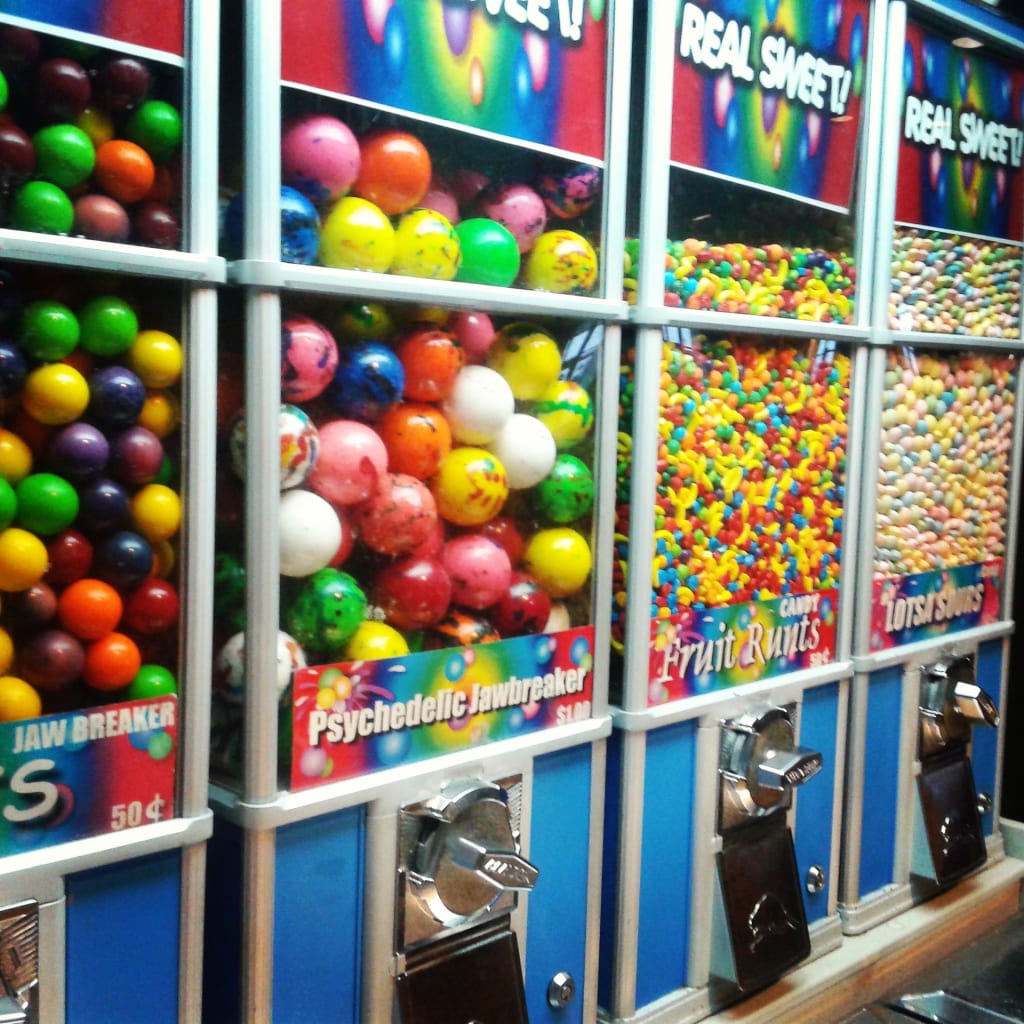 25-cent candy-machines
What do I want to be when I grow up? I jokingly refer to myself as a mid-life crisis-ing lawyer who happens to have a foot in politics. The truth is that over fifteen years of serving some the world's most vulnerable populations can leave you emotionally and spiritually drained, and as I look towards my older colleagues who are experiencing their second and third heart attacks, it is apparent that continuing to do this work is more taxing than I can handle.
My so-called mid-life crisis stems from my profession, identity and values being so tightly interwoven. Who am I when I am not an attorney and who do I want to be when I am not an attorney? How do I even start to figure out what I want to be when I grow up? Part of the answer is that the "who" is more important that the "what" of that question. I want to be someone who helps make the world a better place, but not at the expense of myself. In my search, I reached out to several friends for tips, these were women I thought had figured out what they wanted to be when they grew up. One friend suggested I think about all the things I wanted to be when I was a child and there, I would find my inspiration; the answer was an attorney and an astronaut. It turned out not be helpful advice. Another friend suggested I think about things I always wanted to learn-I always wanted to become dexterous with chemical formulas, but I hate chemistry, so that aspiration ends there. Finally, a third friend asked me to look at what I spend my time on when I am not being paid: Travel, photography, painting, writing and telling people what to do. Voilá! I had an answer, kind of.
I came to the realization that I am passionate about many things, and that to have a sustainable future, the thing I end up doing has to include joy. Over the years, I have not tired of writing, painting, photography, travel or telling people what to do, on the other hand I have been worn out by having to spend years proving to an adjudicator what was obvious to everyone, that being stabbed six times is not very distinguishable from being stabbed seven times.
In an attempt to solve the world's problems in a more joyful way I looked towards what I already have to work with, tools I set up over the years without really investing in them; A blog that mostly discusses things that matter to me as a woman and as an immigrant, a site where I could sell my photographs, I used my paintings to help raise money for non-profits, have trained women in various aspects of running for office or lobbying for causes they cared about, travel to train women and young girls on achieving their goals and a mailing list of about three hundred people who care about the things I have to say.
In some ways I have unknowingly been building to what it is I wanted to be when I grow up and that is to be me. While I call training people "telling them what to do"-it has been one of the things I do that brings me great joy. In fact, I have been an educator for over twenty years and never really considered that as part of my identity; I enjoy it so much, I have taken it for granted. With my years of experience and subject matter knowledge I want to continue that educational trajectory: One where I help women of color in particular and women in general generally navigate a very gendered and racialized employment and business landscape. Women already seek out my advice on managing those rough waters and I would like to turn those relationships into a more formal structure. I would like to offer speech and communications coaching, and trainings to run for office that are specific to women by region where the race is located.
In developing a client base, I can integrate what my other joyful endeavors, writing for a blog, photographs, paintings, and travel-all things that can be monetized when appropriate or used to buttress the training that is provided to these women.
In the end my challenges related to figuring out what it is I want to be when I grow up isn't so much related to employment questions, it is related to my desire to ensure that the work I am compensated to do and my values continue to be closely intertwined and can be do so sustainably. So what do I want to be when I grow up? The answer is simple, a freer version of me who is able to unleash the uninhibited power of women.