What Are Awnings Made of?
Awnings are also made from a variety of materials and can come in many different sizes, making each awning unique.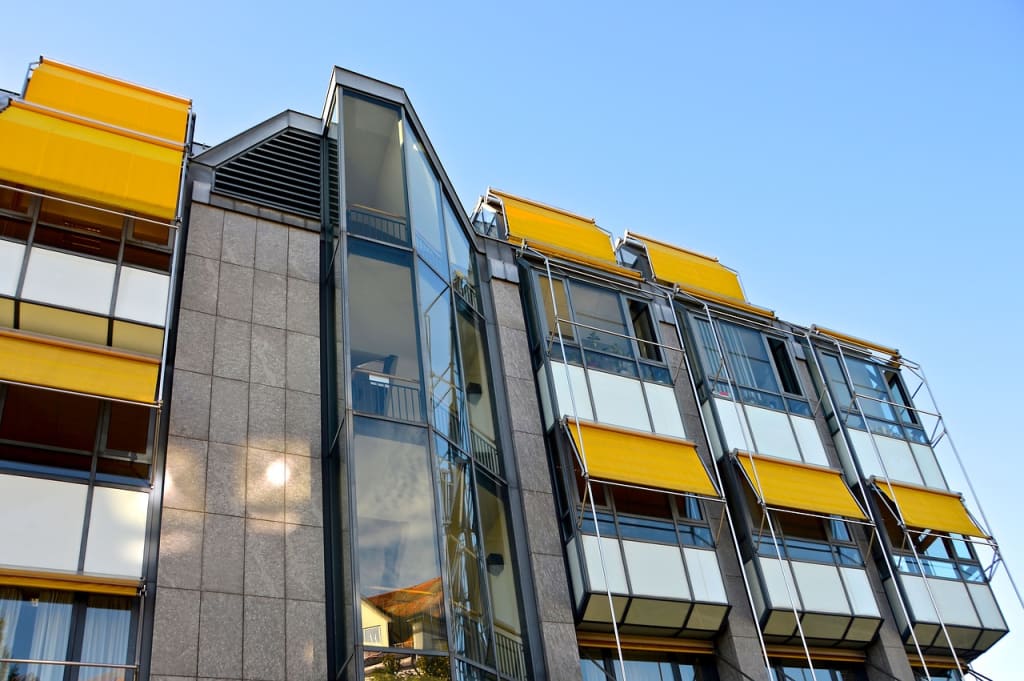 pixabay.com
Awnings are overhanging structures that are often found attached to shop fronts, or to the exterior wall of a building. They can be used for both commercial and residential purposes, with many awnings used as patio coverings.
Awnings are also made from a variety of materials and can come in many different sizes, making each awning unique. The type of material will be chosen by you, the customer, so you should know what to expect when faced with this choice.
What materials can be used for awnings?
Acrylic
Acrylic and acrylic fibres are one of the most popular material choices for awnings, made from plastic threads and invented in 1941. Acrylic has exceptional weather-resistant and durable properties, making it the ideal choice. Awnings made from acrylic are known to last longer than other materials, and typically have a lifespan of around 8 to 10 years.
Whilst acrylic is resistant to water, it is not waterproof. This is due to acrylic being a breathable material, meaning there are tiny gaps in the weave that allows water to escape through. Despite this, the plastic fibres themselves are completely waterproof.
Vinyl
Another of the most popular materials used for awnings, vinyl is known for its strength and durability, holding up in a multitude of different climates. Vinyl can also be laminated, making it resistant to both moisture and UV rays. Laminated vinyl is popular for awnings exposed to various climates, as it can withstand weather conditions.
The lifespan of vinyl is shorter than other materials, lasting between 5 and 7 years before a replacement is needed. This is due to the lower resilience of vinyl, compared to other fabrics such as acrylic and canvas.
Polyester
There are various types of polyester used for awnings, including cloth polyester, synthetic polyester and polyester composite. Polyester is generally a lighter material than others used for awnings, such as acrylic, and is also known to be water-resistant. Polyester can be combined with other materials, like PVC and acrylic, increasing its strength, weather resistance and durability.
Due to its lighter properties, polyester awnings are not suitable for constant use. Constant use of a polyester awning will significantly shorten its lifespan and leave you needing a replacement sooner rather than later. However, if you are planning to use your awning occasionally, polyester might be the perfect material for you.
Fibreglass
Fibreglass is a material used mainly for the awning frame, rather than the canopy. Fibreglass can be used in lieu of steel or poles, and comes highly recommended by many users. Fibreglass is a type of reinforced plastic and is both strong and lightweight in nature. It can be compact and is built to withstand many weather conditions.
Canvas
Canvas is a natural awning material and is extremely resistant to the environment. This means that canvas won't rot or mould with ease, and often has a longer lifespan than other fabrics. The lifespan of canvas awnings ranges from 8 to 12 years, when maintained properly.
Whilst canvas is a cheaper material, it can be easily damaged and can easily fall apart if made to be lightweight. Canvas has the ability to be woven into a lightweight or heavyweight material, creating a breathable and waterproof fabric for awnings.
If you are looking for a strong, durable and extremely weather-resistant fabric for your awning, with a decent lifespan and water-resistant properties, vinyl might be the choice for you. If you have read through this article and are still unsure about your fabric choice, don't stress. Many awning providers will offer you expert advice on material choices, using their years of experience to help you make a decision.
You can buy your brand new awning today, or have one specially made to suit your requirements. Whatever you need, there is an awning out there for you.
list
I am an SEO specialist and committed professional who has the ability to run remarkably successful digital marketing campaigns in the most competitive sectors, using a unique blend of technical and creative expertise.