uTest: The Biggest Crowdtesting Platform (Global + Lots of Work)
uTest is the online platform operated by Applause, a multi-national testing organization. Some people can even earn a full-time income from it.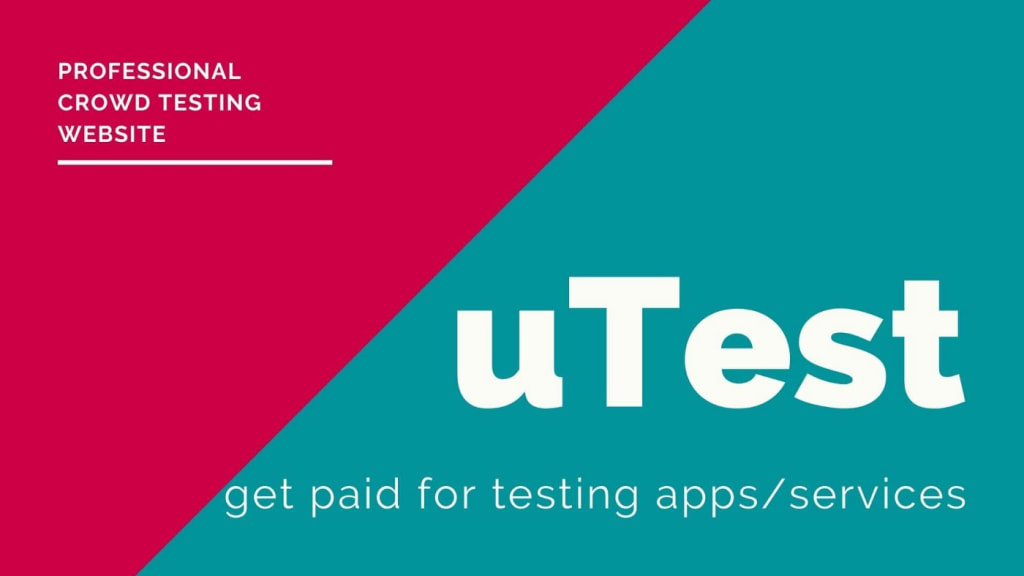 uTest is a very popular crowd testing platform that has lots of work available globally. Unlike Usertesting, which pays you for short 15–20 minute usability tests or surveys, uTest requires you to functionally test websites/apps/services.
The work is similar to Test IO, where you submit bug reports and get paid for it. Test IO is another great platform with lots of work that you can consider for an alternative income source.
uTest has lots of clients globally, including some popular ones like Tesla, McDonalds, MasterCard, Google and Facebook.
Signing up for uTest and Passing the uTest Academy
The uTest signup process is pretty simple and streamlined.
Go to their signup page. Provide your name, email, and date of birth.
Verify your email address, provide other information such as location, the type of devices you have, etc.
Once you are logged in, you will be shown a checklist that will take you through the different parts of uTest and help you explore their interface.
Before you start working, you are required to complete your profile and provide information about the different devices you are able to test with. I strongly recommend that you fill up your profile completely.
After that, you will start receiving emails regarding the various test cycles available for you. You can fill up these surveys to be considered for the project. You can also go to their "Projects Board" to see other active test cycles that might be of interest to you.
If you are selected for a test cycle, you will receive further instructions on how to proceed with the testing tasks. You can then proceed with the tasks and upon successful completion, you will be compensated for your work.
Why Should I become a "Rated" tester?
Update: It is highly unlikely that you will be selected for a test cycle unless you become a "Rated" Tester. The easiest way to become a "Rated" tester? Clear the uTest Academy.
Once you become a "Rated" tester, only then will you be considered for paid test cycles. Plus, it's a neat little way for them to ensure you know how to detect and report the various type of bugs.
If all this sounds too technical for you, then uTest is probably not for you. You can try out simpler, Usability Testing sites instead like Usertesting.
Earning Potential with uTest and Getting Paid (Payments Guide)
The earning potential with uTest is huge, but remember that you cannot earn big amounts from Day 1.
uTest has a lot of interesting projects, and all of them have a different pay structure. They pay every 15 days via Paypal or Payoneer.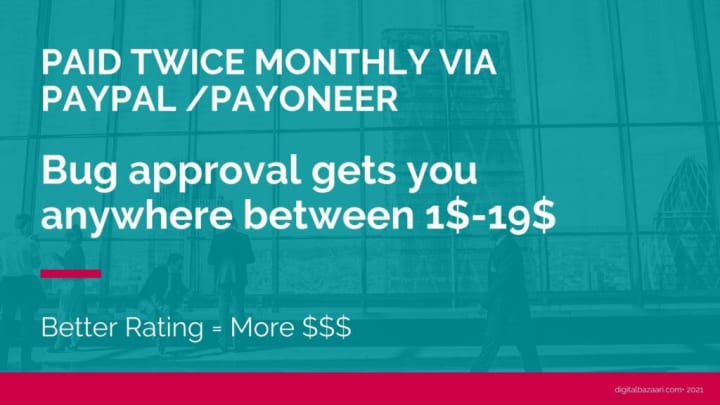 You are paid for the bugs/issues that you detect and submit to them, or for the different tasks they might give you to test the products/services. As of now, each bug that you report can get you anywhere between 1.1$ to 19.25$.
Your earnings will be slow in the beginning, but as you begin to understand their process and participate in the test cycles more actively, you will be able to earn a more substantial amount.
Several people from Reddit report earning more than 300$ per month from uTest, though they have been actively working on the site for more than a year.
Moreover, this article by The Dollar Hacks reports that uTest even offers employment and on-site opportunities for some of their dedicated testers.
Update: If you actively participate in their test cycles and community, then you can even be offered a full-time work opportunity from them. Some testers even get to work on-site.
So if you are a tester by profession or would like to explore this field, then you should try freelance testing with uTest. Wonderful things can happen when you believe in yourself.
uTest Payment Proofs
Don't expect these payments in the beginning, but if you invest some time and effort into this, you can easily earn a decent income doing interesting jobs. Here are some payment proofs from uTest: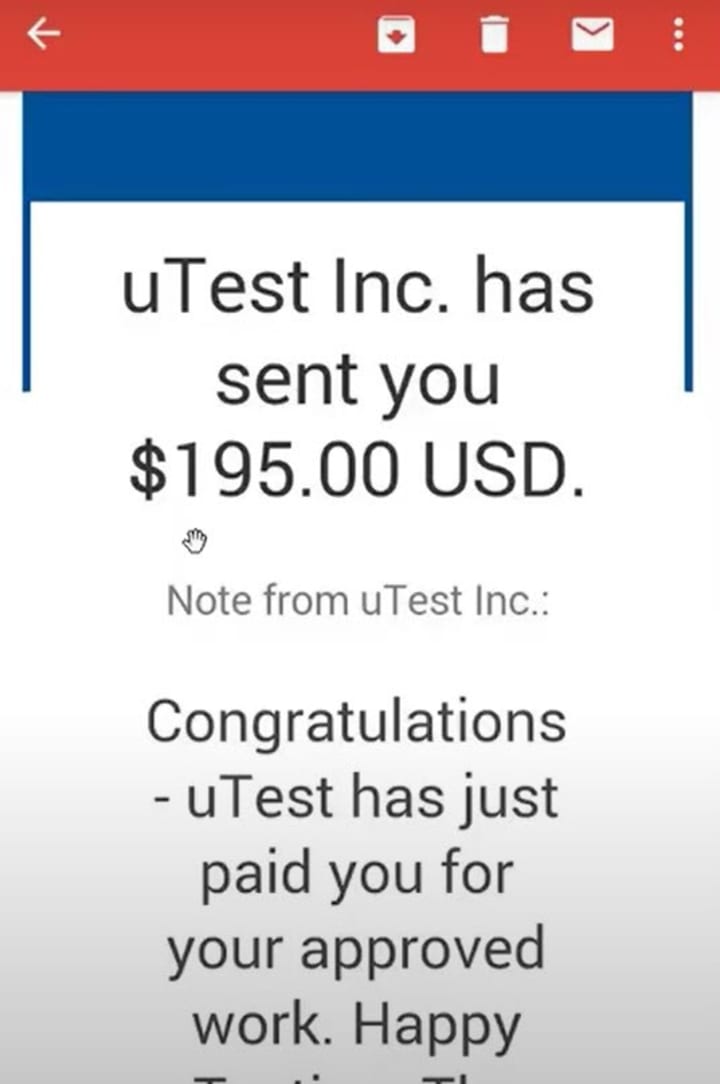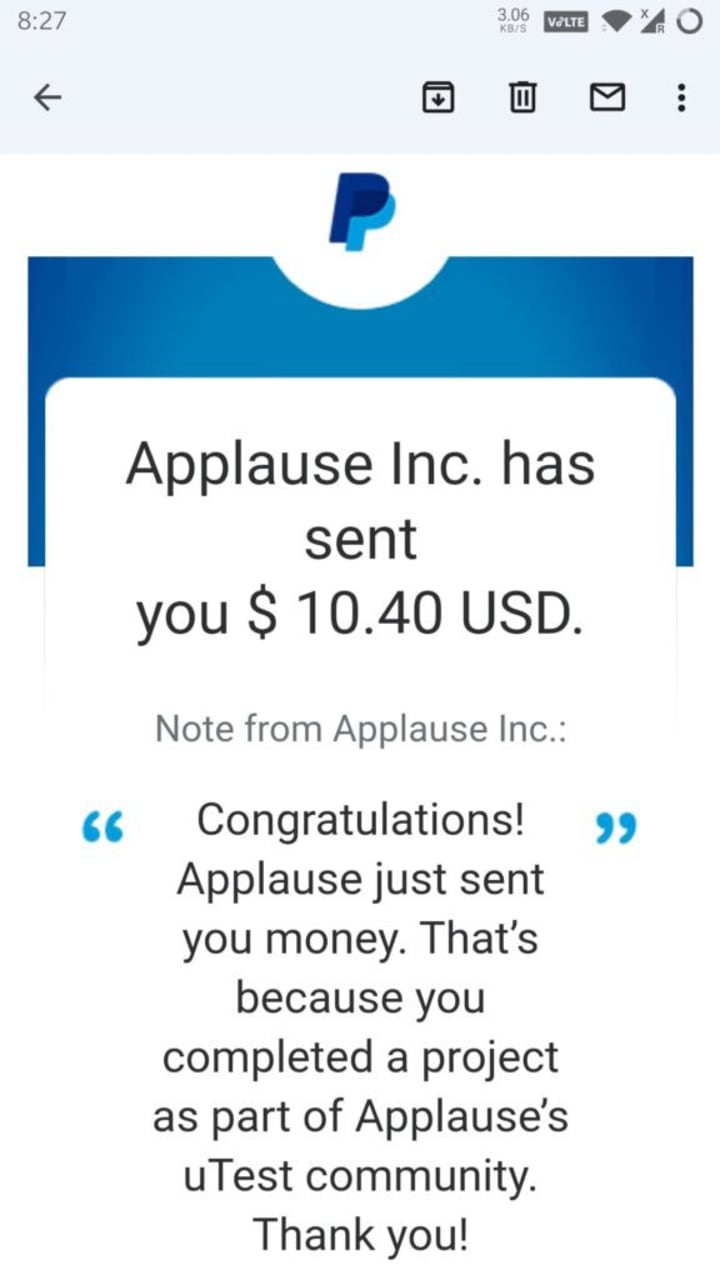 Do I need a lot of technical knowledge to work at uTest?
You don't need to be a professional programmer or tester to work at uTest. In fact, you just need to be able to operate a computer and understand instructions.
If you face any problems, they have a very active and helpful community, that you can interact with. They also have a detailed collection of tutorials and helpful articles.
It is recommended that you go through the uTest Academy Courses and learn the various processes of submitting bug reports, testing on different devices, etc. This will help you get accustomed to their workflow.
Also, you can interact with their Community and other testers in your test cycle to clear any doubts you encounter.
But this goes without saying, work you do on uTest requires much more technical proficiency than the other freelancing jobs I post here. You don't need to be a wizard, but you gotta know your way around a screen.
You will be dealing with file conversions, screen recordings, taking logs and writing a step-by-step report of the bug you encounter. This is certainly not for everyone.
But I see a lot of young people who can easily deal with different devices and test them according to the instructions. If you are one of those, then you are in luck.
If you find uTest too complicated for you, but still want to give functional testing a try, I would suggest you sign up at Testlio. They also offer functionality testing projects, but have a radically different approach to it.
Unlike uTest, where you usually work on exploratory tests, Testlio has test case driven cycles. Meaning the things you need to test, and how you need to test is defined properly in a series of steps.
You just perform the test and tap a "Pass" or "Fail" button on each of the steps. They pay you for the time you spend testing and not the bugs you discovered. I find this type of testing to be much more relaxing and easy to execute.
If you would like to know more about the differences between uTest and Testlio, check out this detailed article I wrote here.
---
Hello, people of Vocal. I quit my full-time desk job in search for an adventure. I wanted to work whenever, however and whereever I felt like.
Now, I write about online earning websites and tips.
My ultimate goal is to have a digital nomad lifestyle, but right now my goal is to get to 100 subscribers on Vocal. Follow my journey on https://digitalbazaari.com
About the Creator
I quit my full-time job for an adventure. To live a digital nomad lifestyle by working and earning money online. Follow my journey at digitalbazaari.com
Reader insights
Be the first to share your insights about this piece.
Add your insights