Top Ways to Make Moving Fun For the Whole Family
Do you think relocation is a tough and challenging task to do?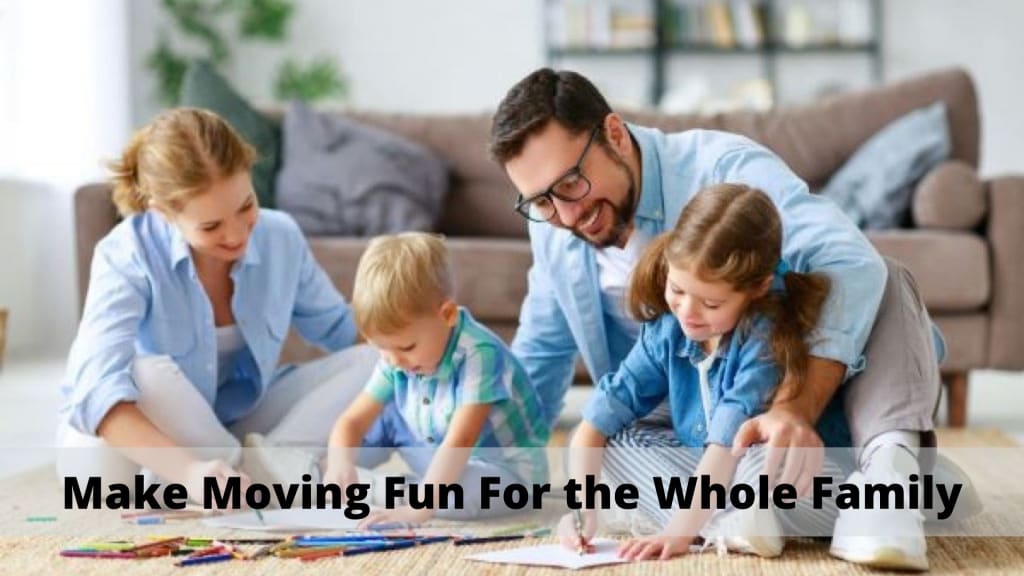 Do you think relocation is a tough and challenging task to do? Indeed, home relocation or moving from one city to another is a difficult task, but with some planning and preparations, you can make moving a fun experience for your whole family.
There's no secret that relocation is the third most stressful event in one's life. And to reduce moving stress, people opt for hiring professional packers and movers. But will you trust me if I say there's someone other than the packing and shifting service providers that can make the move easy and fun for you and your family? Yes, there's someone that is none other than you. It's you who can help yourself to make moving fun for kids and other members of your family.
Relocation gives you a lot of stress and nightmare as well. From tracking your possessions to keeping everything ready for your family to be moved into a new home, everything seems like an impossible task. And at the same time taking care of your children can be difficult for you. So, it's better to plan your move in a way, your children will enjoy the moving process and will not bother you during the move.
Make Moving Fun for the Family
Inform kids you are moving
I know it's hard to do, but ultimately you have no other option than to inform your kids that you are moving. But you can use a better way of doing it. Pick a good way to tell your goods about moving. For ex- show them some beautiful pictures of the new place you are relocating to. Ask them if they liked the pictures and also know if they are willing to visit the place. If they answer excitingly then you can surely go with informing them about moving. But, if they nod their head and say no then take time and plan something else.
Get them involved in the move
When finally you have informed them about moving and have managed them to say yes to moving then take the initiative to make moving fun for them. The best way to make the process fun for them is to involve them in the process. Ask them what new toys they would like to have in their new home, discuss how you are going to decorate your new house, and also show things that you are buying online for embellishing your home. This will surely excite them to relocate.
When I ask you to involve them then it also means involving them in the packing process as well. Yes, children love to help their parents. Although people do not think involving kids is a great idea to pack things efficiently and effectively, this is a great way to make the move enjoyable for your kids. Let them enjoy the work.
As you are moving to a new place, you would barely get any time to meet your old friends and relatives, plan to throw a party. Invite all your friends, especially your kids' friends. You can also ask your children to have their own party or sleepover. They will get time to spend with their friends and can enjoy the moment. Take beautiful pictures or make videos of their fun activities, which they can see later and relive the memories. And ask your children and their friends to exchange addresses, contact numbers, and email ids to keep in touch.
Indeed relocation is a tough task but yet I would advise you to plan a side short trip or tour to have a great time with your kids. If you have time then you can plan a side trip, which could be anything like a road trip to a place you have never been to, amusement parks, monuments, national parks, zoos, etc. This will not only rejuvenate kids' minds but also the adults in your family. But it's better to ask your kids where they want to go before you move into your new home.
Here's a bonus point for you to make the process fun for the whole family
Moving day can be both exciting and overwhelming for many. Also, this involves a lot of tasks for you as well as the movers. Movers will come to your place to pack and load the goods onto the truck. This requires time and also involves risk as the movers will be lifting and moving some heavy furniture and other goods. Your kids may get injured during the packing process as if they will run around. Hence, take help from your partner or ask any relatives to take your kids out while the movers are coming in.
Not only this ensures the safety of your children but also the movers can pack your stuff without any interruption.
In Conclusion
While moving to a new place can be overwhelming and stressful for everyone in the family, there are ways to incorporate fun during the process. Instead of making it a boring event, consider it as a family activity so that everyone in your family can enjoy it.
And to have the best relocation experience, hire professional packers and movers Delhi to Kerale because professional moving agencies have all the arrangements to manage your move. They also keep your kids and pets engaged and take care of them during the shifting process. This way, they make the entire process of packing and shifting fun for you and your family.