The New Year has been the largest celebration for everyone. It is the time to get together and to share busting joy and happiness with loved ones. As the New Year is almost here, we have to be prepared for giving the time a grand new welcome by throwing a glowing new year's eve party where your guests can enjoy wholeheartedly. Are you worried about the expenses? Do you know you can throw a hit new year's eve party, even without making big holes in your pocket? DIY parties set trends nowadays. You can easily decorate your parties with DIY ideas and can also make your guests engaged with lots of fun-loving activities.
Here Top 10 DIY New Year Eve's Party Ideas Are Given That Definitely Make Your New Year Night Special:
Glittering Hats And Champagne: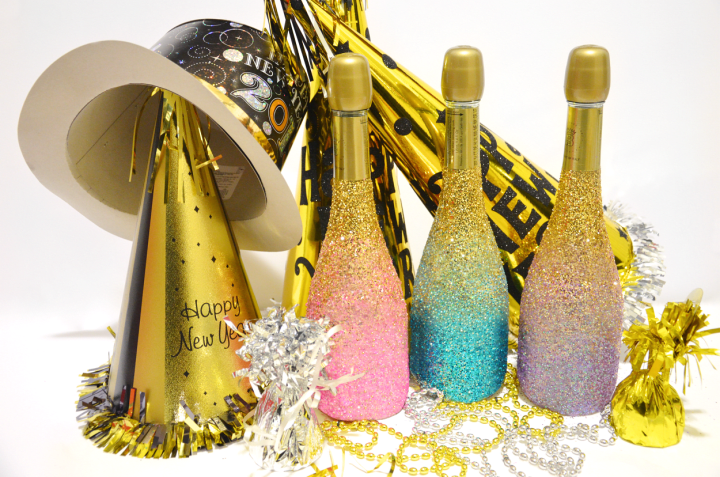 Glittering hats and champagne can make your party night sparkling. You can also add a special touch to decorate small champagne glasses with glittering colors. When everything around you looks so bright, everyone falls in the mood to celebrate a happening New Year Eve.
Decorate A Confetti Station:
Decorate a confetti station with boxes full of confetti. Place small glasses on the table for decorations. Remember that you should stock everything that your guests need to blow them out when the midnight bell rings.
Sparkling Centerpiece:
A sparkling centerpiece spreads the charm of a party mood that prevails over all corners of your house. For making a beautiful centerpiece, you need soda bottles. Wash them and paint them with golden and silver colors. Make magnificent numbers of years by using cardboards to mark the arrival of the New Year 2021.
DIY Noise Makers:
New Year celebration without making any noise is unthinkable. You can craft DIY noisemakers to celebrate the fun mood of the New Year. Welcome the new beginning with the noise of joy and happiness. Beautify your noisemakers with glitter, ribbons and bells. Celebrate this new year by sending beautiful new year picture to your loved ones.
Fun-Loving Photo Props:
Photo props seem to be the best when it comes to making your guest engaged in fun-filled activities. Customize your props as the theme of your party and let everyone feel the madness of midnight. Include the mustaches, glasses and silly hats to rock your party.
Confetti Dipped Balloons:
When balloons are dipped in confetti, they set a glowing ambiance for your celebration. Prepare a bunch of balloons dipped in confetti and place them in a corner of your house.
Craft New Year Countdown With Numbered Glasses:
Make the last 10 seconds countdown enjoyable by crafting numbers glasses. Add a bit of creativity to the countdown tradition by handing out numbered champagne glasses for your DIY party.
Sparkling Cupcakes:
Celebrate the mood of New Year with sparkling cupcakes which are also easy to make. You just need to ice your cupcakes and dream them with tiny sparkles. Light the sparkles might night and let the light spread over your party moods.
Countdown Clocks:
Don't miss countdown clocks for your New Year party. You can easily make the clocks by using large pepper umbrellas with beautiful cork props. Add countdown numbers on them. This centerpiece will definitely steal the attention of your guests.
Colorful Wreath:
Colorful wreaths are great to decorate your party. You can even make your wreath beautiful by using colorful drink umbrellas. Just arrange the drink umbrellas around the metal base wreath and you can also put the New Year number in the middle of it. Feel the joy of the New Year by sharing happy new year 2021 wishes with smiles with your closest ones.