Tips for Finding the Best Insurance First Time Homebuyers
First time home buyer! Contact homeowner's insurance companies and get the best homeowners insurance before moving in.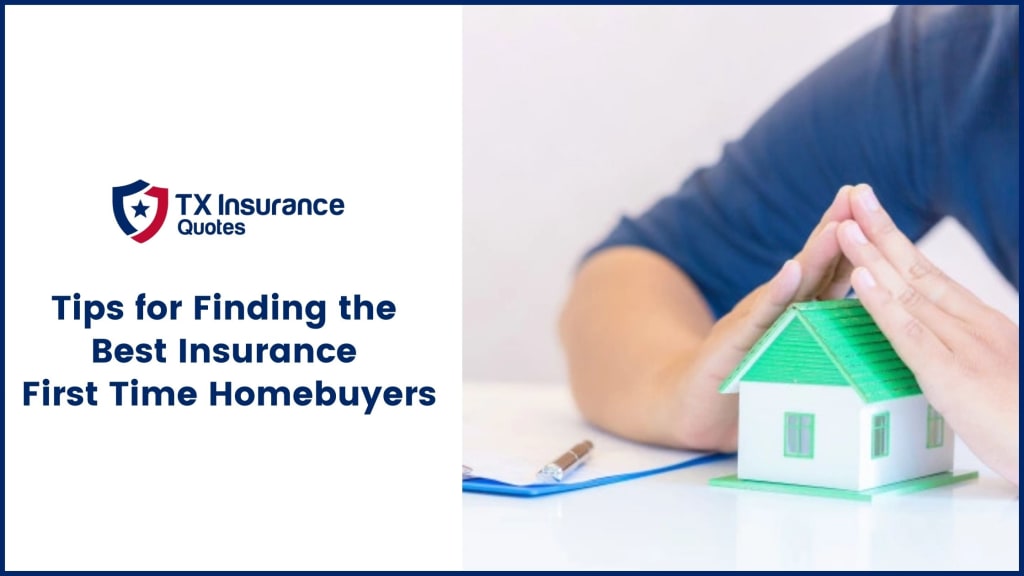 Buying a house is one of the most important investments people make, and they should protect it. At the same time, you can't predict if or when something will happen. Having the right insurance policy in place will ease your troubled mind. Also, if you are taking a mortgage, the mortgage companies make it mandatory for first-time buyers to buy homeowners insurance before closing.
Many types of home insurance policies are available, but finding the best general insurance for first-time homebuyers can be overwhelming. In addition, it's often difficult for first-time buyers to understand the different types of insurance, as each has its unique advantages and disadvantages.
This article will attempt to simplify the process by providing some basic information about common forms of homeowners' insurance:
First Time Home Buyers Insurance
When you are ready to buy your first house, ensure that the insurance you purchase provides you with the proper coverage. Some people incorrectly assume that any homeowners' insurance will have both the structure and their belongings protected. This is not the case. Homeowners insurance offers different coverage. Depending on the house's location, the value of your personal belongings, and other risk factors, your insurance company may give you the option of choosing either replacement value or cash value.
Here are the different types of cover offered by homeowner's insurance companies
Dwelling coverage: This type of policy covers the costs of rebuilding or repairing your home. This coverage pays for the labor and materials needed to rebuild your house and replace lost items.
Liability: A liability policy offers protection if someone is injured on your property and sues you and damage caused by you to others' property.
Personal belongings: This type of policy offers protection for your stolen or damaged belongings. If your belongings are lost, stolen, or destroyed by fire, the homeowner's insurance will reimburse the replacement cost.
Additional living: If you need to move from your home because it has been destroyed, this coverage reimburses the costs of living elsewhere while it is being rebuilt.
Other structures coverage: This protects the outbuildings on your property, such as a detached garage, shed, or pool house.
Medical payments coverage: If your guest or a worker is injured on your property and you are legally responsible, this coverage pays the medical bills.
These are the typical coverage provided by standard homeowners insurance. You may also consider taking supplemental insurance as a first-time homebuyer, depending on your location and other factors.
Earthquake insurance: If you live in an area that is very likely to experience earthquakes, this coverage protects your home against earthquake damage.
Flood insurance: Flooding is common in certain parts of the country, so it's essential to check if you are required by law to purchase flood insurance or not. Most mortgage companies need their borrowers who own property in a high-risk area to purchase flood insurance. This coverage reimburses the costs required to rebuild your home and replaces belongings damaged by floods.
Home warranty policy: This type of policy repairs appliances or other systems in your house, such as heating and cooling systems, plumbing, and electrical maintenance. The cost of hiring a professional for these repairs is completely covered up to the limit you choose when you buy this insurance.
High-value personal property: If you have a lot of high-priced or irreplaceable belongings, such as jewelry or fine arts, buying this additional coverage will reimburse the costs of replacement.
Vacant home: If you plan to renovate your house before moving in, vacant home cover will any damage that occur during renovation which is not covered in a standard insurance.
Before choosing a type of home insurance policy, it is crucial to understand what you need and wants from your insurance provider. This can help you make an informed decision about which plan is best for you and your home.
Tips to keep in my mind when purchasing homeowners insurance
Do proper research by shopping early for homeowners insurance
Don't keep purchasing homeowners insurance until the last minute before closing the deal. Shop for homeowners insurance about 30 days before completing your home purchase. It would be best to start shopping early because it takes time to obtain homeowners insurance quotes. Compare prices, coverages, and reviews of at least five companies to get the best coverage for best rates. Also, search online and get a recommendation from your family members and friends to find the best homeowners insurance company in your area.
An HO-3 policy is a standard policy offered by most homeowners' insurance companies to cover damages to your house and property from different perils. Compare the premiums for the HO-3 policy from various insurers.
Choose the right coverage
It is essential to choose the right amount of coverage that adequately covers any damage or harm that may occur to your property. The insurance companies will ask for an estimated amount of money you want to insure before calculating the final price. So, it is essential to have a clear understanding of the home's value or replacement cost before getting an actual quote. Insure the house at its replacement cost and not the actual value. Replacement costs will help you with any necessary repairs after an incident. Make sure the homeowner's insurance covers up to 80% of the home's value. If the coverage is less than 80%, you will have to pay certain costs out of your pocket.
The standard homeowner's insurance does not cover damages due to earthquakes, floods, and some extreme perils. So depending on the location, add additional coverage if required.
A deductible is the amount of money you must pay out of your pocket when filing a claim. The higher the deductible, the lower your insurance premium. You will have to spend thousands of dollars for a simple roof leak with a high deductible plan before the insurance company covers that cost. So, if you choose a high deductible plan, make sure you have enough amount in your emergency fund.
You can save up to 15% on your homeowner's insurance if you bundle it with other policies. So, talk to agents representing home and auto owners' insurance companies for more information about bundling plans.
Look for policy discounts
There are various discounts that you can avail of from different companies when buying homeowner's insurance. Make sure to ask about the discounts offered by your chosen insurer, such as good credit score, security system, and others. For every premium payment made on time, your insurance company will reduce or waive some fees already included in the price of your policy. In addition, you can increase your savings further if two or more people in your family own an auto insurance policy with the same insurer. Some of the most common discounts offered to first-time homebuyers are
Safety feature discounts: If you have an alarm system, smoke detectors, deadbolt locks, or other security systems, you are eligible for discounts.
Homeowner's discount: If your home is over ten years old and the insurance company deems it in good condition, you will qualify for this discount.
A multi-policy discount is offered when two or more family members have multiple policies with the same insurance company.
Accident-free discount: If you or your family members have not made any claims against the home owner's insurance for at least three years, you are eligible for accident-free discounts.
Affiliate discounts: If the buyer has a good credit score and works for a company that offers good insurance discounts, a portion of those savings can be passed on to you.
Cost of homeowner Insurance:
The cost of homeowners' insurance varies based on where you live, how much insurance you need, and other factors. Also, prices vary from state to state. However, the following factors play an essential role in deciding the cost of homeowner's insurance:
Homeowners in areas with high crime rates pay higher premiums.
If there are aluminum or glass windows, stone siding, stucco exterior finishes, or a fireplace in your house, these can increase the cost of your insurance due to the increased chance of a claim.
Your premiums will be lower if your home is equipped with state-of-the-art security systems and deadbolt locks.
One of the reasons for having a higher premium is if you have a pool at your house as the risk of an accident increases with it.
If you live alone and don't have any children living with you or pets that can cause damage to it, expect that this will reduce your insurance premium as there would be less chance of any accidents happening at your home.
Bottom Line
As a first-time homebuyer, you may not know how to get the most suitable and affordable homeowners' insurance. But with help from your agent and by considering the factors mentioned above, you can save hundreds of dollars on your annual homeowner's insurance premium.
how to
About the author
Get an insurance quote from the most trusted homeowners insurance company - TX Insurance Quotes.
Reader insights
Be the first to share your insights about this piece.
Add your insights