The Pursuit of Happiness: A Comprehensive Exploration of the Factors that Contribute to Well-being and How to Achieve it
The Science and Practice of Finding Joy: A Comprehensive Exploration of the Factors that Contribute to Well-being and How to Achieve it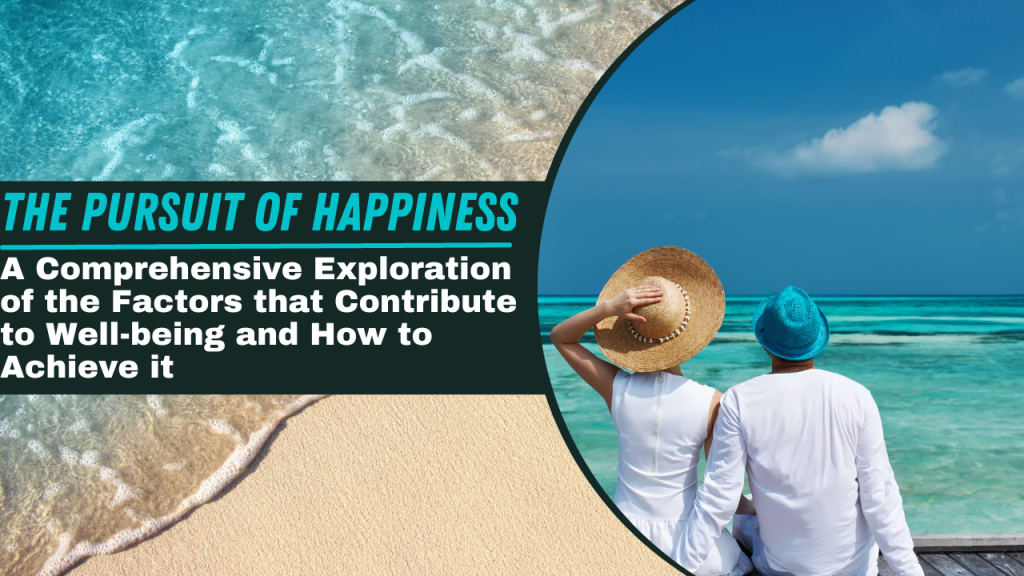 Happiness is something that most people strive for in their lives, yet it can be elusive and difficult to attain. However, recent research in the field of positive psychology has provided valuable insights into what happiness is, and how it can be achieved.

First and foremost, it is important to understand that happiness is not simply the absence of negative emotions. Rather, it is a state of overall well-being that encompasses positive and negative emotions. This means that happiness is not just about feeling good, but also about feeling a sense of purpose and meaning in life. Additionally, happiness is not a destination, but a journey, and it requires consistent effort and maintenance.

One of the most significant determinants of happiness is the way we think about ourselves and the world around us. People who have a more positive outlook tend to be happier than those who have a more negative perspective. This is because a positive mindset allows individuals to see the good in any situation and find opportunities for growth and learning. In addition, people who are more resilient to stress and adapt well to change tend to be happier. Cultivating a positive mindset can be achieved by engaging in activities such as gratitude journaling, positive affirmations, and reframing negative thoughts.

Self-esteem and self-worth also play a crucial role in determining happiness. People with high self-esteem tend to be happier than those with low self-esteem. This is because individuals with a high level of self-worth feel confident in their abilities and are less likely to be affected by negative self-talk and self-doubt. Additionally, having a strong sense of self-awareness and self-compassion can also contribute to happiness. Building self-esteem and self-worth can be achieved by engaging in activities such as therapy, personal development, and setting and achieving personal goals.

Social connections are also an important factor in happiness. People who have strong social connections tend to be happier than those who do not. This is because social connections provide a sense of belonging, and the support and companionship of others can act as a buffer against stress and negative emotions. In addition, having a sense of community and feeling connected to something greater than oneself can also contribute to happiness. Building and maintaining social connections can be achieved by engaging in activities such as volunteering, joining clubs or organizations, and cultivating meaningful relationships.

Physical health also plays a significant role in happiness. Regular exercise has been shown to increase feelings of happiness and well-being. Eating a healthy diet can also contribute to happiness as it promotes physical and mental well-being. Getting enough sleep and practicing good sleep hygiene can also have a positive effect on overall well-being and happiness. Maintaining physical health can be achieved by engaging in activities such as regular exercise, eating a balanced diet, and getting enough sleep.

There are also certain practices and techniques that have been shown to be effective in promoting happiness. Mindfulness meditation, for example, has been shown to help people focus on the present moment and reduce feelings of stress and anxiety. Gratitude has been shown to help people appreciate what they have and be more content with their lives. Positive affirmations, meanwhile, have been shown to help people build a more positive self-image. Engaging in activities that bring pleasure and joy, such as hobbies, can also contribute to happiness. Incorporating these practices into one's daily routine can be achieved by setting aside time each day for mindfulness and gratitude practices, and making time for activities that bring joy.

Additionally, setting and achieving goals can also contribute to happiness. Accomplishing something we set out to do can provide a sense.
SUBSCRIBE FOR MORE
Reader insights
Be the first to share your insights about this piece.
Add your insights