The delicacy of Dutch parties. Bitterballen, the meatballs of the Dutch.
Recipe for Bitterballen and Meatballs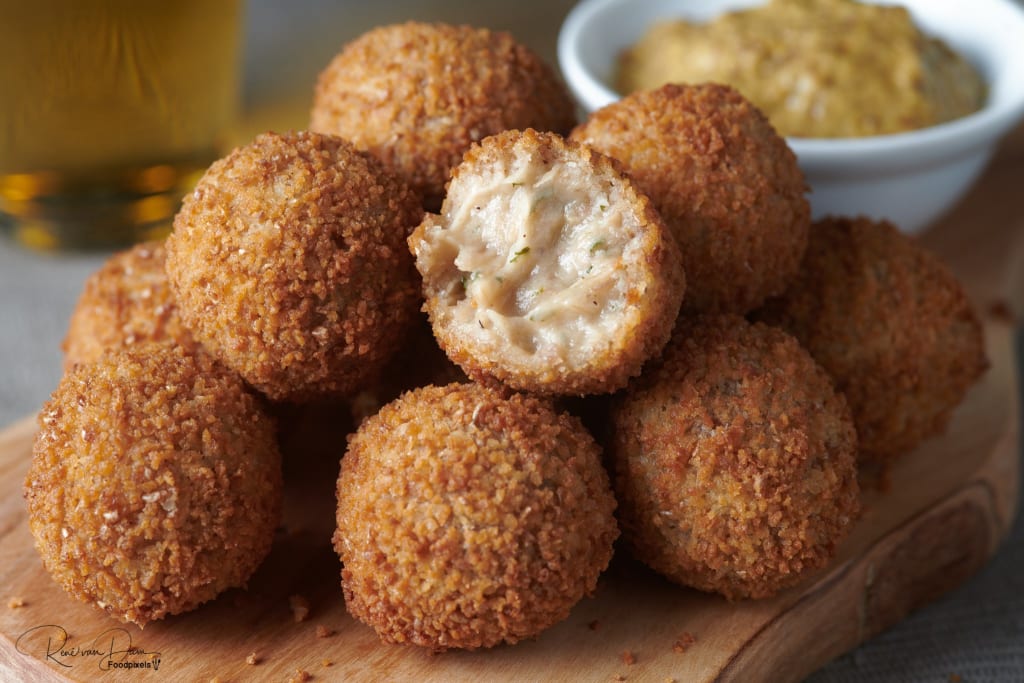 Recipe for Bitterballen
These small meatballs are frequently served at various parties and other festive occasions, but also as quick appetizers with a beer on the street. The Dutch usually serve them with mustard, but they can also be served with a variety of sauces.
Ingredients
4 tablespoons of butter
500 g finely chopped beef or veal
1/4 cup of finely chopped carrots
1/2 cup finely chopped onion
non-iodized sea salt and freshly ground black pepper to taste
some freshly grated nutmeg
1 tablespoon of lemon juice
a bunch of finely chopped parsley,
5 tablespoons of flour
1 cup of beef or milk soup
1/2 cup breadcrumbs or dry bread crumbs
1 egg
beaten with water or milk
oil for frying
Method of preparation
Heat a tablespoon of butter in a large frying pan over moderate heat and cook the meat, carrots and onions until the meat is browned and the carrots are tender.
Drain the meat through a strainer, then tip it into a bowl.
Add salt, pepper, nutmeg, lemon juice and parsley and mix well.
Then leave the meat mixture aside.
Melt the rest of the butter in a pan over moderate heat and lightly mix the flour in the rain to make a white Roux sauce.
Keep warm and swirl to prevent lumps for 2 or 3 minutes, then add the beef stock or milk.
Stir constantly, until the sauce boils and becomes quite thick. When it is ready, combine this sauce with the meat mixture, mixing well, then refrigerate for at least 3 hours.
When it has hardened, you can move on to making small balls of about 1.5 cm in diameter, which you roll through breadcrumbs, then into the egg and water/milk mixture, then again into the breadcrumbs.
Fry them in a fryer with at least 2 cm of oil until they are golden on the surface (be careful not to burn them) for about 2 - 3 minutes.
Drain on paper towels and serve immediately.
Along with some fried or mashed or baked potatoes and a cold beer.
Recipe for meatballs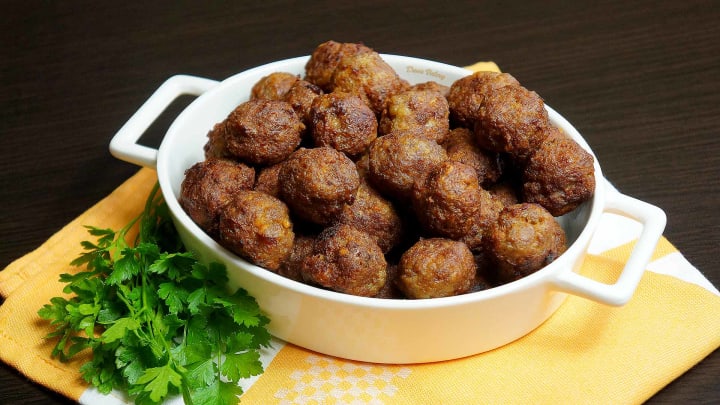 Ingredients
500 grams of minced pork (I minced a piece of defatted pork leg at home)
80 grams of bread (2 slices of bread) soaked in water and well squeezed
1 whole egg
50 grams shallot/red onion or regular onion, finely chopped
1 bunch of green parsley, chopped
2-3 crushed garlic cloves (depends on size, but also how garlicky you like it)
1 grated teaspoon of salt
½ teaspoon of pepper
1-2 tablespoons of flour or fine breadcrumbs
vegetable oil (sunflower, rape etc.) for frying
1 teaspoon paprika (optional)
¼ teaspoon nutmeg (optional)
1 teaspoon dried thyme (optional)
Method of preparation
Place the meat in a large enough bowl. Finely chop the onion, crack the eggs over the meat and grate the garlic cloves. Add the spices over the composition and knead by hand. Taste from time to time to check if more salt or pepper is needed, and add according to preference. Soak the bread core in water, squeeze it and mix it into the composition. The bread will help the end result to be fluffier, especially if the meat is not very juicy. Let everything settle for about half an hour.
In the next step, you will have to start shaping the meatballs. This depends on each geographic area and your preferences. Classic meatballs are round, but, for example, in the Moldavian area, they are elongated and known as părjoale. As a rule, they also contain grated potatoes in the composition. The round meatballs can be dosed with the help of the ice cream scoop and shaped in the palms. If you want the outside of the meatballs to be more crispy, you can roll them in breadcrumbs before frying.
Heat the oil in a deep frying pan and fry the meatballs on medium to high heat for 4 minutes on each side. Serve the meatballs with your favorite sauces, save a few pieces for marinating before frying or place on platters. If you want to prepare appetizers for a small party with friends, shape the meatballs into smaller balls. In this situation, you also need to focus on aesthetics, especially in the case of snacks that you want to look inviting and creative.
About the Creator
Food recipes for you and your loved ones. I present both food and sweets, from different countries, for a diversification of tastes to your liking.
Reader insights
Be the first to share your insights about this piece.
Add your insights