Reclaiming Pallet Wood
And How It Helped Me Reclaim My Life
If you look on Pinterest and do a simple search for wood pallets, you will find thousands of results, showing you everything from pallet furniture to pallet art to pallet signs and décor. There are hundreds of videos on Youtube that show you how to break down a pallet. Reclaiming pallet wood to create something new has been a popular trend for at least the last decade.
I got started reclaiming pallet wood out of necessity. I needed to make some cash for Christmas. I had two pallets, one-half sheet of plywood, and a couple of old two-by-fours. I made three light-up Christmas trees with the plywood and four small signposts with arrows and names like "Reindeer Run", "Candy Cane Lane," and "Snowflake Run". Five pieces total, handmade and hand-painted. I made the money I needed for Christmas. Friends and family started asking for custom work. Five years later, I have expanded my art to include custom furniture, I have a steady following of regular customers, and what started as a side hustle has become a steady source of income.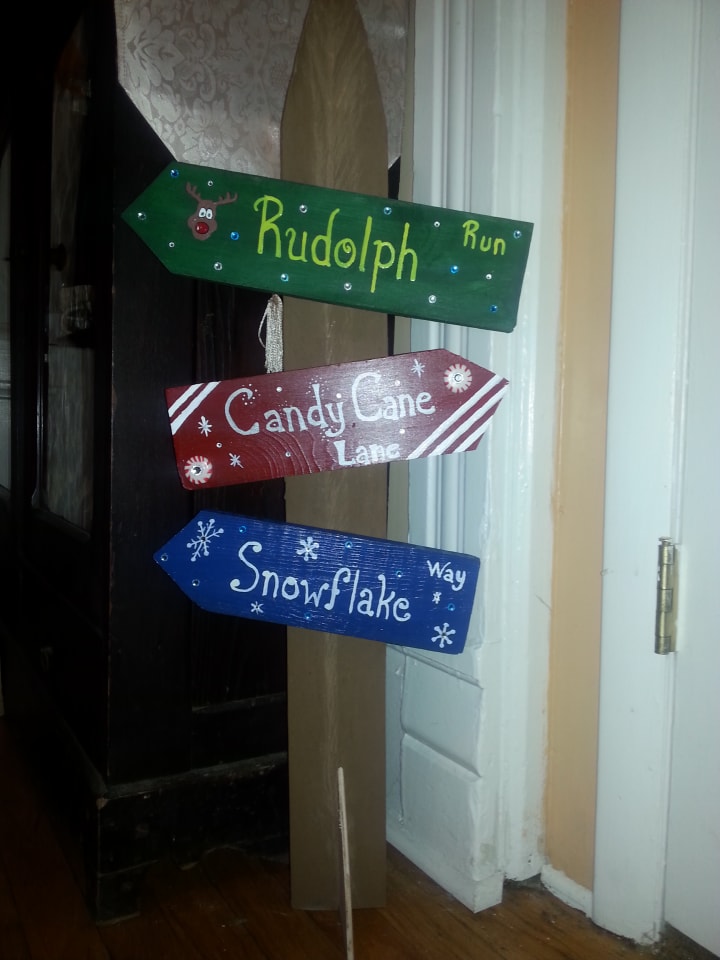 About Pallets
Avoid pallets that are painted, pallets that have shipped chemicals, and pallets that have been stored outside in the elements. Once a pallet is saturated with rainwater, mold and mildew begin to form. If possible, look for markings on the pallet. The USDA requires all pallet manufacturers to treat the pallets to prevent pest and insect infestation. The marks stamped on a pallet indicates what type of treatment was used. If it is marked with an MB, that means it was treated with Methyl Bromide. The USDA banned the use of this chemical in 2005, because it is very toxic to humans and animals. If it is marked with a DB and an HT, it has been de-barked and heat-treated, not treated with chemicals. These are the most desirable pallets. Pass up pallets that have visible oil or chemical stains, dark brown or black spots, pallets from a business that uses/ships chemicals, and pallets that have more than a few cracked boards. It is important to know that even if you are very picky at selecting pallets, there is always a risk that pallets have chemicals in or on them. Keep that in mind and be super selective.
Finding Pallets
I have never paid for a pallet in the five years that I have been reclaiming pallet wood. Some places I have found pallets for free include a brewery, a vinyl sign shop, a paper products company, an electrician, a construction company, and shipping crates from a motorsports dealership. Aside from what I listed above, other places to look include:
• Drive through an office park or industrial park. Many places put free pallets out on the corner or stack them by the dumpster. Companies that have to dispose of pallets instead of sending them back are very motivated to give away their pallets. It saves them the cost of disposal.
• A quick search on Craigslist for wooden pallets will usually turn up a few sources.
• Facebook Marketplace is another source I have used to locate free pallets.
• Any big box stores. Drive around to the back and see if they have stacks of pallets. Important note: ALWAYS go into the business and ask if the pallets are available to take. Never help yourself. Some big box stores re-use pallets.
Once I get the pallets back to my garage, I disassemble them.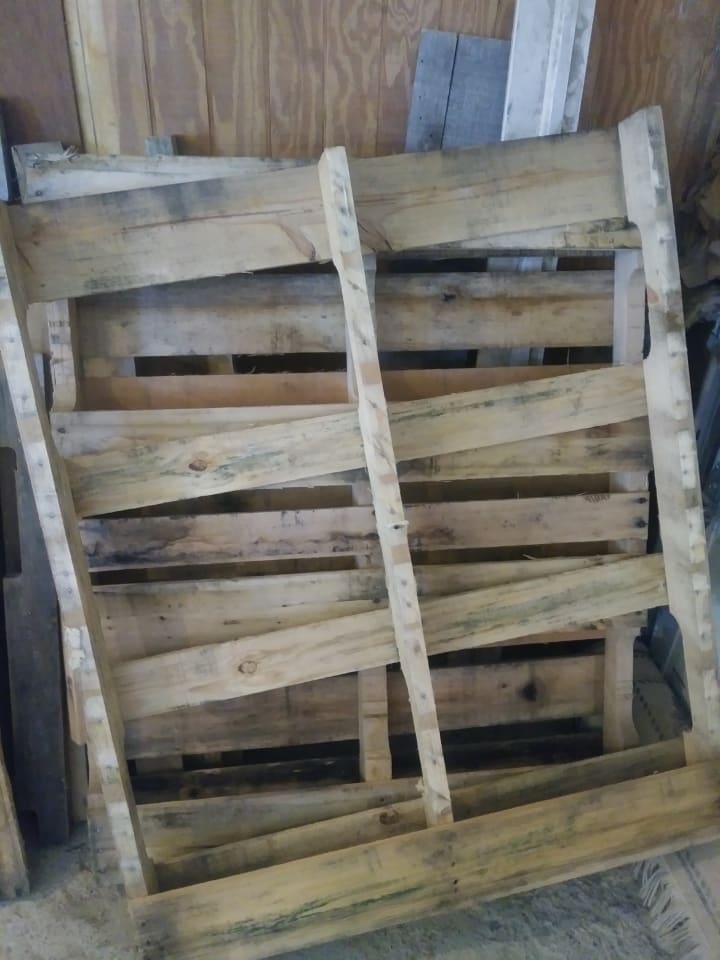 Taking Apart Pallets
I first scrub the pallets with warm water and dish soap using a coarse sponge. I dry them flat in the sun, or if the weather is inclement, I dry them in the garage with a large shop fan.
The next step is to determine how to break the pallets down. Using a crowbar is very labor-intensive and, in my experience, cracks and damages the wood. Instead, I use a reciprocating saw with a metal blade. I cut through the nails holding the planks. The nail heads stay in the wood this way, but they can be popped out with an awl and a hammer if needed. On some projects, especially rustic or industrial pieces, I leave the nail heads in the wood. This adds to the uniqueness of the piece. If I am making artwork or signs, I just cut the wood I need from the planks, and the ends with the nail heads get cut off anyway. The wood is ready to use. I use the runners for framing out furniture.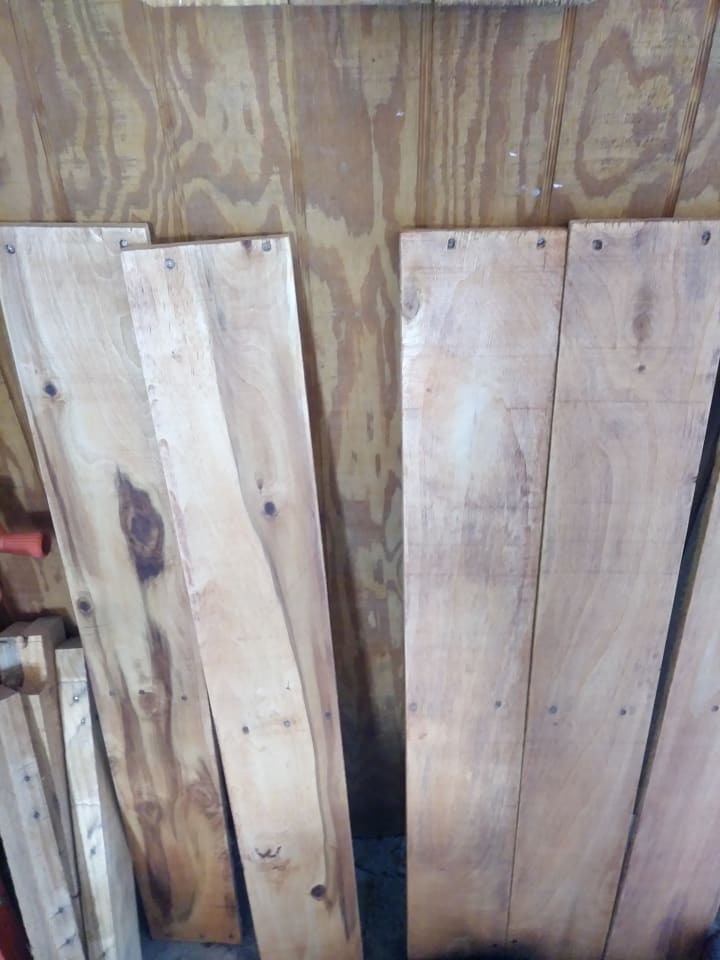 The next step is to sand the pallet boards to make them smooth. I use a palm sander and/or a belt sander. This creates a lot of dust, so in the summer months, I stock up on sanded pallet wood to avoid sanding the wood in the garage during the winter and spring months.
Now the wood is ready to use in my creations. Here are some of them: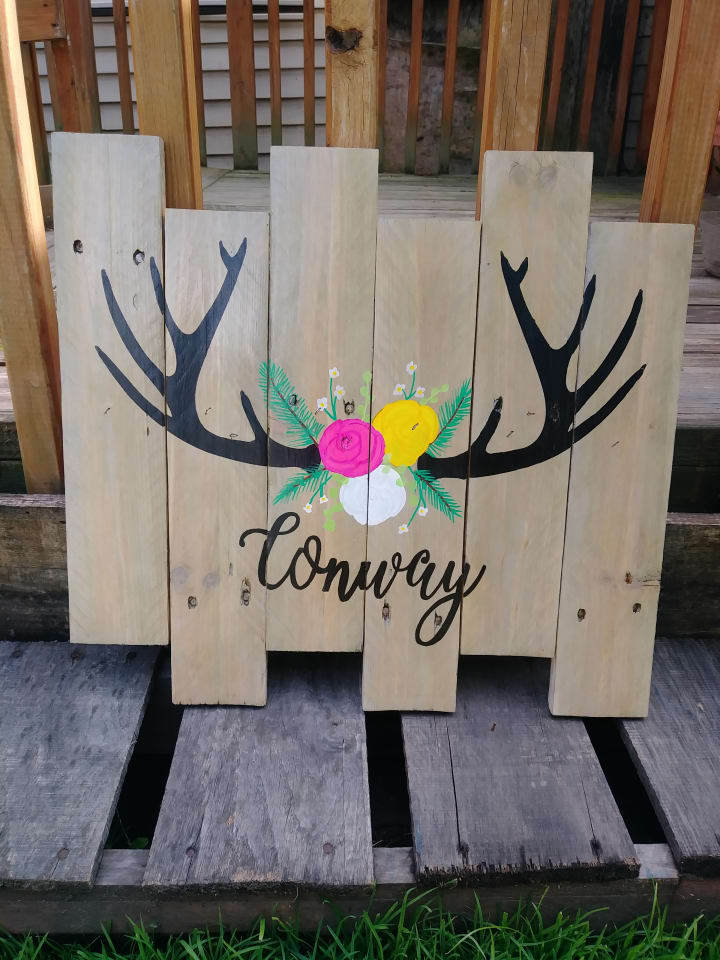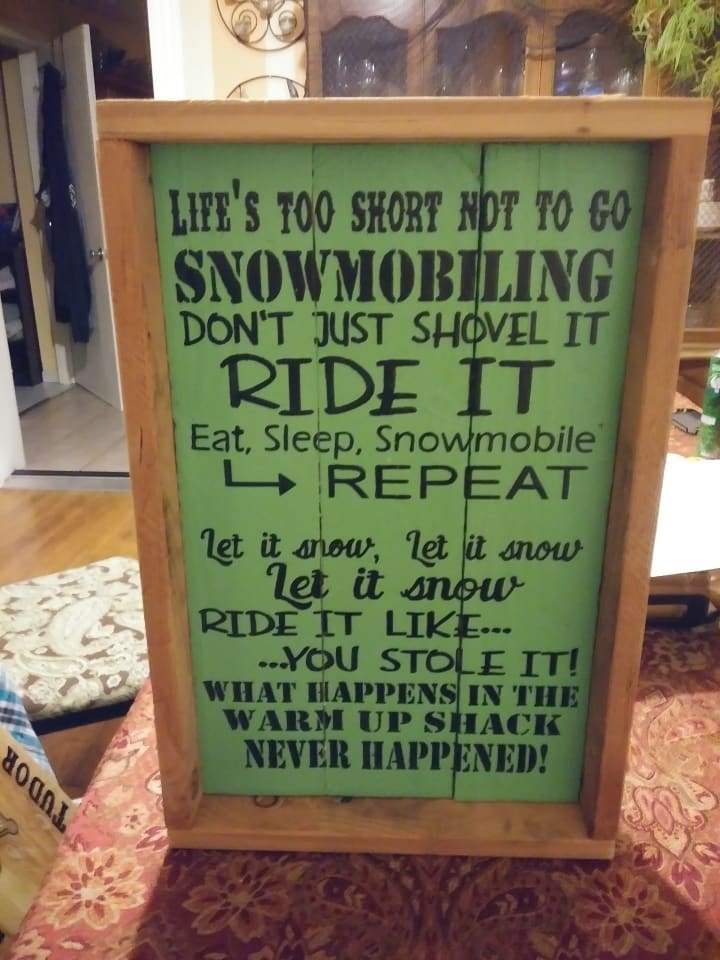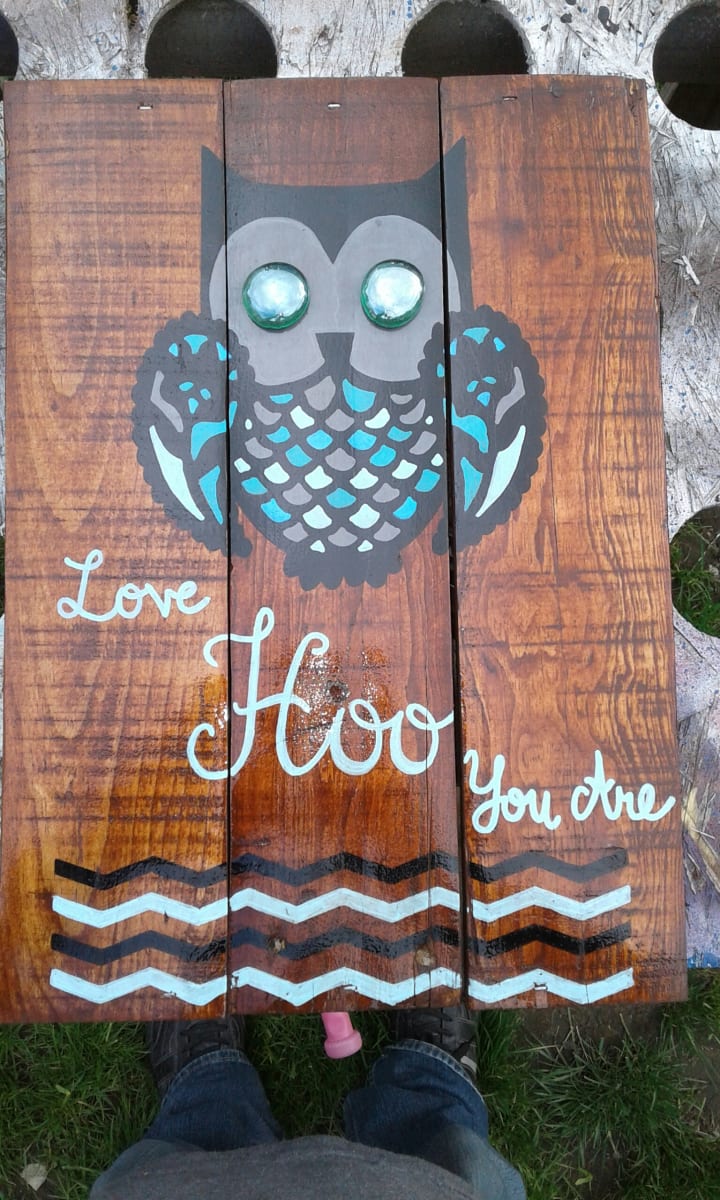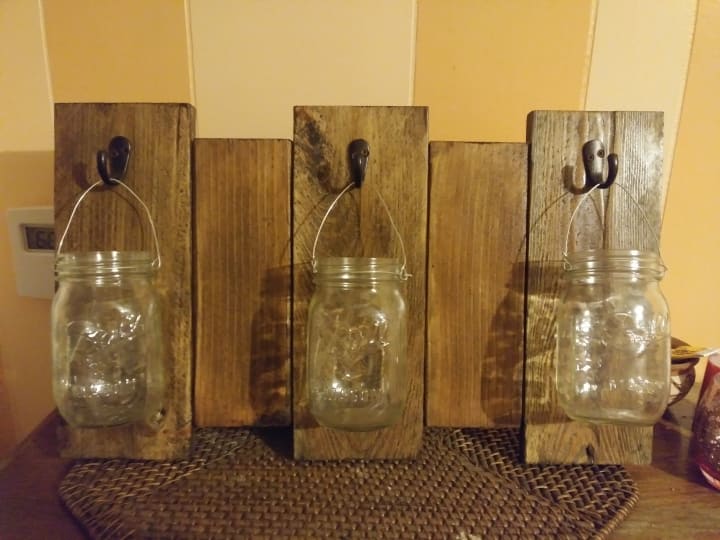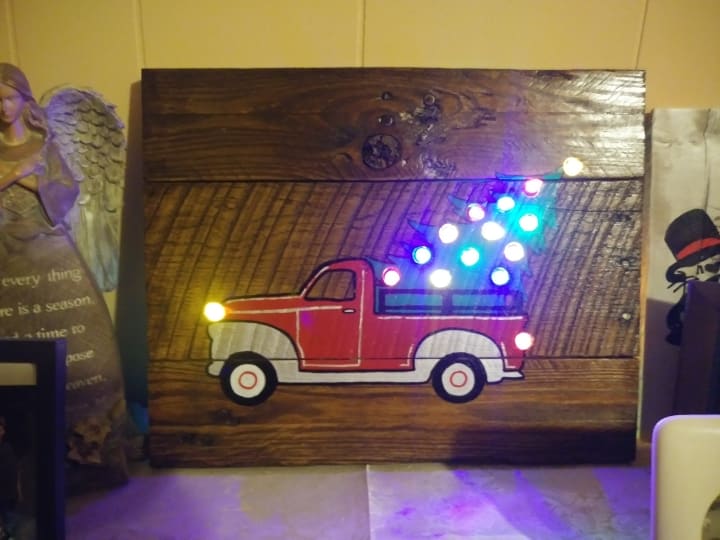 Reclaiming Wood has Helped Me Reclaim My Life
"That's the point of working with one's hands, you see. It gives the mind something else to do besides worry." — Charles Todd
I have written very openly about my disability and my bipolar disorder. The combination of the two results in me being unable to hold a full-time job. I just don't know what the day will bring until I set my feet on the floor when I get out of bed. Sometimes the physical pain comes on quickly, and if I am in a bipolar cycle, it is a struggle to function. I wrestled with my new reality for a couple of years before I started reclaiming wood for my art. At first, it was an idea; then, I tried it and became good at it.
Working with my hands to create has helped my motor skills improve-something that I had been struggling with since my brain surgery.
Having something to work on when I feel good and in a good place mentally has helped keep the depression at bay. Having a routine and accomplishing tasks, no matter how small, helps me manage the depression cycle.
Having a skill helped my self-esteem recover from the damage that my disability caused. I felt like I had no purpose and nothing to contribute financially to my family for a couple of years. Creating and selling my art and furniture gave me the ability to contribute.
Creating something beautiful from beat-up, dirty, battered wood reminds me that we all have value. And even though life beats us up, batters us, and leaves scars, with a little hard work, we can become beautiful and revitalized as well.
I hope this article was helpful, and it inspires you to try something new!
If you enjoyed this and would like to read more of my work, click here.
I truly appreciate every read, and if you like my work, please heart and subscribe.
crafts
I am an artist at heart, from music, to painting, to furniture building. And as of recently, writing. I am currently working on my second novel. I live in farm country of Central New York with my husband and two of my children.
Receive stories by J. Delaney-Howe in

your feed