Positive Input Ventilation: The Ultimate Cure for Condensation
Positive Input Ventilation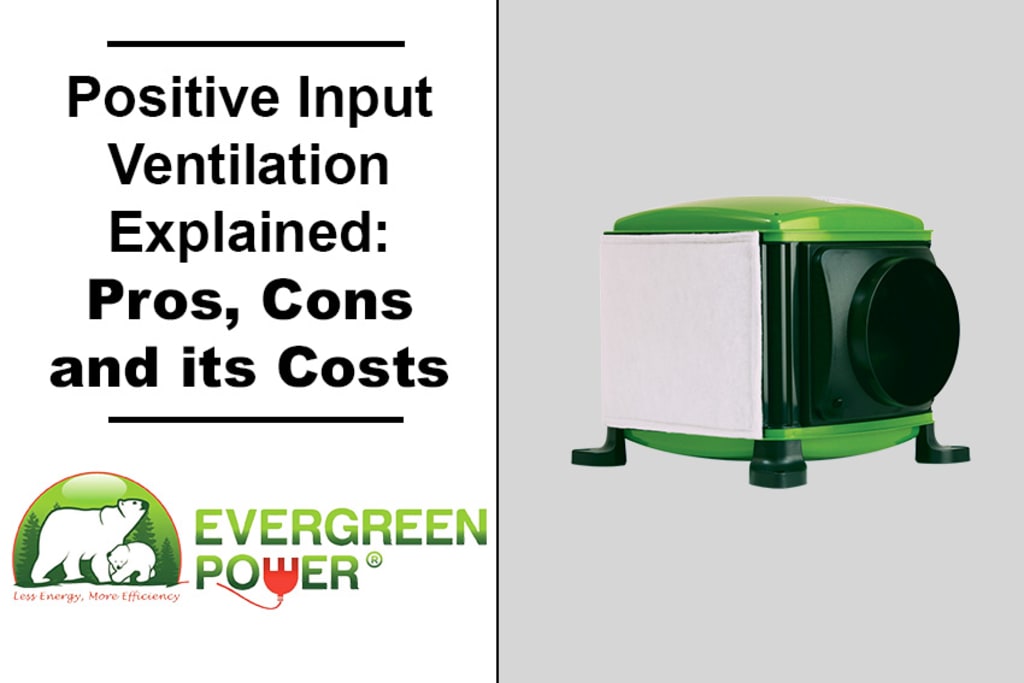 Positive Input Ventilation: The Ultimate Cure for Condensation
Why do people spend so much money on air conditioning when PIV units can improve air quality, prevent condensation, moisture, and mold? But the real question arises: do PIV units really work as per expectation? Not everyone knows that positive input ventilation was invented by Nuaire to transform the air quality of your home. It is widely utilized by everyone in the U.K., but only a handful of people are fully aware about its essence.
A Positive Input Ventilation (PIV) system is a high-tech home device that enhances air quality while also lowering pollutant levels. The system works by circulating fresh air throughout the house, preventing dampness and contaminants that could affect the structure and those who live in it.
Whether it's extract fans in the bathroom or kitchen, trickle vents in the windows, or air bricks in the walls, most new and older homes feature some form of ventilation. If your home suffers from condensation and you don't want to waste heat during the winter months, you'll need a more robust technique to force the moisture-laden air out of every room rather than transferring it throughout the house.
Causes of Condensation
Condensation is a major problem for British homeowners, with more than half of all homes suffering from its negative effects. Excess moisture in the air causes condensation, which generates damp patches when it comes into contact with chilly surfaces. This can result in moist patches around the house or water running down the inside windows.
Everyday activities, such as washing and drying clothes indoors, cooking, and bathing, release moisture into the atmosphere. The trapped moisture circulates throughout the house, collecting on cold surfaces such as exterior walls, windows and frames, mirrors, and furniture, resulting in condensation and the formation of mold patches over time.
If black mold is not treated, it will eventually produce deadly spores that will be released into the air. People who breathe them in can get a variety of health problems, including coughs and sore throats. Existing respiratory disorders like asthma and hay fever can be made worse by them. Dust mites thrive in humid environments and proliferate rapidly.
The accumulation of airborne pollutants, such as cigarette smoke, odors emitted by cooking, painting, and using cleaning products, as well as external pollutants that enter the home – traffic fumes, pollen, and, in some locations, Radon Gas – is another result of inadequate ventilation. Positive Input Ventilation System is the only technique of ventilation that can cure condensation in a building while also lowering contaminants in the air, resulting in a cleaner, healthier atmosphere.
How does it work?
PIV Units work swiftly by drawing fresh air from the outside into a fan in the loft area as part of the PIV process. The heat that naturally gathers at the top of the house is used to filter and temper the air. The air is then softly forced into the home via a single, centrally situated air diffuser, resulting in positive pressurization. The moisture-laden, stale air is driven out through the natural leakage spots at a usual rate of 20 air changes per day by continuously supplying fresh, filtered air throughout the residence.
How Positive Input Ventilation (PIV) Works?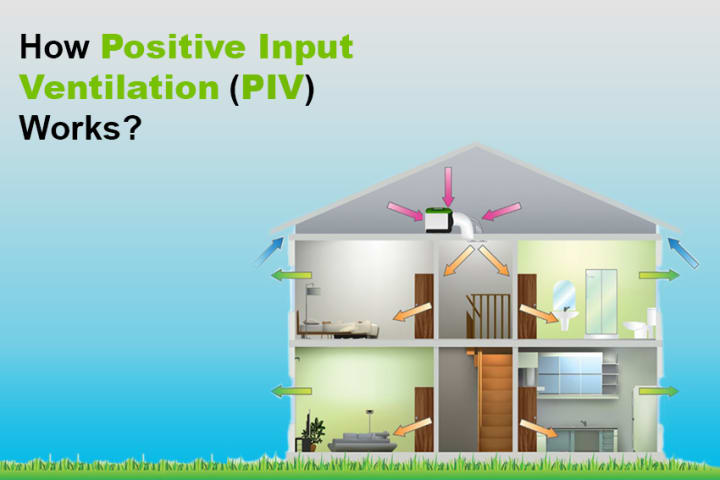 Using an average of 0.16 watts/liter/second and costing around 1 penny each day to operate, this technique is incredibly cost effective. One system provides effective ventilation for the entire property when used as a whole-home ventilation strategy; however, if your home has a remote wet room, such as a bathroom in a bedroom, you will have to install an extractor fan to meet building rules and regulations. PIV is simple to install and works well in both newly constructed property and retrofit projects. A PIV system, like any other energy-consuming equipment, should be installed by a competent electrician because it necessitates hardwiring.
Because PIV is a whole-house ventilation system, you won't need to install separate extract fans in moist rooms unless your home's layout dictates that they are internal. The device is installed in the loft, out of sight, and there are no holes to knock through external walls or windows, so installation takes only a few hours and is non-disruptive.
So Which Properties Are Suited To PIV?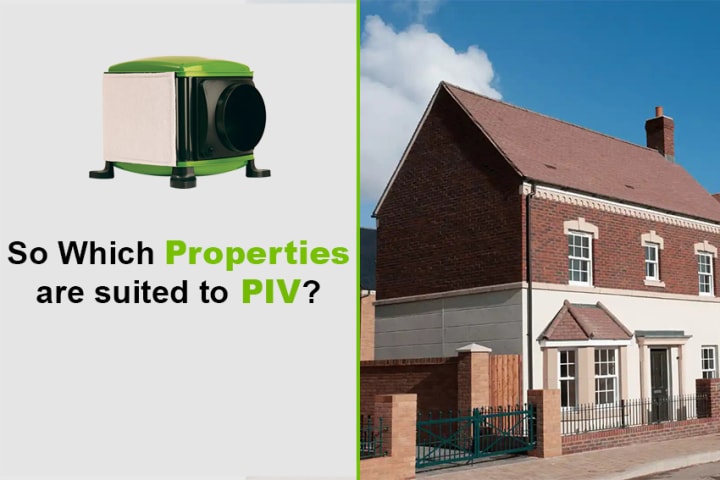 The majority of systems are intended for use in lofts. The Drimaster product line from Nuaire, for example, uses the warm air that rises to the loft space to recirculate the heat in your landing at ceiling level. Some manufacturers offer systems that may be put in the corridor and work in the same way as a loft-based PIV system, but without the benefit of using the loft heat. This type of PIV system, on the other hand, has another useful application: it may be used to ventilate basements, cellars, and garages.
Whether you live in a house with or without a loft, you should choose a PIV system that is energy efficient and requires little maintenance. Don't be hesitant to call the ventilation manufacturer and chat with a technical advisor if you have questions or need assistance on which system is best for you. It's critical to seek guidance based on the layout of your home and your specific requirements.
Pros and Cons of using PIV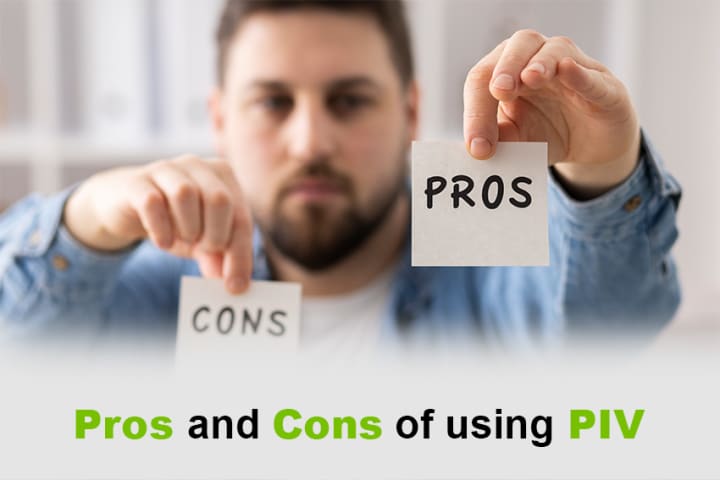 Apparently PIV units hold both pros and cons, though pros are heavy over cons as PIV units offer numerous benefits to everyone's surprise. spray insulation cost
Let us first throw some light on its pros which are infinite
Sole solution to condensation problems
Greatly reiterates air quality by reducing pollutants.
Easily installed and easy to carry
Low power consumption.
Utilized to limit Radon Gas Levels
Demands low maintenance and replaced every five year
Reduces the necessity of installing single extract fans
Cons or Disadvantages
Requires spacious loft space
Price of PIV unit is on the higher side as compared to a single extract fan
Demands proper handling and installment
Should be installed by a pro electrician or it can cause mishap.
Hence, for a very low cost, one fan can provide adequate ventilation for an entire property, and because the systems are located in the property's loft, installation is a simple and quick process.
About the Creator
Evergreen Power has evolved from a family run business to a national company, still keeping the same family values. Evergreen Power specialises in spray foam insulation and heating solutions. Huntsman Building Solution Contractor
Reader insights
Be the first to share your insights about this piece.
Add your insights