Plot Outlines: A Glimpse Into my Creative Process
And Why it Works for Me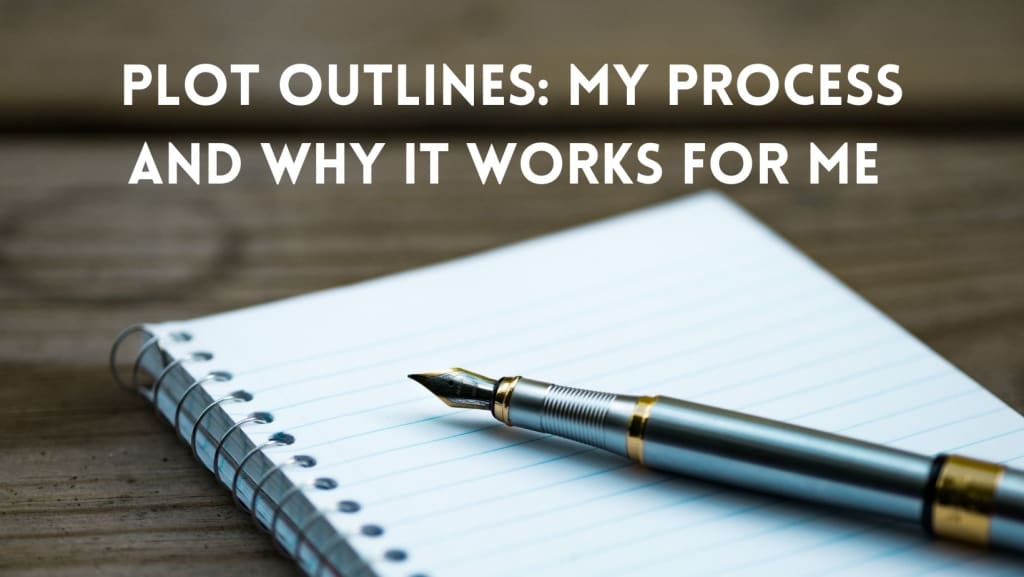 From the moment a plot idea is born to the moment it is being published, a lot goes on. The longest section of this is definitely the editing process, but that's not what most beginners struggle with. Often, they struggle with getting organized and actually getting a few pages written.
I'm part of a multitude of creative writing groups, and many of the questions I often see asked are the following:
"Is it better to create an outline before starting the writing process?"
"How do you keep track of your ideas and of what happens in your novel?"
"How do you know if a chapter is too long or not long enough?"
The list goes on.
The truth is, there is no one way of doing things. I've written stories/novellas without making an outline. Nowadays, I never jump into a writing project without making one. My outline is how I keep track of my ideas, characters, major plot points and important details. And it serves me like a map: it shows the main and most direct route to get to the end of the story, but offers possible detours, it has a legend, it highlights the major attractions… It helps me get to the place I want to go.
I'm a visual person. Hence, a map – something I can look at – is a necessity for me. Other writers might be fine with a simple file that contains character sheets, and another for their actual novel. Some take notes with a pen and paper, others highlight key moments in their narrative as they write them. Some writers write their stories in such a short period of time that they wouldn't even consult their outline if they had one. Some people write an outline and completely change the plot halfway through. There is no one way.
All this said, I want to share with you what my creative process looks like, and why it works for me. Who knows, maybe it'll work for you too. First, to create my "map," I need the right materials:
a blank (any colour, but I like white) poster-size cardboard,
Post-its (various sizes, various colours),
a pencil, and
a way to hang the poster on a wall (optional).
That's it!
Then, I choose which colour post-it represents which story element. I usually take one for the title (or title options if I haven't settled on one yet), another colour for each character, another for the actions/events/choices, and another for jokes/themes that I want to incorporate somewhere in my creative work.
Here's a picture of one of my current work-in-progress outlines.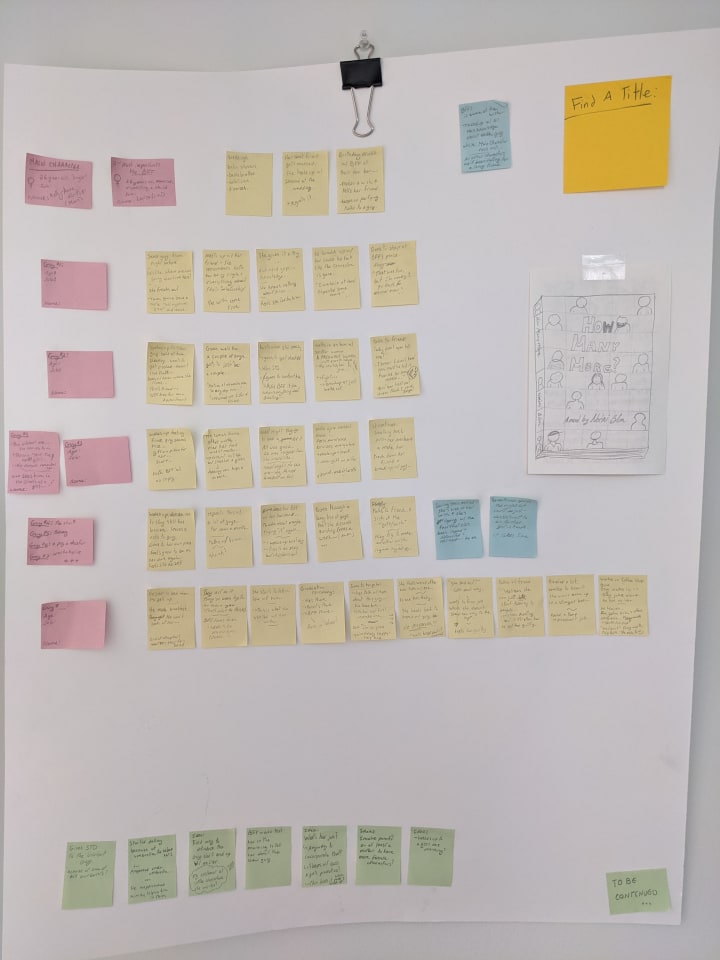 For this writing project, the pink post-its are characters, the yellow ones are chapters, the bright orange one is my title idea collector, the green ones are for possible ideas/jokes that could be incorporated anywhere in the narrative, and finally, the blue ones are must-not-forget elements in my story. With this project's outline, I've even taped on a sketch of what the book cover could look like. (You can judge my drawing skills. I'm a writer for a reason.)
As you can see, I have divided my chapters into sections. For this story, the chapters depend on specific characters (and those character Post-its precede the row they affect). Seeing it like this, I'm considering separating my novel into parts as well as chapters, but I'll only decide this at the end. Still, one yellow post-it typically equals one chapter, so if I want to write a 300-page novel, my chapters need to be at least 10 pages long.
Many of you might wonder why I use Post-its and don't just write directly on the poster. Well, the answer to that can easily be answered with this outline as an example. Because my chapters depend on the characters and not necessarily on the order of events, I could choose to invert the order of the chapters. I could want to introduce the third character first, and the first one last. With Post-its, I can easily reorganize my outline. I can also simply rip one off if I decide that it no longer fits in the story, and I can also stick multiple Post-its one on top of the other if one post it isn't enough to contain all the information I need it to contain (it helps me save space). Plus, by using Post-its, when I'm done writing this story, I can simply take them off and re-use the poster for a new outline.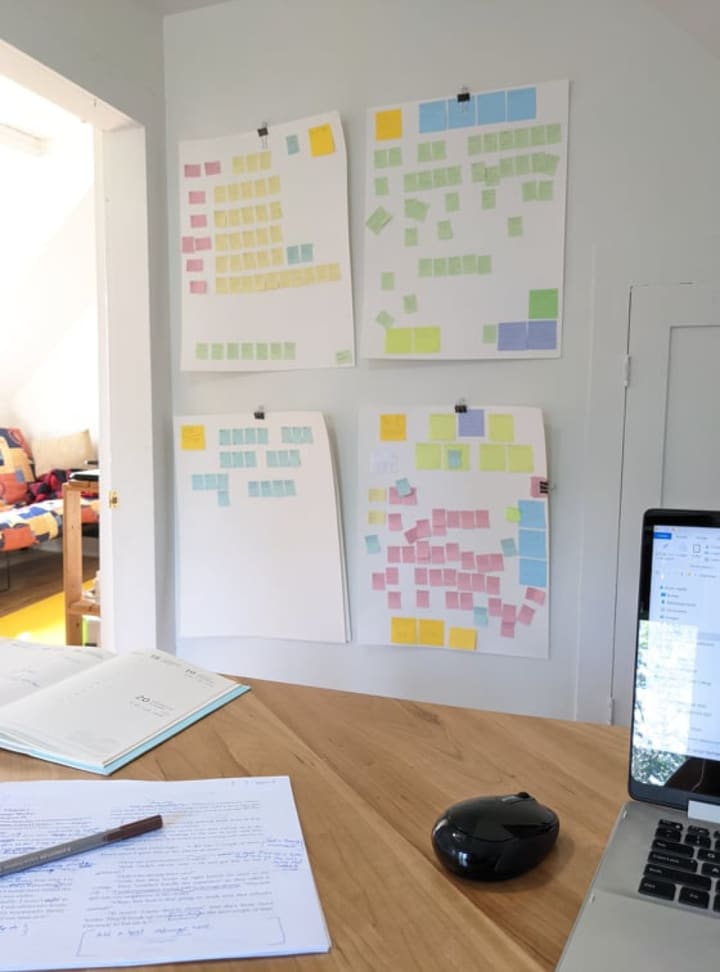 Of course, as you can see above, the core of my plot influences how I organize my outline. Take the top right one for instance: I put all my characters at the top of the poster because they are the most important elements. I gave them larger Post-its because I wrote down key character details on them. Underneath, I have my chapters, which have been moved around so many times that now it just looks like a mess. Yet, I still find my way through it.
On one outline, I have an I'm-not-sure-about-this-after-all pile.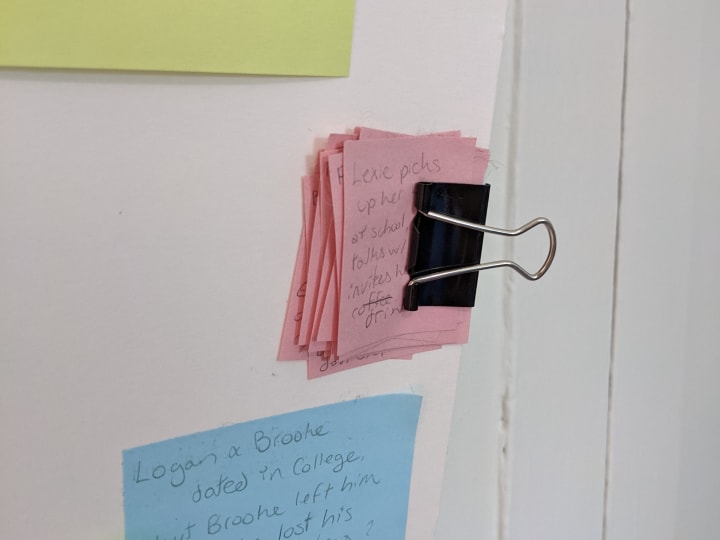 At the bottom left of my previous wide-shot, I have one story concept where my outline consists mainly of having my characters organized in groups, but I have no idea yet what the hell will happen in the story. We'll see as ideas come to me and I get to stick them onto my outline. What matters is that I use my "maps" for what I need them for, that I take the route I'm most comfortable with, and that I can refer to it whenever I feel lost.
Finally, and less importantly, comes the method that I chose to hang them on the wall. I chose a thumbnail and a binder clip.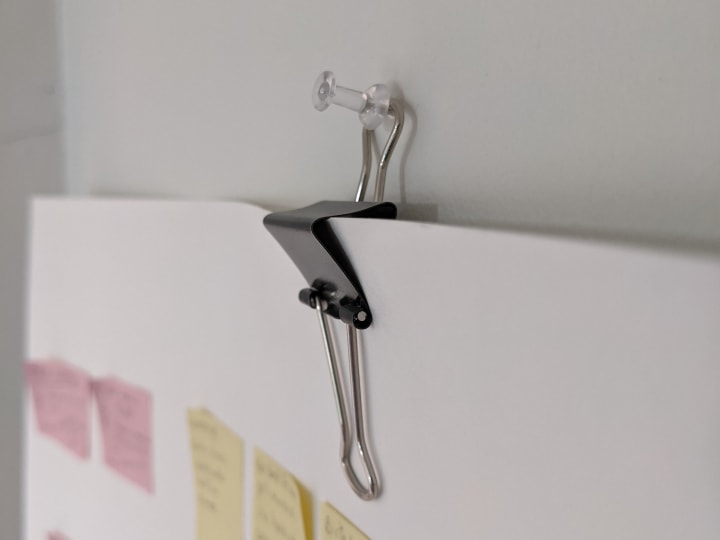 Was this the smartest/prettiest/most efficient way of hanging them on my wall? No. I simply poked holes into my walls and can't even manage to get the posters to hang straight. Was this the cheapest because I already had these specific materials on hand? Definitely. Whatever works best. Do they even need to be hung up? No. Still, I hung these on the wall right in front of my desk. This way, as soon as I'm losing direction or facing writer's block, I can just take a quick glimpse at them and continue writing.
My process isn't perfect, but it works for me. I encourage you writers out there to test out a few methods, to find what works best for you and to share your process with others!
***
Want to read more of my work? Visit my Instagram (@n.m.blom), my Facebook page (Noémi Blom – Writer), or of course, my Vocal page!
how to
She/Her
Student @Sheridan College
Honours Bachelor in Creative Writing & Publishing 2023
I love reading, writing stories, giving feedback, and helping other writers with their creative work. Once I graduate, I want to teach, write and edit!