Our Founding Designers | The History of Popular Interior Design Styles
Who birthed Rococo, Mid-Century Modern, or Hollywood Regency Design? How did they come to be?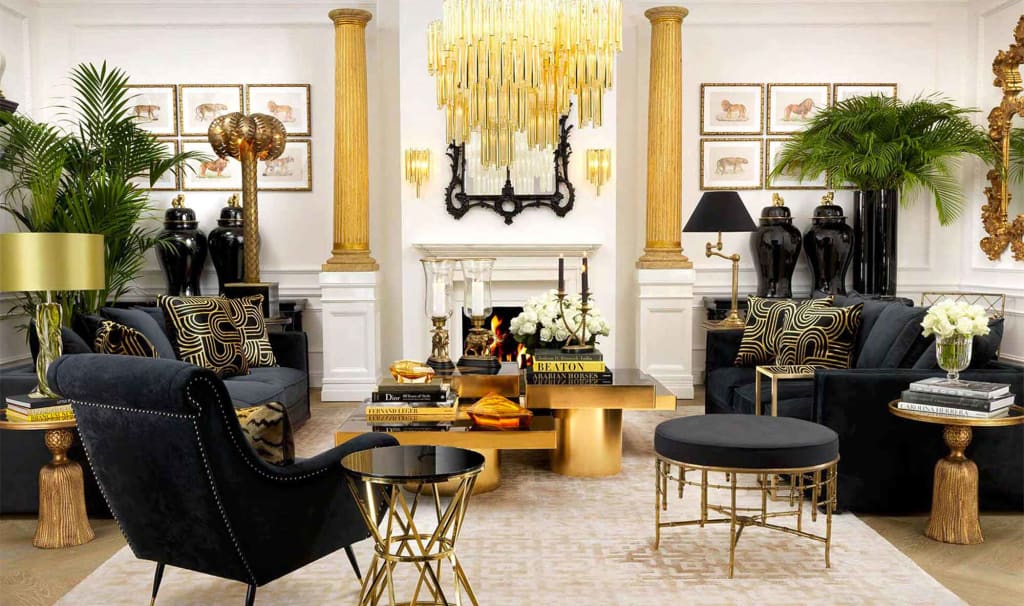 While studying Entertainment Technology, we took a set design course, and I was to design a set for a stage play, (the name escapes me now.) I do recall deciding on a Rococo Theme for my set. I scoured the internet looking through various Interior Design styles, and imagined how I could translate the looks for function on a stage.
As a student, we learn about WHAT a design is, but as a designer, I'm curious to know WHO was the first designer of some of history's most iconic design styles. Well, you're in luck! I did the research so you don't have to!
Let's begin.
ROCOCO
"I'm a Baroque person. More than Baroque, I'm a Rococo person. I don't draw straight lines." -Nuno Roque
Founder: Pierre Lepautre
Period: 18th Century
Region: France
History: Lapautre was a French engraver who joined Bâtiments du Roi, the design team for The french monarchy of Louis XIV. He worked on the interiors of Chateau de Marly in 1679 under architect Jules Hardouin-Mansart. Pierre came from of family of designers and architects. His father was interior designer Jean Lepautre and his uncle was Architect Antoine Lepautre.
ART DECO
"The Art Deco movement, architecture from that period and sort of the industrial aesthetic from that period. Art Deco meets tribal kind of thing. All that is my primal inspiration." -Pamela Love
Founders: Hector Guimard, Eugene Grasset, Raoul Lachenal, Paul Follot, Maurice Dufrene, and Emile Decour.
Period: 1920's
Region: France
History: Guimard, Grasset, Lachenal, Follot, Dufrene, and Decour all belonged to the Société des Artistes Décorateurs. Together, they organized the Exposition Internationale des arts décoratifs et Industriels Modernes; a world fair held in France in 1925. It showcased the latest in french architecture, interiors, furnishings, decor, art, and more!
HOLLYWOOD REGENCY
Hollywood regency never goes out of style. -Lara Spencer
Founder: Dorothy Draper
Period: 1940's
Region: New York City
History: Draper was a decorator and bestselling author from New York City. She decorated many historic hotels including The Carlyle, The Greenbrier, The Sherry Netherland, Drake, and Fairmont. Dorothy's Cabbage Rose Chinz design with Schumacher sold more than one million yards throughout the 1930s and 1940s. She is also credited with creating the Modern Baroque design style.
INDUSTRIAL
"Artists were able to find loft space to rent because units were increasingly being left vacant by the migration of industrial jobs outside of New York City." -Aaron Shkuda
Founders: Soho Artists
Period: 1950s
Region: New York City
History: Industrial design became popularized after artists began repurposing vacant factories into artists lofts. After bids for a highway and a housing project were rejected by the city, the commissioners decided to allow artists to repurpose the spaces. This would bring cache and notoriety, which would increase property values of the area South of Houston Street; known today as Soho.
MID-CENTURY
"It was the clean lines and simplicity of the furniture during a chaotic period in my life (raising babies) that pulled me into this (Mid-century Modern) design world a decade ago. - Marla.
Founders: Arne Jacobson, Charles, and Ray Eames, Harry Bertoia, George Nelson.
Period: 1950's
Region: America
History: Mid-century design is an iteration of Bauhaus and International architectural movements of the 20s-30s, which became popularized in the 50s. Furnishing designers like Bertoia, Eames, Jacobson, and Nelson were pioneers in the furniture design staples such as the Eames Lounge and Ottoman, Bertoia Diamond chair, Nelson Storage Unit, and the like.
Honorable Mention* Cara Greenberg is a design historian and journalist who created the phrase Mid-century Modern as the title of her best-selling book, Mid-century Modern: Furniture of the 1950s.
I learned so much while researching our founding designers, I had no idea that Mid-century Modern was coined as the title of a book! What was most surprising to you? Share below.
Visit me on FayeWLiving.com for design inspiration and leave a tip if you enjoyed what you read. Cheers!