New Year's Eve Traditions That Start the Year Off Right
Another pandemic year is just about ready to prance out the window. Good riddance, as far as we're concerned!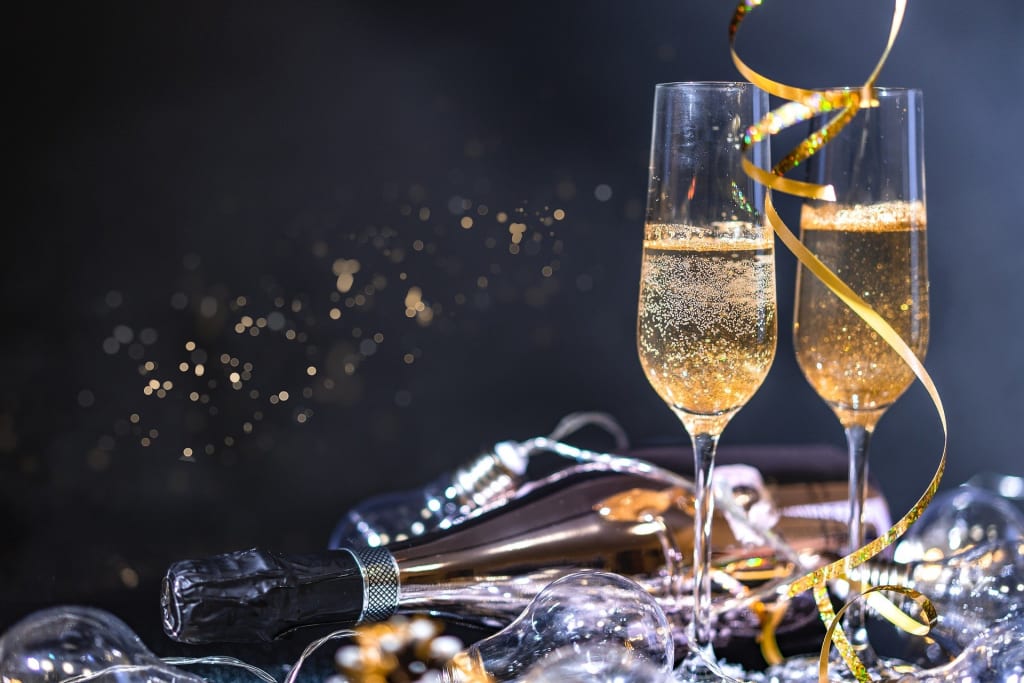 Another pandemic year is just about ready to prance out the window. Good riddance, as far as we're concerned! We've created a list of the best New Year's traditions to ensure that 2022 brings you and your loved ones good fortune, health, and prosperity. From simple ones like wearing red or lighting sparklers to more out-of-left-field ones like the Danish tradition of breaking old plates in front of friends' houses.
To be honest, it won't take much for 2022 to be better than the past two years. We've seen our share of trouble and strife. Bring on the good times and let the alcohol flow!
Make New Year's resolutions
There's no time like the present, especially if you plan on creating healthier habits or achieving a long sought after goal. There is, however, something symbolic in the coming of the New Year. We all feel like the slate is wiped clean, like the New Year is a new beginning, and we get a new shot at life. Use this opportunity to write down your goals and make a promise to yourself to follow through with your decision.
Write Down Your New Year's Intentions
While resolutions are concrete and determined guidelines for achieving certain goals, intentions are more general and undefined. They are broad decisions about your outlook, to be more open and forgiving, or to laugh more and sulk less, for example. New Year's intentions push you in a general direction of who you want to be as a person. We recommend creating a vision board and hanging it up somewhere where you can see it everyday and be reminded of how you want to be.
Leave the Windows Open!
It might get chilly, but leaving your windows open during the New Year's celebration will let the old year leave your home unimpeded. And after another pandemic year, it's imperative that as many of us partake in this tradition. This year should leave as soon as possible, and the new year should bring us more joy.
Leap into the New Year
The Dnes have a neat tradition - climb on top of a piece of furniture when the countdown begins. Then, as the clock strikes midnight, jump off it. Of course, blood alcohol levels should preferably be low for this stunt. The jump brings you luck in the New Year, the tradition states.
Break Old Dishes
Another great tradition originated from the Danes. Collect old plates and smash them in front of your neighbors' and friends' front door. It will bring them good luck in the New Year. The tradition also serves as a measure of popularity - the more plates you find broken in front of your front door, the more well-wishers you have.
Watch the Crystal Ball Drop in Times' Square
Every 31st of December, at 11:59, the Crystal Ball begins its descent down the specially designed flagpole on the roof of One Times Square. Hundreds of thousands of people watch it from New York city streets. Millions across the country watch it from home. If you're near the Minneapolis area, we recommend the Pourhouse's Crystal Ball New Year's event.
The Crystal Ball in Times Square first ushered in the year 1908. Since then, it has only skipped the 1942/43 celebration in observance of wartime blackouts.
Eat 12 grapes
With each clock bell, scarf a grape down, according to this century-old Spanish tradition. Each grape represents a month. Some say it wards off evil spirits. Others say it brings you luck and prosperity. Any way you twist it, it's a fun and healthy tradition you and your friends and family can enjoy.
Throw Water out the Window
Every Latin American will tell you, throwing out a bucket of water out the window when the clock hands merge is a way to cleanse and renew your life in expectation of the New Year. Leave the past behind you and start again, have some water ready.
The Countdown
No New Year's celebration is complete without the countdown to midnight. Make sure your party has a designated countdown master because, by the time the moment's right for greeting the New Year, most of the guests will already be tipsy. And there's nothing more disappointing than wishing everybody a Happy New year at 00:02. Make sure you have your kiss buddy ready for that midnight smooch!
Wear Red for Love & Passion
Every color has its own meaning when you wear it for a New Year's celebration. Red will bring you fresh love, and wearing red underwear has established itself as a key tradition for bringing passion to your love life.
Jump Into Freezing Water
A 'Polar Bear Plunge' is a very popular tradition around the world. Jumping into a body of icy water may not be for everyone, but thousands of people around the world will usher in the new 2022 by freezing their minds off. It can be a really shocking experience! Submerging yourself in ice is believed to have originated in 1920 in Vancouver, Canada. Now, these types of events raise money for charity across the U.S.
Make a Toast
If there ever is a time when it's alright to get a bit tipsy, it's a New Year's celebration. Raising a glass for the New Year is an ancient tradition, and a toast is a great way to express your love and gratitude to the ones around you. You don't have to cram the toast full of jokes. It's alright to just be honest in your best wishes and have everyone take a sip at the same time. Cheers!
The Midnight Kiss
Having someone dear to you to kiss when the clock strikes midnight is invaluable. Finding someone new to kiss is arguably even better! Some scholars speculate that this tradition heralds back to the Saturnalia celebrations of Ancient Rome, a huge celebration held at the end of each calendar year. The party, a sort of 'opposite day' where masters waited on their servants, was all about freeing the soul and letting loose. If you don't already have someone, find somebody and let loose together!
Keep Track of Who Your First Houseguest Is!
This Scottish tradition of 'firstfooting' concerns the first guest that walks through your front door on New Year's Day. Preferably, it's a tall, dark man carrying salt, shortbread, or whiskey, gifts that are supposed to grant your home luck and prosperity for the next 12 months.
Wear White
While red can bring you fresh love and passion, wearing white on New Years will bring you luck, wonder, and adventure. At least, that's what Brazilians seem to think. That's why they tone their outfits down for New Years, only to boost them up a couple of months later when the Carnival festivities begin.
Have Fun With Sparklers
A much safer version of having your own fireworks show is lighting simple sparklers in your living room. While not as spectacular, it's a much more 'hands-on' experience for you and your family to enjoy. Dim the lights, carefully light the sticks, and marvel at the sparkles flying in every direction. It's also a great opportunity to teach your children about fire safety.
how to
About the author
Lucas is a business consultant from Minneapolis, Minnesota. Besides that, he has a passion for writing. Doing his research, exploring, and writing are his favorite things to do.