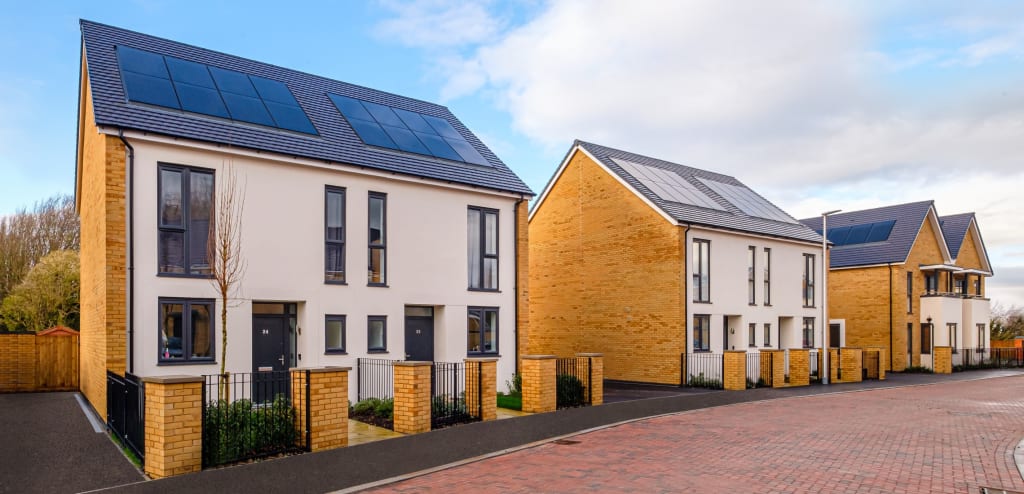 Buying a new-build home can be an enjoyable process!
So, you've decided to buy a new home? Whether it's your first home or your third, buying a new house is an exciting event. No doubt you've already started doing your research – looking at locations, prices, and endless floor plans and photographs. But have you considered a new-build home?
New-build homes are becoming increasingly popular for many families looking for quality homes, and for those in the know, it's not surprising that new-build homes are being snapped up.
1. It's a complete blank canvas
We all love visiting a showhome. From cosy bedrooms to open kitchens, it's hard not to picture ourselves relaxing in these pristine abodes. But not everything in the showhome may be to your taste. Would you prefer carpet to hard flooring in the hallway? A different set of cabinet fronts in the utility room? If you love to leave your mark on your home, new build homes are the perfect blank canvas. Owners actually have a lot of influence on how a new-build home is designed and decorated, so you can customise your ideal home.
In a new-build home, you can choose your own flooring, kitchen units, bathroom tiling and other utilities. Many aspects of the build are potentially up for discussion, so be sure to enquire.
One national housebuilding business, St. Modwen Homes, takes customisation to the next level with its new initiative, 'The Starting Block'. Potential homeowners have more choice over the layout of rooms and facilities by buying the shell of the home without any interior. What you do with the house is then up to you, designing it to fit your tastes and needs. Need a home office instead of an extra bedroom? Or maybe you'd like to create an inverted home, with your living spaces and kitchen located on the first floor? No problem. You can truly create the home of your dreams.
2. There are money-saving opportunities
It doesn't take a lot of research to find out that there are more incentives for you to take advantage of when buying a new-build home over an older house. Financially speaking, housebuilding companies can assist you on your home buying journey by offering a part exchange on your old home. This means you won't have to wait around for a buyer, and all the hassle is taken out of the process.
Meanwhile, first-time buyers can benefit from the government-backed Help To Buy Equity Loan which can be used exclusively on new-build homes. This means you may be more likely to afford a new-build home, as you'll only need a 5% deposit.
3. You need to check if the house will be freehold or leasehold
Knowing whether your home is freehold or leasehold is important. On a leasehold, while you own the property, you do not own the land that it is built on. That land is owned by the freeholder. A leasehold is granted to property owners for a number of years before the price of the lease is renegotiated.
Fortunately, there's not a lot to worry about when you're buying a new build property. Leaseholds on new-build properties are usually long term – often over 90 years. This mainly concerns flats or apartments where the structure of the property shares the land with other flats and apartments.
However, new-build homes are often freehold. In 2019, the government announced that all new houses were to be sold on a freehold basis. This means that when you buy a new-build home, you'll also own the land it stands on. This is not the case for older homes, where leaseholds are still permitted and can be subject to excessive inflation.
4. New-build homes tend to be greener and cleaner
There's something thrilling about moving into a home that no one has lived in before. Plus, when everything is spick-and-span new, you shouldn't expect to splash out on any fix-me-ups anytime soon after moving in. You could save thousands compared to fixing up an older home.
Meanwhile, some features of a new-build home make it the best green choice for living. New-build homes are ready with double-glazed windows, insulation designed to the latest regulation, and other energy-saving options. You'll save money on your bills in a new-build home.
Looking to be more sustainable? The roofs on new-build homes can maintain the weight of solar panels, further saving you on your energy bills. Meanwhile, if you purchase a St. Modwen home, you can upgrade your home with an innovative Waste Water Heat Recovery unit, where your shower water can help heat the house. Plus, if you've upgraded your car to an electric one, you may be able to install an electric vehicle charging point by your new home.
5. You get top-class safety and security features
One of the main benefits to a newly built home is that, by default, it will follow all the latest safety and security regulations. More and more regulations are created, cemented, and updated every year, so by virtue of being a new-build home, these properties are designed with those directives in mind. On the other hand, older homes have to have additional maintenance work done to get them up to standard.
Many home builders will give you the option of upgrading your new home's security features even further too – it's all part of the customisation perk of a new-build home. Cutting-edge security upgrades often include wireless alarms or door cameras, so it's worth investigating what options are available.
6. You can still part-exchange
New-build homes are often in high demand, and securing the best plot means you may not want to spend time hanging around for a buyer of your current property. Luckily, current homeowners can part-exchange their property for a new-build home.
How does it work? Homebuilding businesses will obtain independent valuations of your current home and then agree on a fair price for the part exchange with you. Importantly, you'll save yourself from the stress of multiple home viewings and benefit from no broken chains and no estate agent fees to pay. You can get the win-win of a new-build with a part exchange.
7. The process can be enjoyable!
We know that buying a new house can be eventful (and even stressful) at times. It's a big decision. But there are many ways that buying a new-build home can be enjoyable, and you should be able to look back at this time with good memories.
Part of buying a new-build home is the convenience. While you can help shape your own living space, you're also relieving the burden of onward chains, future maintenance, and other financial pressures. If you need to be told one thing about buying a new-build home, it's that it can be an enjoyable process.
Reader insights
Be the first to share your insights about this piece.
Add your insights