Modern Austen's Guide to Throwing a Zoom Ball
With the help of this guide, you'll be able to bring everyone in your town together for a virtual, socially-distanced ball.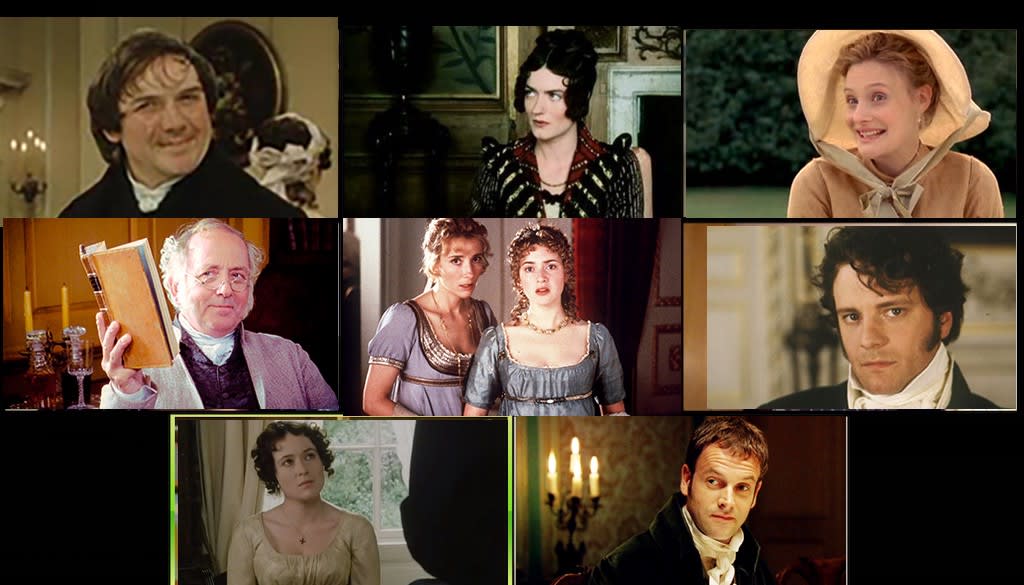 In these days of social distancing and lockdown, people have been using Zoom to stay connected with friends and loved ones. From work meetings to game nights to birthday parties and weddings, Zoom has helped make life feel a little normal during this plague.
Hosting a ball virtually comes with some limitations. One limitation you'll probably love is that you don't need to worry about invitations. For a Zoom ball, all you need to do is schedule the event on people's Google calendars and wait for them to accept (or decline). The tricky part will be making sure that you have everyone on your guest list's email address.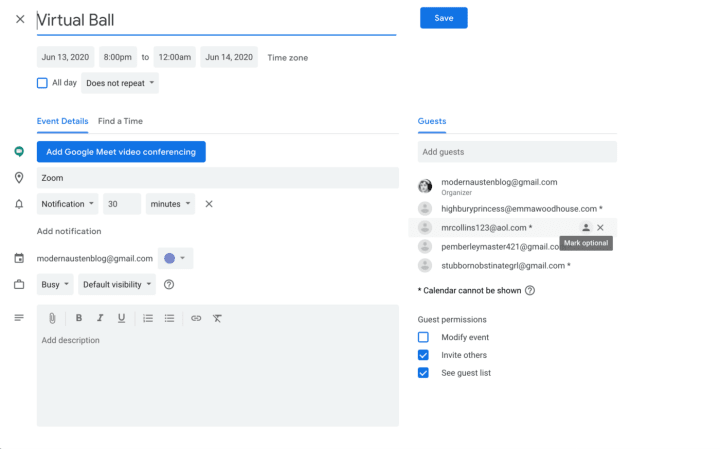 With the help of this guide, you'll be able to use Zoom to throw a country ball, bringing everyone in your village together for an evening of music and frivolity.
Here's how it's done.
Once you've inquired after everyone's health, put your guests at ease with an ice breaker
It will feel a little awkward waiting for guests to log on and get connected to their audio. And there's always someone who has issues with their internet. Plus, it will be a little daunting at first to see everyone at your party's faces captured in little squares.
A good icebreaker will help you put all your guests at ease so you can make proper introductions, which will allow all the men and women in your party to dance and converse without reserve. That's one key reason for keeping your gathering small, more intimate: You won't spend the entire evening introducing people.
Now, there are 2 main disadvantages to a virtual ball that you'll want to account for:
It makes it hard to mingle
It's almost impossible to prevent a lower class guest from talking to someone above their station (Looking at you, Mr. Collins!)
Without the right introductions, your guests won't know who they can talk to or dance with. As the host of a virtual ball, the responsibility of making these introductions rests on your shoulders. You could go the route of only inviting guests who belong to the same class to make things easier on yourself, but this isn't your only option. You'll just have to put some thought into your icebreaker.
When you're introducing each guest on your Zoom call, be sure to mention who their family is and where they're situated. You'll need to make it easy for your guests to decipher who is a fair prospect and who they should avoid.
But you should also make your icebreaker fun — there's a pandemic going on outside, and we can all use more fun. Once you've introduced someone to the rest of the party, have them answer a silly question that will get everyone laughing.
What makes a good icebreaker question? Try something like this: "Is it more important to marry for love or fortune?"
Invite someone who owns a pianoforte and plays it well
This one's pretty self-explanatory. Good music performed by a handsome woman is the secret to any successful gathering. For your Zoom party, you'll need music to set the mood and make everyone feel like they're in the same room.
Your guest list will have at least 3 RSVPs with young daughters who
1. Can play and sing
2. Have a father hoping to marry them off
Reach out to these guests ahead of time, so you can coordinate a playlist for the evening. Ask for the sheet music your performers will be playing; then you can copy it painstakingly by hand into 1 book. If you're stumped for a good party favor, make enough music books of the night's playlist to mail to all your guests.
What would have been on Jane Austen's playlist? Listen to songs included in the Austen family music book
Dancing is out, sing-a-longs are in
Dancing, unfortunately, doesn't translate well to a virtual ball, unless you happen to be quarantined with a dance partner. But singing is an easy way to make your socially-distanced gathering feel like a party.
Play music that everyone knows, so they can sing along. Or you can take it one step further and give everyone a chance to perform their favorite karaoke songs. Ask your guests what they're most comfortable doing.
Set up breakout rooms for guests to participate in whatever leisure activity they desire
According to Zoom's help documentation, it's possible "to split your Zoom meeting in up to 50 separate sessions." For the purposes of your intimate gathering, you'll probably need no more than 4 of these sessions.
Breakout rooms will give people a chance to step away from the main festivities of your ball and converse with a smaller group of people. If anyone is so inclined, they might even find a way to virtually play whist and other parlour games.
You should definitely have separate rooms for gentlemen and ladies to relax and talk about the other sex. Set up a room for games and fun, as well as a room for reading and reflection. This will allow you to anticipate the needs of all your guests.
The mute button is a host's best friend
When you're not speaking, make sure you're muted. When you're speaking and you don't want anyone to hear what you're saying, definitely make sure you're on mute.
There might be some background noises (servants moving about) you'd rather spare your guests from hearing, which is one of the reasons why the mute button is a godsend — it's best for servants to remain unseen and unheard, if possible.
The stress of hosting a party can get to anyone, and you likely won't get through the night without muttering about some guest under your breath. The last thing you need during these trying times is to turn a friend into an enemy. So do yourself a favor and stay muted unless you have something particularly clever or witty to say.
Put as much thought into your appearance as you would for a ball in IRL
At least when it comes to what your guests will see on screen.
Sure, keep your pajama bottoms on if that feels good, but you don't want to get too accustomed to this casual attire. This is your chance to throw on a ball gown, wear your hair in a new style, and actually bathe. What you wear is something you can control right now, so why not take this opportunity to feel a little normal?
Apart from your personal appearance, you'll want to make sure whatever room in your home you choose to host the party from is fit to be seen. Or you can get creative with a Zoom background. These are fun images you can use to make it look like you're somewhere other than your home.
Host your party from the ruins of Bath, from Buckingham Palace, or from the beautiful landscape of the Lake District. If you want to show off your own home, just make sure the servants have done a good job cleaning.
End the ball at the exact time your invitation said it would be over
Arguably the best part of a Zoom ball is that you can end it for everyone by simply clicking a button. This means that you won't have to deal with guests who always seem to overstay their welcome. And it might just convince you to host more virtual balls in the future.
Modern Austen is a magazine for modern heroines. Read more how-to guides, articles, and letters of advice here.