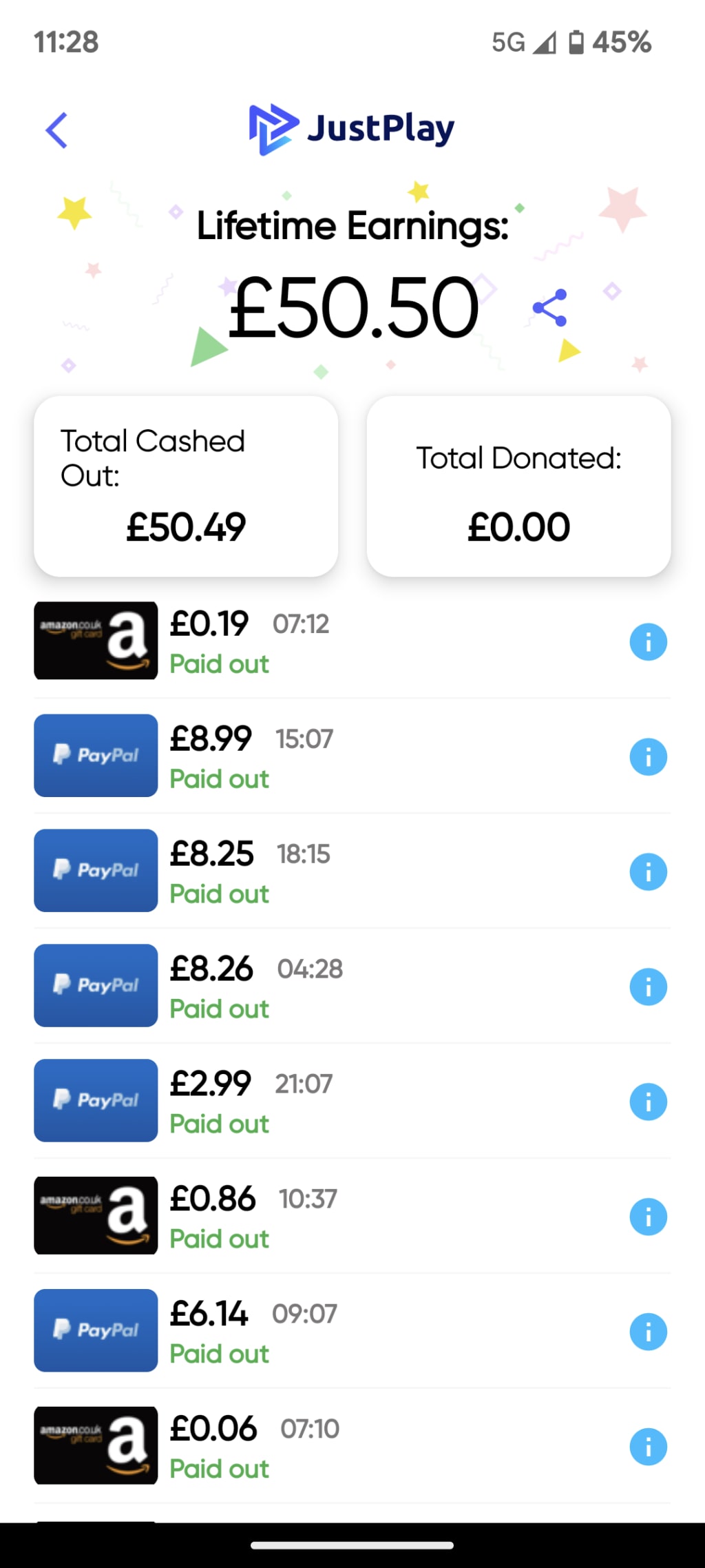 JustPlay Earnings Proof.
Discovering JustPlay: A New Way to Earn
A while ago, I stumbled upon JustPlay, an app recommended on Google Play. The app had a plethora of positive reviews, with users sharing their successful cash-outs via PayPal and Amazon vouchers.
The JustPlay Experience: Games, Points, and Rewards
JustPlay is a unique platform where users can download games, earn points, and eventually cash out. The app allows users to cash out every 24 hours. In my short experience, I've successfully cashed out $2 to PayPal and $7.80 to Amazon, confirming the app's legitimacy.
The Earning Algorithm: A Bit of Mystery
The app's payment system, however, remains somewhat ambiguous. It's unclear how the app calculates daily earnings or the conversion rate of points to cash.
Daily Goals: The Key to Cash Out
JustPlay sets a daily goal starting at 1500 points, which increases by approximately 250 points each day. So far, I've managed to meet these goals and cash out. However, the consequences of not reaching the daily goal remain uncertain. I plan to explore this in the coming days.
Payouts and Minimums: A Closer Look
JustPlay offers payouts every 24 hours. To cash out to PayPal, you need a minimum of $2. If you don't reach this threshold, you can opt for Amazon vouchers, which are instantly redeemable.
More Ways to Earn: Videos and Offers
In addition to playing games, you can earn points by watching videos (ads), which yield 50 points per view. You can also complete offers to earn additional points.
Update: No Minimum for Amazon Vouchers
After a few weeks of using JustPlay, I discovered that there's no minimum amount for Amazon vouchers, allowing for daily cash-outs. Alternatively, you can accumulate points over a few days to cash out via PayPal.
Games Galore: A Wide Selection
JustPlay offers a diverse range of games, including word games, puzzles, and number games. The games are family-friendly, making it a suitable app for kids as well.
JustPlay: A New Era of Rewarding Gameplay
In the ever-evolving world of mobile gaming, JustPlay emerges as a unique platform that rewards players for their time spent gaming. Available on Google Play, this innovative app offers a loyalty program for casual gamers, allowing them to discover a variety of games, collect coins, and earn rewards.
What sets JustPlay apart is its commitment to social responsibility. The platform enables players to donate their earnings to a charity of their choice, with JustPlay matching every dollar donated. This unique feature allows gamers to contribute to global causes such as Climate Change, Hunger, and Health while enjoying their favorite games.
JustPlay is not just about rewarding players; it also aims to create a balanced ecosystem where game developers are equally rewarded. This approach fosters a fair and beneficial environment for all parties involved in the gaming industry.
In essence, JustPlay is revolutionizing the mobile gaming landscape by offering a platform where gaming is not just fun, but also rewarding and socially responsible. So why wait? Download JustPlay, and let your gameplay make a difference!
Exploring the World of Mobile Money-Making Apps
In the digital age, your smartphone can be more than just a communication device; it can also be a money-making tool. Apart from JustPlay, which rewards you for playing games, there are numerous other apps that offer opportunities to earn money.
Swagbucks is a popular choice, rewarding users for a variety of online activities, from shopping to watching videos. Similarly, InboxDollars pays users in cash for engaging in similar activities, with a $5 bonus just for signing up.
For those who enjoy sharing their opinions, Survey Junkie offers compensation for taking surveys. The points earned can be cashed out via PayPal or e-Giftcards.
If shopping is your hobby, Rakuten can be your best friend, offering cash back for shopping at participating retailers.
For the skilled individuals, Fiverr provides a platform to offer services ranging from graphic design to writing, and earn money in return.
TaskRabbit connects users with people in their area who need help with tasks, allowing them to set their rates and work on their schedule. Similarly, apps like Uber, Lyft, and Instacart offer opportunities to earn money by driving or delivering groceries.
Finally, for the crafty individuals, Etsy provides a marketplace to sell handmade goods, vintage items, and craft supplies.
In conclusion, the opportunities to earn money through your smartphone are vast and varied. Whether you're playing games on JustPlay or delivering groceries through Instacart, there's an app out there that can turn your time into earnings.
Reader insights
Be the first to share your insights about this piece.
Add your insights