I Tried This New All-In-One Laundry Solution, Here's What Happened
Dreambly's all-in-one laundry solution will save you a ton of time in the laundry room.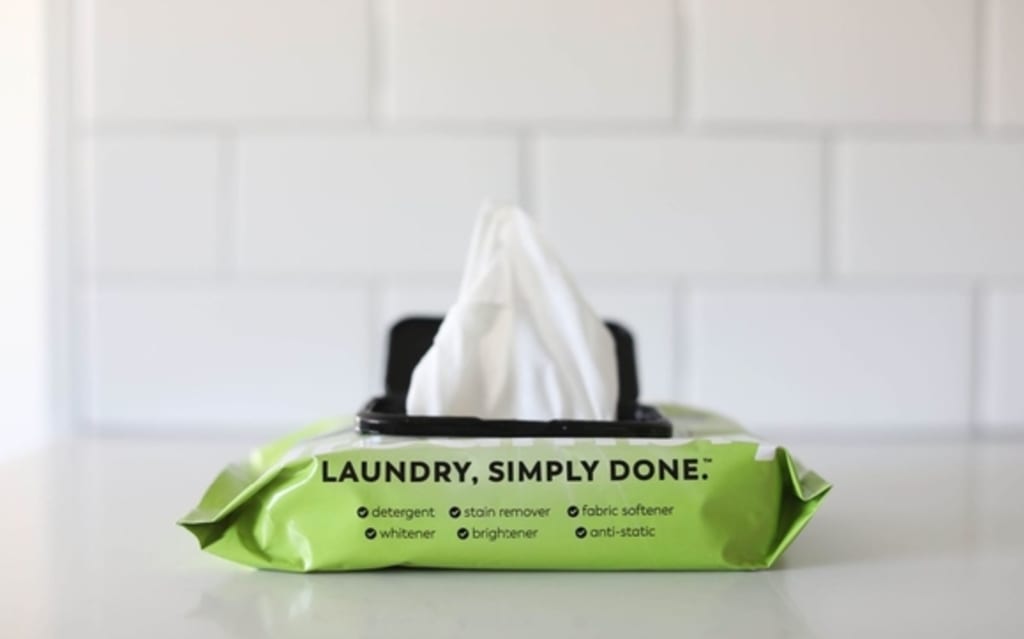 Living in a house with other people isn't easy. And while it wasn't my first choice, it's where I am for the time being. One of the things I really have to get used to is sharing a washer and dryer. Which is what can happen when if you decide to uproot your life and move six hundred miles away on a whim.
I was recently introduced to a new all-in-one laundry solution that would appear to make my busy life much easier. At least when I do laundry anyway. Between meetings, writing, voice-over and traveling in and out of New York City, life can be hectic. So far this new solution hasn't disappointed.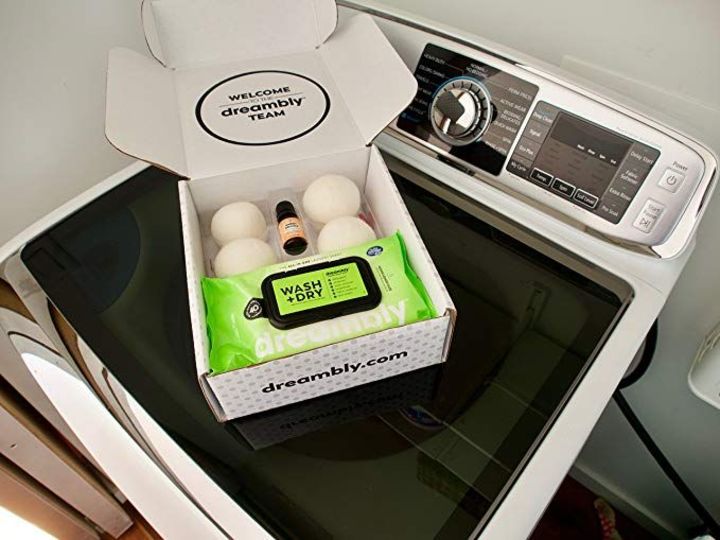 Dreambly is an all-in-one laundry solution, that comes uniquely packaged in a form you've never seen before. Instead of liquid or powder, Dreambly comes in the form of a sheet. Each wash + dry sheet serves as a stain remover, detergent, fabric softener, and dryer sheet. These sheets are naturally biodegradable (which I love) and they're scented with essential oils.
They're perfect for those with sensitive skin and or allergies because the sheets are non-toxic, non-harmful, and non-irritating. They are also hypoallergenic and free of synthetic dyes and perfumes.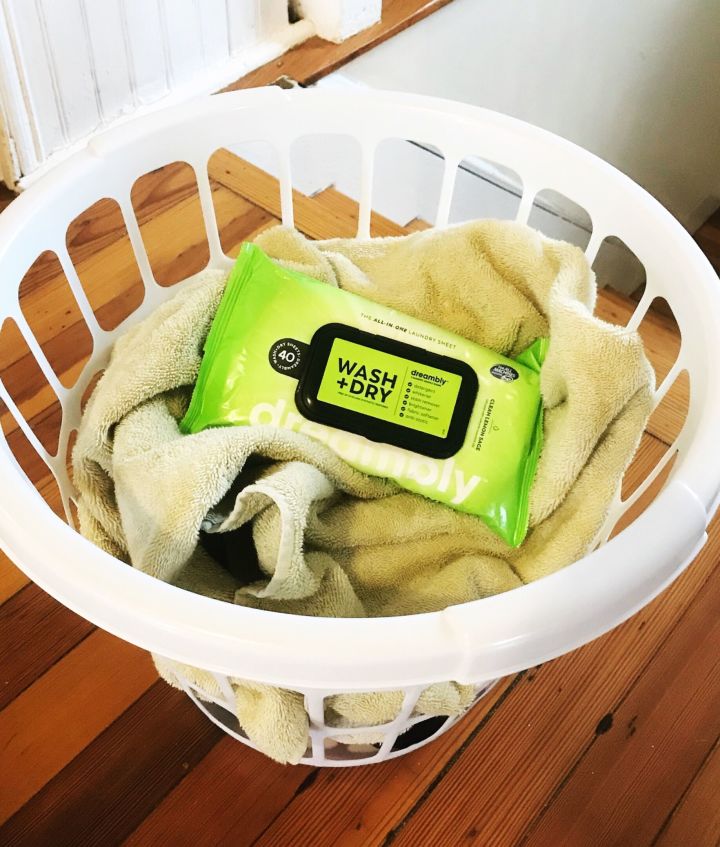 I'll admit, I was a little hesitant at first because it's not a liquid or powdered based detergent. It almost seemed too good to be true. I mean how can a single sheet do so much? Remove stains, wash your clothes, and soften the fabric. I can't say I know the science behind it, but I can say that it works. My clothes came out super clean and they smelled great. These sheets can save you a lot of time and energy when it comes time to do the laundry.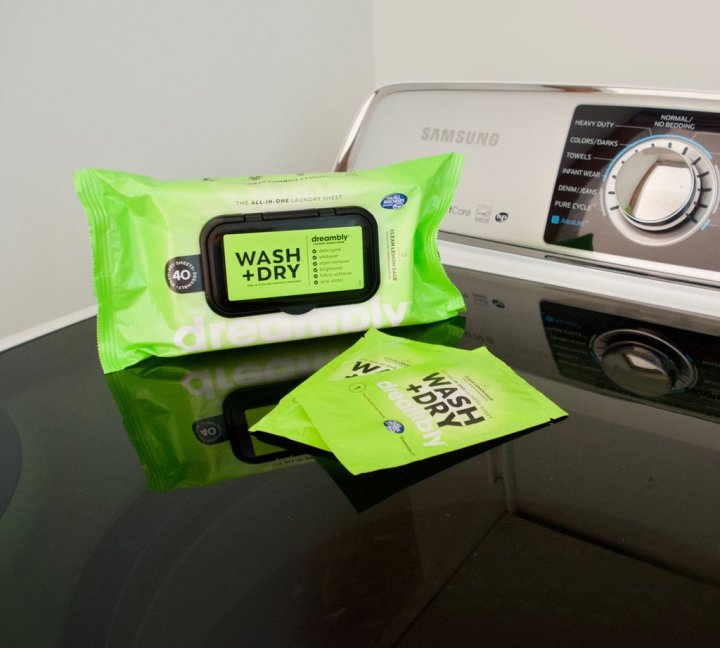 To use this all-in-one solution just take out one of your Dreambly Wash + Dry sheets and throw it in the washer with your clothes. If you need to pre-treat a stain before you throw a garment in the washer take that same sheet and rub it on the stain before throwing it in the washer. Once the cycle is finished, you just toss everything (including the wash + dry sheet into the dryer. It's literally as simple as that. There isn't anything else to it.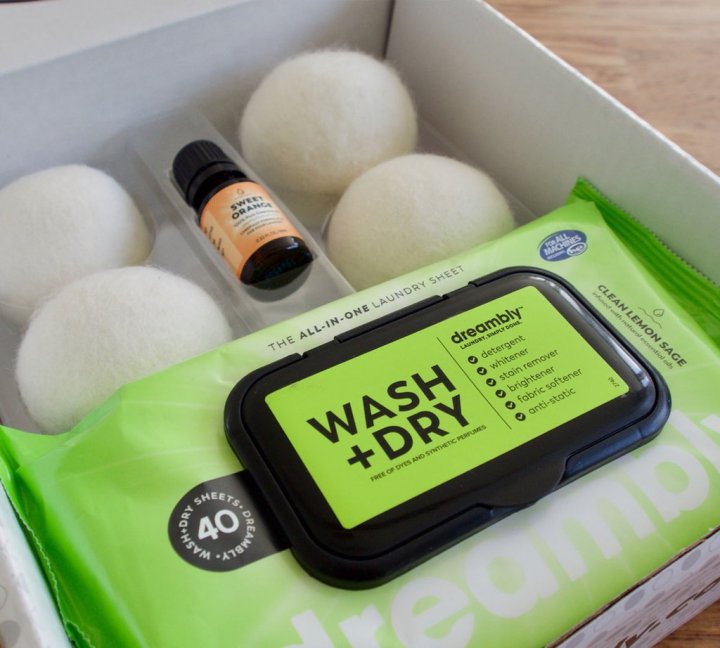 Being a person with OCD, I can't tell you how many times I have cleaned up gooey liquid detergent or stuck on powder in my laundry room. It's frustrating and messy. But with Dreambly, I don't have to worry about that anymore. And the since the sheets are made with biodegradable all natural ingredients I don't feel bad about bringing them into my house.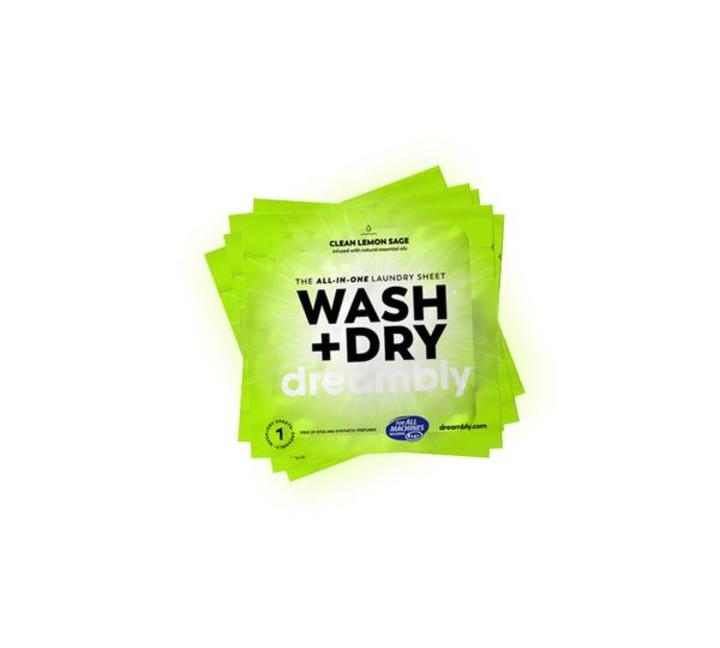 Now when I go down to the laundry room, I only need to take a pack of wash + dry sheets with me. No more heavy bottles of liquid detergent, messy powders, fabric softener, or single-use dryer sheets. Since I have a small space, I don't have to worry about those things cluttering up my room just I can do laundry when the time comes. There's just one product with one solution. That's what I love most about Dreambly.
With this all-in-one laundry solution, you no longer have to carry around heavy solutions, pre-treat stains before heading to the laundromat, or even measure your detergent. And the best part about it is that it really works.
Don't believe me? Try them for yourself. You can order wash + dry sheets on Amazon or directly on Dreambly.com. They also offer a laundry starter kit that includes a 40 count pack of Dreambly laundry sheets, two single-use packs, 4 100% organic New Zealand wool dryer balls, sweet orange essential oil for the dryer balls, and one delicates laundry bag.