How You can Transform Your Backyard with a Classy Luxury Pool
Let's get into the details of the luxury pool building process to help you turn it into reality.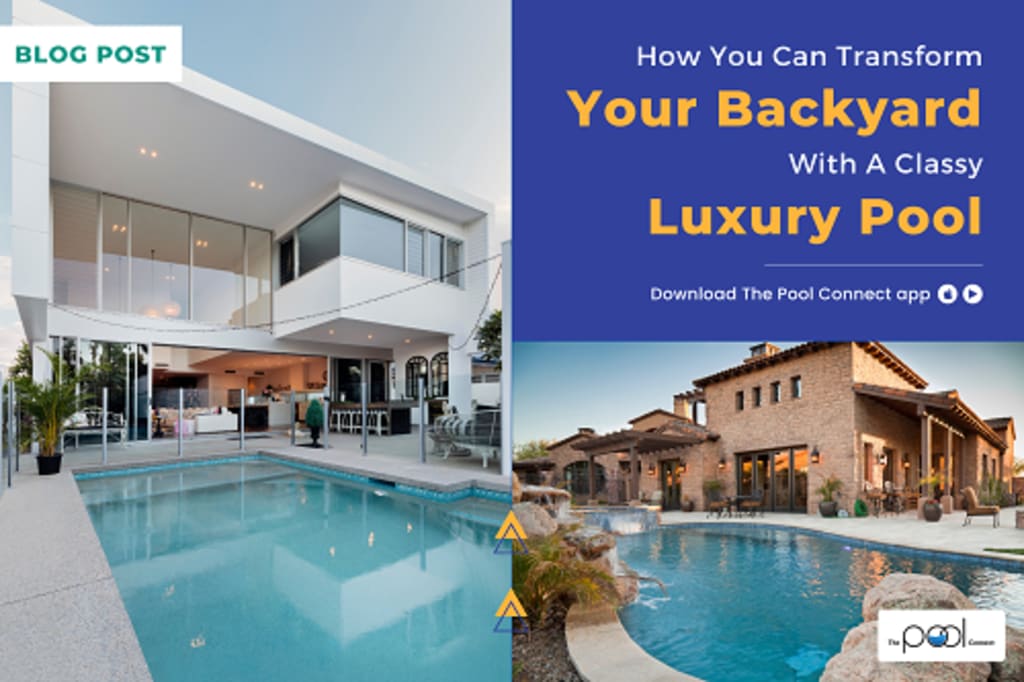 If you're tired of having a dull backyard and are looking to give it a good makeover, we're here with the perfect idea for you. Getting a custom luxury pool will turn your boring backyard into an exceptional place to have all the fun.
While you may think getting a luxury pool built is a challenging task, you can get it made quickly and easily with an effective plan in hand. Transforming your backyard into a fancy pool place will make it the go-to destination of your friends and family for chilling during the day or for throwing pool parties.
Excited, already? Let's get into the details of the luxury pool building process to help you turn it into reality:
Why Should You Build a Luxury Pool?
Having a swimming pool at home is every man's dream. Imagine yourself enjoying your backyard's luxury pool on the weekends or relaxing in the pool after a tiring day at work.
Gone are the days when you got a chance to jump in a luxurious pool on vacations. You can now get one built in your home. To top it all, there are so many luxury pool variants for you to choose from. From in-ground pools to infinity pools, you can get whatever you want.
When building your own pool, the sky is your limit. You can get wild with your imagination to create the look and feel you're looking for. You can install fountains, create a spa room, or do anything that comes to mind. Having a poolside bar or setting up a Barbecue station will also enhance the area.
Getting a luxury pool built in your home will add an extra special element to your home and allow you to create the backyard you've always dreamt of.
Visualize Your Pool!
Before you get started with the pool building process, you should sit and visualize what you want your backyard to look like. Think of different ideas and create different set-ups in your head so that it becomes easier for you to pick a design when a professional enters the picture.
Rattle the creative side of your head and start going through different pool designs to take inspiration for your own. Try to visualize your backyard and create the complete look of the luxury pool and other elements that will add to the feel.
Don't forget to think about the pool's length, depth, and shape. You can decide the pool's color, the seating arrangement around the pool, and the overall theme of your backyard.
Get a Designer on Board
After you're done visualizing in your head, you can contact a professional designer for help. You can discuss your ideas with the luxury pool designer so that they can put together the perfect and practical pool design for you.
It is not a piece of cake to come up with a pool design. Having an expert doing the job will ensure that all the technical aspects and other vital factors are taken into consideration.
Your initial design ideas should also be practical and doable for the designer to be able to work on them. Moreover, the professional will keep factors like the filtration system, water system of your house, and your ground's type in mind while creating the luxury pool design.
Your most important job will be to check with the local authorities to get approval to build a residential pool. Your design also needs to comply with all the regulations and requirements of your local area.
Once all of this is done, you should ask your designer to provide a 3D model of your luxury pool. The 3D model will give you an exact idea of what your pool will look like. You can give the 3D model a good look and make necessary changes so that everything is according to your vision.
Go back and forth with the designer and keep making changes until you are 100% satisfied with the design and the luxury pool that fits your budget.
Things You Should Keep in Mind
Your budget is the first thing you need to consider and be clear about. It's easy to slip away with extremely beautiful designs and pick designs that are out of your budget. Make sure that you're choosing everything wisely and practically.
Before hiring a professional, make sure they're experienced and know their job.
Consider everything and evaluate the total cost of building your dream luxury pool.
Conclusion
When you start your pool building process, it is important to have everything planned from the beginning and take a professional's help to get the job done smoothly. Once you get done finalizing the design, it'll be time to start building your luxury pool. The professionals will start the pool installation process, and your pool will be ready in no time!
Reader insights
Be the first to share your insights about this piece.
Add your insights