How to Survive 2022's Food Shortages
A Consumer's Guide to Dealing with Uncertain Supply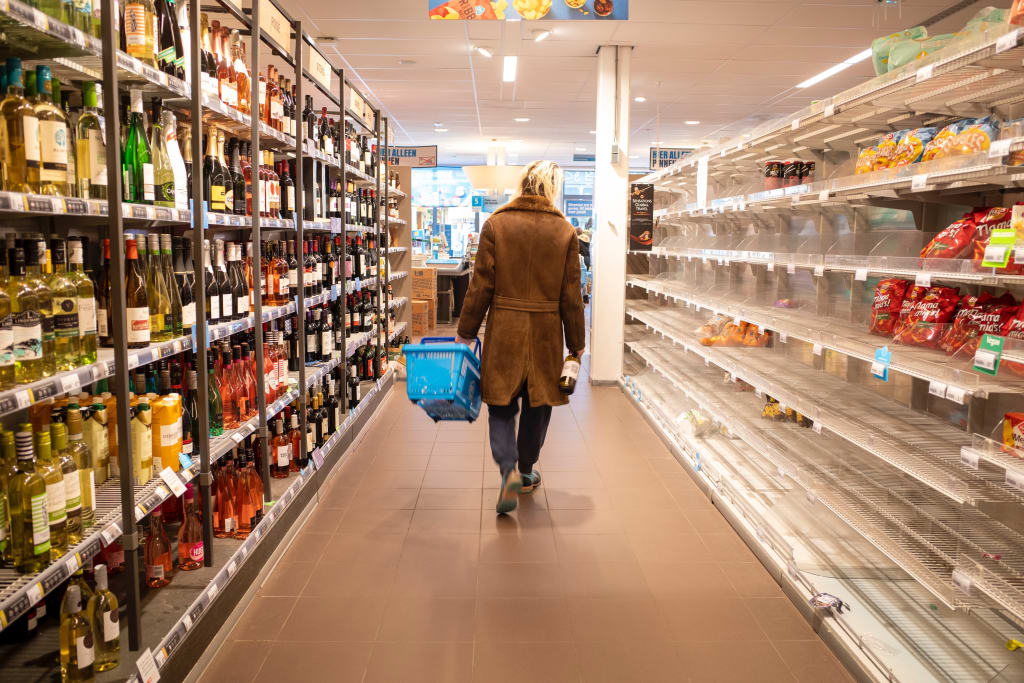 Photo by Martijn Baudoin on Unsplash
Dystopian times we've been living through, huh? With war, supply chain problems, and a global pandemic that might not yet be over, the first three months of 2022 have already seen a year's worth of stressful moments. But, almost to add insult to injury, 2022 has another nasty event to hurl our direction. Buckle up, food shortage in the United States might potentially get worse.
Though it's hard to predict exactly what will be in limited supply, and even the severity, the likelihood of sold-out goods is great enough that the White House is already taking action to mitigate the effect we'll all go through later this year. While our government deals with the big scale fixes, you can take action to help yourself and your local community too! To mitigate the effect of our food shortage, all you need to do is be proactive.
Keep Calm and Carry On
None of us want a repeat of the 2020 toilet paper fiasco. The empty shelves and lengthy food lines made an already frightening situation feel downright dystopian. Though there might be times of frustration in the weeks and months ahead, we definitely don't need to lose our minds and make forts out of bean cans and pasta boxes. Yes, definitely stock up on the items you need, but there's no need to begin the creation of your doomsday bunker right now. If we all purchase sensibly and moderately, and grin and bear the inevitable inconveniences of sold-out items, we'll all get through this fine. DON'T PANIC!
Start a Garden
If you've been toying with the idea of giving into your witchy cottage core daydreams and becoming a plant mom, now is a really good time to start. After a particularly hard winter, supply chain issues, and fertilizer shortages, you might not be able to find all of your favorite greens in the produce section in the coming weeks and months. Since we're finally out of winter, now is the perfect time to make plans for growing your own crops. The sooner you start, the more food you'll be able to ensure will reach your table this year.
Experiment with Alternative Diets
Ever wonder what it's like to eat vegetarian? Temporarily pressing pause on meat consumption, or even just cutting back will save you a ton of money this year! We've already seen a sharp rise in meat these first few months, and there isn't much to indicate that will improve soon. According to Tasting Table, it might also be a good idea to try out gluten-free alternatives, as wheat may be hit particularly hard.
Shop Local
With costs of goods transport rising astronomically due to gasoline prices, we could see another increase in the cost of some food items, especially those shipped from far away. To combat rising prices, search for local alternatives. If you live near a farmer's market or a store that boasts the sale of local goods, you might find much more reasonable prices there in the near future. On top of being kinder to your wallet, shopping local helps out your local farmers. Sounds like a win-win to me!
Buy a Water Filter
Parade reports that plastic demand may outweigh our supply this year, making it likely that there will be a shortage of bottled waters, juices, and soft drinks on our grocery shelves. To mitigate the potential problem for you and others in your city, now is an excellent time to invest in a water filtration system. Though some of the filters can be quite pricey, especially ones that need installation, you can find incredibly low-priced items in home-goods stores and online! Plus, making this switch will save you money in the long-run and help the environment!
Look for Paper Alternatives
It looks very likely that paper might again become an issue this year. Politico reported on March 18th 2022 that election officials were having difficulty securing materials for the upcoming election due to supply chain issues. If you're interested in avoiding a repeat of 2020, now is an excellent time to end your reliance on single-use tree-paper products. Switching to bamboo alternatives or reusable cloth options could save you a ton of inconvenience in the near future. Plus, it'll also help out the environment at the same time!
—
After two remarkably awful years, it won't be this minor setback to undo us. If you take action to prepare ahead of time, you'll get through it without a scratch. Get ready for a bit of discomfort, but, when frustration arises, remind yourself of all that you've already gotten through this decade.
"If you're going through hell, keep going" — Winston Churchill
—
Originally posted on Medium.
Reader insights
Be the first to share your insights about this piece.
Add your insights