How To Start a Dropshipping Business and Make Money
How To Start a Dropshipping Business and Make Money
Introduction.
If you ever decide to take the physical product route when starting an online business, there are so many factors that you need to consider to avoid losing your money on the spot.
Even if you are sure of that particular product, don't keyword research and, in the end, have a salivating audience waiting to consume your product as soon as it lands, you still need to employ as many processes as possible to keep the cost of distribution as low as you can.
There is a solution that allows you to sidestep all those hassles. And it makes the whole startup process for your online venture that much easier.
It's called drop shipping, and it has taken the online business world by storm. A drop shopping business is one of the fastest, easiest, and most low-risk ways to start an online business. Even with little or no capital at all.
Let me break things down so that you understand how dropshipping works.
1. Identify a product.
2. Create an online store or, better still, an eCommerce website.
3. Customer places an order on your website and pays you on top of it.
4. You send orders to a reliable supplier who already stocks your product.
5. Your dropshipping supplier Fulfils the order on your behalf.
There are several reasons why most people will not start a business, and one of these reasons is the level of risk involved when building a business.
Every business has its own risk, and the inability of business owners not to be able to manage these risks properly has caused many companies to fail.
Can I introduce you to a business model that has risks, but this time these risks are very minimal and can be managed without any hassle?
This business model is straightforward and does not require too many principles; anyone can start this business right from the comfort of their home and even keep their 9-5 jobs if they want. Dear readers, this business model is called Dropshipping.
What Is Dropshipping?
Dropshipping is a business model that allows individuals to sell products without holding any inventory. As a result, you don't need to have those products in stock before you start trading.
When a customer buys a product from a dropshipping store, a third-party supplier ships it straight to them.
The buyer pays the retail price you set, you pay the suppliers' wholesale price, and the rest is interest. As a result, you never have to manage products or buy inventory.
Dropshipping is very minimal risk; it has been given the title of the most flexible business model of the 21st century.
To sell products, you need to register an account with a supplier and showcase those products via an online platform for your buyers to see.
Why Should You Start a Dropshipping Business?
For wholesale buyers, performance and comfort in ordering and shipping products to their buyers is a principal factor in finding business owners to partner with. That is why it is necessary to take note of the advantages of dropshipping.
Proposing dropshipping to wholesale customers will give you an edge over businesses that do not. As a result, dropshipping has become one of the most lucrative and risk-minimal businesses in the 21st century.
1. Low startup cost.
It demands a lot of capital to stock a warehouse. You can eradicate the risk of going into deficit to start your business by using dropshipping.
Instead of buying a vast inventory and hoping it sells, you can start a dropshipping business with a blank checklist and make money immediately.
2. You Don't Worry About Delivery.
Order accomplishment usually requires you to a warehouse, organize, track, label, pick, pack, and ship your stock.
Dropshipping lets a 3rd party take care of all of that. Your only job in this system is to ensure they get your customer orders. The supplier will handle everything else.
3. You Don't Worry About Customer Service.
When starting a dropshipping business, you don't have to worry about customer service because everything is handled by the initial supplier, intended to save you time and energy.
4. Dropshipping Offers Flexibility.
In dropshipping business, Wholesale merchants can run the business anywhere and anytime as long as they have an Internet connection.
With the internet, shoppers can quickly communicate with manufacturers or store owners simultaneously with customers.
It gives flexibility to suppliers since they can partner with many wholesale suppliers and sell more products to their customers. Manufacturers also get more flexibility since there is more product flow.
How To Start a Dropshipping Business.
Let's say that you have made up your mind and want to start dropshipping products and start making money from them, there are numerous ways to do this, but in this section, I will be walking you through these steps one after the other.
1. Choose a Dropshipping Business Niche.
Choosing a product niche allows you to research the best-selling product. For example, you don't want to start a dropshipping business with zero knowledge of what the market is like; you will end up recording loss; imagine someone creating a dropshipping company to sell typewriters; how many people do you see today use or demand for typewriters, I know you can now see where I am coming from.
There are many ways to decide on a dropshipping business niche, and most of these tactics include doing keyword research online to see how many people are searching for the product.
One way to get this information is to use keyword research tools like Google keyword planner, Google search engine, and even Google trends.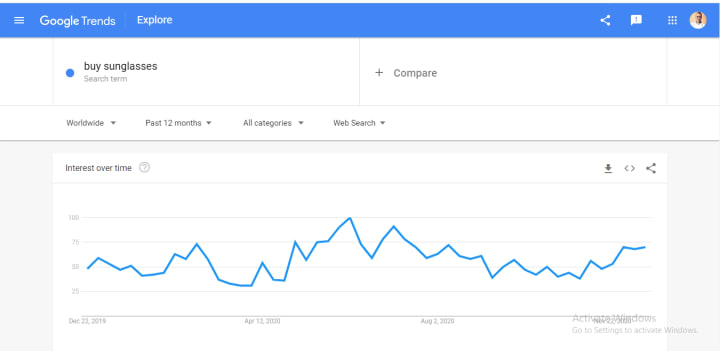 You can see that the term sunglasses have a fluctuating online search; with this information, you can decide if this business is going to make you tons of money or not.
I wrote a comprehensive guide to help you get started with keyword research; click the link below to read that article.
2. Do competitor research.
The next step in getting your dropshipping business up and running is to recognise your competitors and the know-how they work.
Competitors hold great hints to success and can help you develop a more robust marketing plan for your dropshipping business.
Another great thing about competitor research is to be on the bright side of the order of things and store pricing, which is essential for any business to thrive and make sales.
Some ways to go about your competitor research include;
1. Running a comprehensive Google search to see how many online stores do the same business as you.
2. Browse social media like Facebook and watch out for paid ads in your business niche.
3. Subscribe to competitors' email lists if they have one.
Learn everything about your top competitors: their website, prices, marketing methods, product descriptions, and reputation.
Then, you can eventually pick it up from there and eventually build a great business.
3. Choose a dropshipping supplier.
Now here comes the central part of your dropshipping business, which is choosing a dropshipping supplier.
Choosing a dropshipping supplier is a significant step toward creating a thriving dropshipping business.
Without suppliers, a dropshipping business would not have any products to ship to consumers and cease to exist.
At this point, you vetted what products you want to sell and know they can be thriving.
Now you want to make sure you find a dropshipping supplier that gives you the best service you need to grow.
When choosing a dropshipping supplier, you should consider many important factors, including delivery, pricing, and efficiency.
Some of the famous places where most dropshipping get their products include; Alibaba, Aliexpress, 1688.com, Taobao and many others.
The win is Alibaba.com; I wrote a comprehensive guide about starting an Alibaba business on this blog; click the link to get started.
4. Build your eCommerce store.
Now is time for things to become a reality, and finally, you started that dropshipping business that you dreamed about all these years.
At this time, you need to build a website to display your inventory. The type of website required in this case is not just a business website but something more dynamic and multi-functional, and in this case, it is called an eCommerce website.
An eCommerce store does the hassle of online product listing and hosting, and even collecting payment is carried out for you by an eCommerce store.
Getting your eCommerce store is cheap and does not need much technical know-how, making it very easy for a computer illiterate to develop their eCommerce website.
All you need to start an eCommerce store is an eCommerce software, a domain name and a web host.
I wrote a comprehensive article to help you get started; click the link to get started.
5. Choose a Payment Gateway.
At this point, you want to devise the best possible means to collect payment from your end customers. This is where the use of a payment gateway comes into place.
A payment gateway allows you to collect payment from customers who purchase something from your website.
You don't need to worry about payment collection and verification because the software handles everything with a payment gateway.
Payment can be withdrawn to your local bank account and used to process other things needed.
There are so many payment gateways out there; most are restricted to a specific region, while most of them are available for use worldwide.
I wrote a comprehensive guide to help you choose the best payment gateway; click the link to the article to get started.
6. Promote Your Business
You already have a dropshipping business and Yipe!!! Is now happy. The whole thing does not stop there, as more work needs to be done to ensure that you make money. One important thing that should not be ignored is marketing.
You need to be able to attract people to use your online store, and there is no other way to accomplish this than marketing.
There are many ways to promote your dropshipping store, but I will list a few of them in this section.
1. Content Marketing.
Content marketing is a marketing strategy centred on creating and sharing helpful, meaningful, and regular content to draw and retain a precisely defined audience and, eventually, drive profitable customer action by optimizing search engine optimization.
Content marketing is slow at first; if your website does has not developed the necessary qualities to rank on the search engine, you can find yourself having to wait for months before you start to see search results, but in the long term, content marketing can help you generate potential customers that will eventually become active buyers.
Start a blog about your dropshipping niche and create content that inspires and educates your target audience.
You could also begin a YouTube channel, design infographics, or start a podcast to help get the word out about your brand.
To start utilizing content marketing, you need to understand how search engine optimization works.
I wrote a comprehensive guide to help you understand the basics of search engine optimization; click the link to get started.
I wrote a comprehensive guide on how to start a dropshipping business and make money, check out the link to the article to learn more.
how to
About the author
Digital Nomad currently blogging about marketing and internet of tings on https://tchelete.com
Reader insights
Be the first to share your insights about this piece.
Add your insights