How To Make Your Own Natural Toothpaste In Times Of Desperate Need. (Vegan)
This DIY toothpaste is a better option to a traditional paste.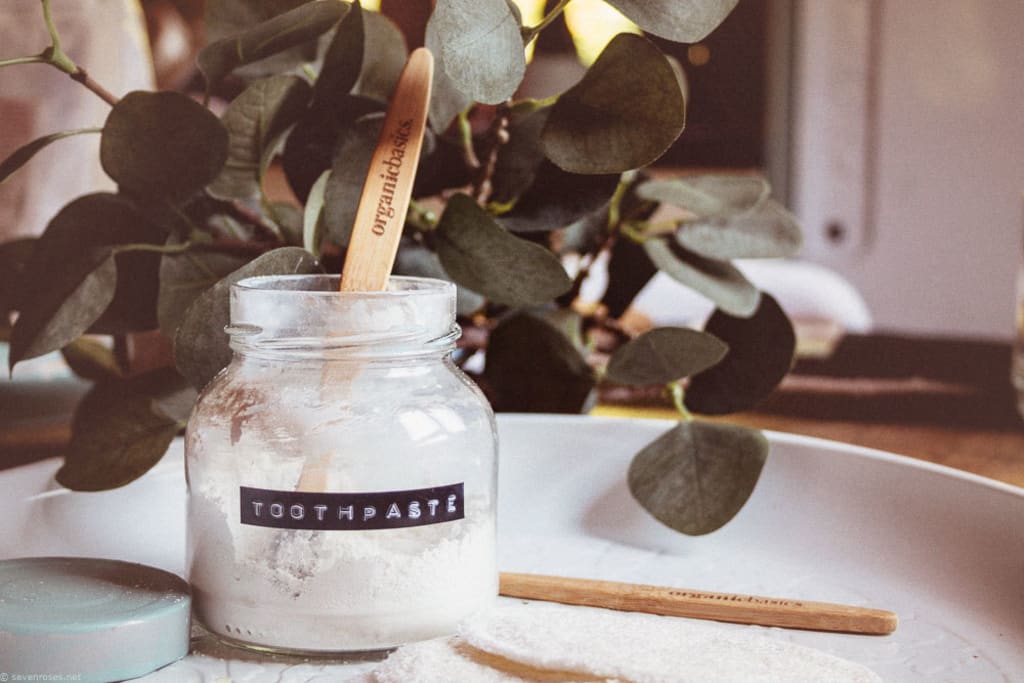 As the coronavirus sweeps the globe, affecting life as we know it, we are in the midst of panic buying, where the shelves of our stores may have been wiped clean of basic provisions. such aas milk, bread and toiletries
I know many people who have visited their stores to find the shelves empty of basic items that we usually take for granted.
As the crisis continues to deepen, it is unclear how we will be financially affected and whether our stores will be under siege again in the future.
It makes sense to have a back-up in the event that you find yourself without your usual toothpaste.
Indeed, if you are open to an alternative, you'll find a natural toothpaste, without added chemicals, is much better for you and the environment.
As a society, we have long been led to believe that fluriode is a "good" chemical to use in toothpastes for dental hygiene purposes. However, there is research to indicate that fluriode is, indeed, bad for our health.
I'm not here to provide research--if you want to research fluriode and the negative effects on your health, there are many wonderful natural health sites providing information on this subject.
It makes sense to avoid chemicals and non-natural products as much as possible, especially in times of desperate need when you only have basic items available.
For myself, I rarely use traditional toothpaste. As I travel a lot, I tend to use a natural pre-made toothpaste usually consisting of baking soda, aloe vera or peppermint oil when I'm on the road. Natural pre-made toothpastes can be bought from natural health stores, online or even your local store. It always makes sense to support smaller business if you can.
When I am at home, I make my own toothpaste, (it's impossible on the road) usually in a small batch a time and keep the mixture in a small container such as one in the picture. This also helps protect the environment as buying any pre-made toothpaste means you will be left with the packaging which will no doubt be thrown away. What's more, the receipe is vegan and there's no testing needed on the poor animals.
So, if you are struggling to get hold of toothpaste or would just prefer to make your own, what can you do for a replacement in desperate times?
Ingredients
To make your own DIY toothpaste, you will need the following simple ingredients...
Coconut Oil (6 tbsp)
Baking Soda (6 tbsp)
Peppermint Essential Oil (25 drops)
Airtight Container (Mason Jar)
Coconut is a good source of lauric acid which can kill harmful bacteria, fungi and viruses in the body.
Baking Soda is a chemical compound made up of sodium and bicarbonate ions. It's alkalinity and mild abrasiveness helps to remove plaque and stains from teeth.
While adding peppermint essential oil to the mix adds flavouring to enhance the taste of the toothpste and leave you with sweet, minty breath, there is research that may suggest peppermint essential oil also has anti-bacterial agents that can help your gums.
Method
Making your own toothpaste is easy...
1. Mix all the ingredients together in a bowl.
2. Place in your chosen airtight container.
Use And Storage
Depending upon the time of year, you may find that your natural toothpaste mix hardens in the winter months. Coconut oil turns into a solid mass at lower temperatures. I run my toothbrush under the hot water tap for ten seconds, before dipping in the toothpaste mix to soften the mixture so that it clings to the toothbrush.
If you make s small batch at a time,and use twice a day, you won't need to worry about the mix going off.
And Toothbrush...
If you, like me, want to do all you can to help the environment, consider using a bamboo toothbrush rather than a basic plastic one. Toothbrushes tend to last between four weeks to six weeks. That's whole lot of plastic we humans will have to throw away just to clean our teeth.
If you found this article to be of benefit, send me a little tip or come visit me at my website Samantha Wilson or follow on Facebook or Instagram.
(c) Samantha Wilson 2020. All Rights Reserved.
how to
Visit Samantha at www.samantha-wilson.com or follow on Facebook at www.facebook.com/samanthawilson or Instagram at www.instagram.com/samanthaemmawilson
Receive stories by Samantha Wilson in

your feed