How To Get More Traffic From Quora To Your Vocal Story
This Is How You Can Get Free Massive Traffic On Vocal Story Using Quora
There are two ways to get massive traffic while writing on Vocal.Media, the first is to rank your story on a Google Search Engine, and the second is to use social media websites. Ranking on the search engine could be quite more challenging due to high competition.
But you can also get massive traffic on vocal stories by using social media sites properly. There are many social platforms but in this story, I will show you 2 methods that you can use to get massive traffic from Quora on your vocal story.
Quora
Quora is undeniably the biggest Question & Answer or Q&A platform on the web right now, where someone asks a question on any topic and you can write an answer to it.
When you post a question on Quora, you get answers from well-respected persons in that field or experts who can give excellent guidance and advice.
Quora gets 552.56M active visitors monthly, and from it, 38.25% of traffic is from United State, which is the highest traffic from other countries.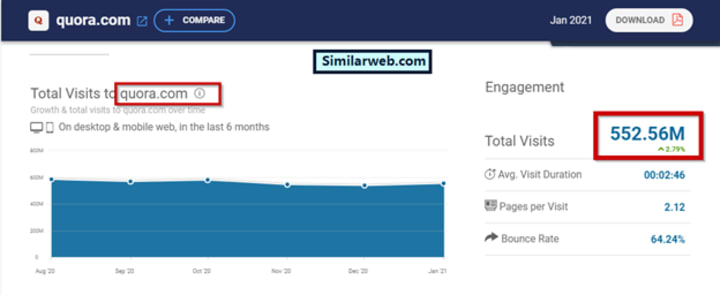 According to the similarweb.com website, Quora is ranked 79th for global traffic. And in the country United States, it's ranked at 71th position. As you can see in the screenshot

How To Use Quora As A Traffic Source For Vocal Story
To increase traffic to your vocal article from Quora, just simply you have to provide good and insightful answers to questions on topics you really master, then link those answers to your vocal article so people go to your article to read more about it.
For example, let's say you made a vocal story on "Email Marketing" then you can go to Quora, search for questions about this topic, write good answers and provide "more information about the email marketing" link to your vocal article.
Methode 1
Quora is the questions and answer-based platform so you have to find the questions relevant to your targeted keyword that people ask on the Google Search Engine. You can use keywordtool.io to find relevant questions of high volume relevant to your targeted keyword that people ask frequently on Google.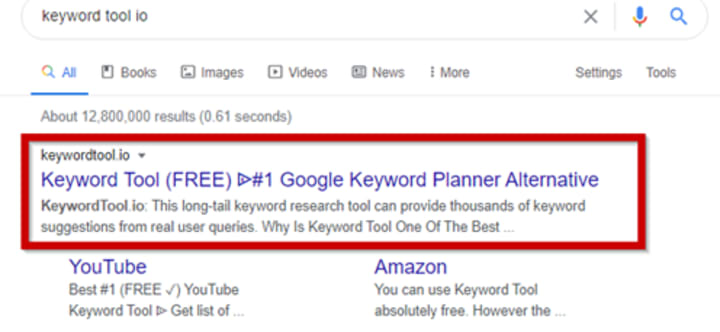 After clicking on the first result, it will take you to the following page. Search your targeted keyword in the search bar, and make sure you selected the Questions. On query "Email Marketing" Keywordtool.io found 104 questions relevant to it.
This amazing tool can also provide you best keywords for YouTube, Bing, Amazon, eBay, Play Store, Instagram, and Twitter.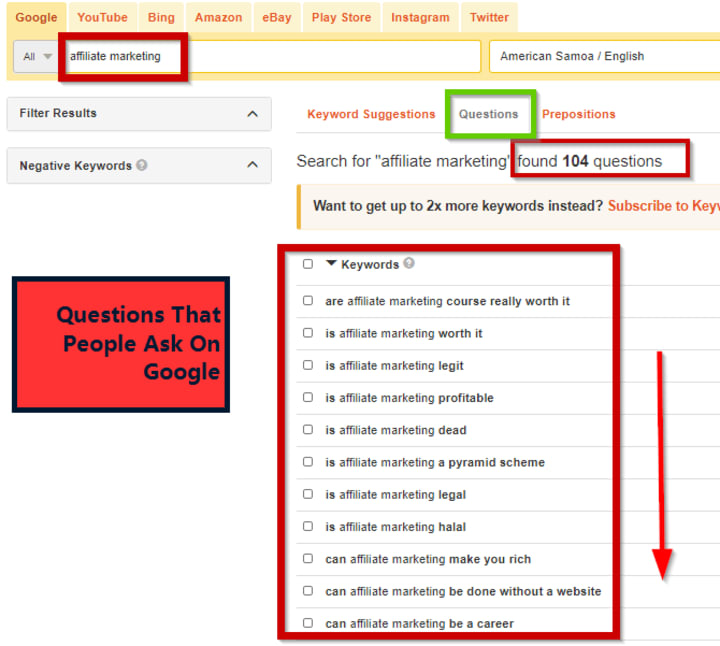 Now search some of these questions on Quora and answer them, but make sure to provide the valuable answer that built trust and authority with users and link them to your vocal article.
Don't answer all of them and link to a vocal story in a short time, it's spamming. Quora may block your account.
Answer those questions which have a high number of followers and those which questioned recently related to your targeted keyword.
Search the targeted keyword of "Affiliate Marketing" on Quora it will take you to this window.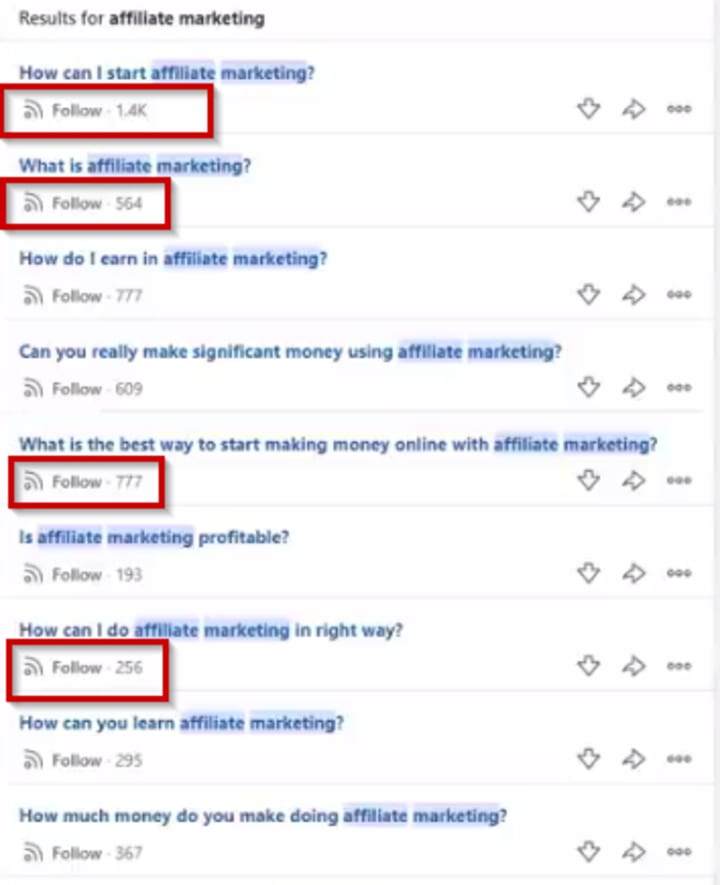 Now the question of high followers will drive more traffic, because whenever you answer the question the follower of that specific question may see your answer.
The latest questions asked by people relevant to your article, you can check from here.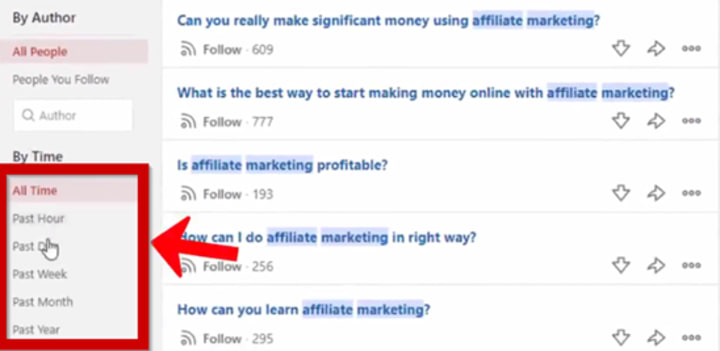 The questions which have more followers and recently uploaded are getting massive traffic as compare to old questions because these questions have not too many answers. And there is more chance that your answer comes on top.
Methode 2
You can get keyword ideas from quora to write the vocal article, meaning that find keywords on which Quora question is ranking. To find the quora top pages I use the SEMrush tool. Search Quora.com in SEMrush and click on the top pages. It will take to this page.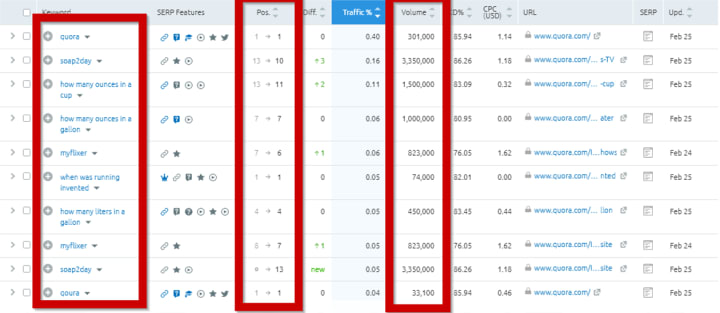 You can see the position and volume of each keyword that ranked on Quora. Similarly, you can target those keywords and write an article on that, then provide a valuable answer on quora and link it to your article. This will drive a lot of traffic if your article is come first on quora. That's can be done by providing an authentic long answer with an eye-catching image to attract more viewers.
Now let's search on Google "how many liters in a gallon" this keyword is ranked on google with 4th position and has about 450k volume (SEMrush).

If you target these types of keywords and then answer them on quora with a link to your vocal story, this can drive massive traffic.
Please Leave A Heart If Enjoy This !!
tech
About the author
Reader insights
Be the first to share your insights about this piece.
Add your insights