How to Create a Personal Website Quickly using Google Sites
Personal website is created for family, club, classroom or group of friends. It has limited purpose of just being on internet and has information about an individual,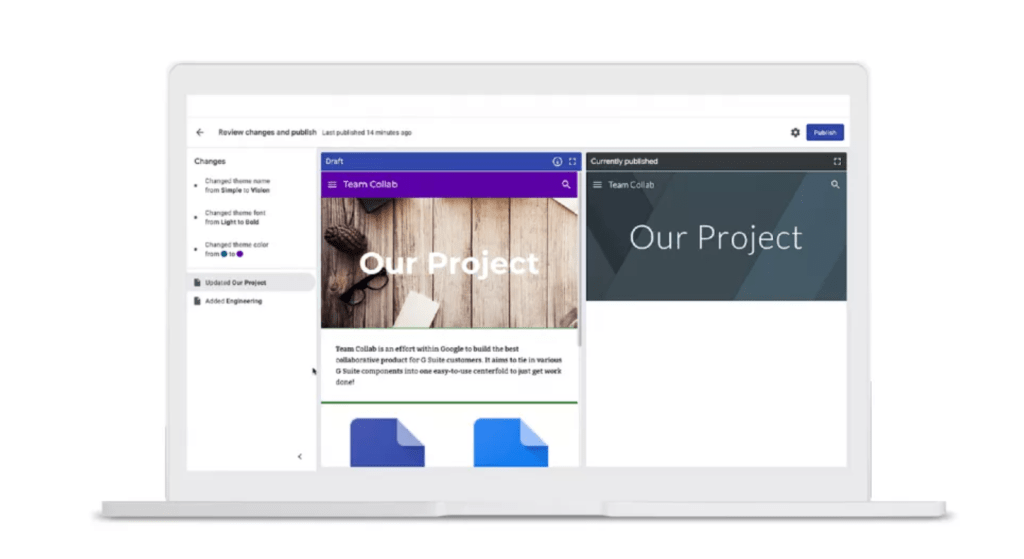 Source: Google.com
Rather than that of a conventional website hosted on behalf of a company, organization or institution. Personal website is mostly used for entertainment/fun purpose, it also can be used to provide quick access to information about something which attracts it's viewers. There are some people like me who like to create such website just for learning how to create and manage website on their own.
A thought comes to our mind - Why website when we have so much of social networking at our hands? How personal website is different from social networking site? Lets think on this from the site owner's perspective. Social network's prefabricated structures impose limitations to formatting, amount of content and sometimes type of content too. For example, most social networks have their own rules regarding casual users for uploading files and their formats to their account. Further, these companies intentionally retain the specific service's look and feel and identity of each user personal account within that specific social network. The emphasis there is on being part of a branded "network", and not on the "personal" or the "individual". Thus, social networking maybe a blessing for users for sharing content to others, but the fact of 'being on something where there are so many others' affects one's individual identity. In short, these accounts cannot be termed as their personal web pages. On the other hand, Personal website gives the user a customized web presence as per his preferences and style. It is one of the best ways for putting 'our own thing' on the web.
There are two types of personal websites, one which is created or built by a web professional as per customized requirement of the author (person who is hosting), and the other which is created by the author himself using tools of websites offering free space for personal websites, e.g. Google Sites. Google Sites is a free service by Google. If you are looking out for first option, you may have to find a web professional who will create and work for your website. This option seems easy, but you will have to pay him his charges. However, if you are looking for other option, i.e. Google Sites, then this article is well enough for you to start the process of building your own 'personal website' . Even if you are a beginner in this field, this article will help you to create your own website on 'Google Sites' without taking help of any professional, without getting too much technical and that too at free of cost.
Creating a site is really easy. If you have a Google email account, you are able to make your own Google website.
Here is how you can make your own website.
Before you actually begin, please spend some time thinking upon what is going to be purpose of your site. For example, some may want it for fun or some may really prefer to have a serious outlook towards it. Some may like to just write about their hobbies or some may want to exchange views on political affairs or Cinema. So it is always better if you decide your target viewers. Your viewers include the people that you want to attract to your website. Please do not write much about your purpose on your website but just keep in mind. If you become too specific on your site, then it will only appeal to a small forum. On the other hand, if you become too general, people will treat it as one of the so many sites.
So are you ready? Let's start the process of making your own website on Google sites. Please log in into sites.google.com with your Google username and password.
Click on 'Create New Site.' You should be brought to a page where you have to select a template. It is recommended that you select a simple template. If you wish, click 'Browse Gallery for more' and find a right template for you. Please remember, all these things can be changed later, means after you create your site. So please do not think much about these options at this moment.
Name your website and change the URL if you would like. I will give you a tip here. Please select name of your website as you want your viewers to call it. It will be easy for Google to redirect your viewers to your site when they search for your site on 'Google Search'. Many people prefer to use their own name as their website name, it's obvious. Remember that the name also can be changed later.
Click on 'Choose a theme' and click on the background you would like your website to have. If you are unhappy with the given options, there are more options. If you are still unhappy, later on, you can upload an image to be your background. Type in the code to verify your site and then click 'Create Site.' You will be brought to your final website. 'Editor' will automatically open up. You can type in what you want to be on your home page and you can click the preview button.
Home page (means the page where your viewers will land up when they visit your site) is the face of your website. It is the most important factor of your website, you will really have to spend time working on it. You have to design it in a way that will reflect your personality and it will have links to all your sub-pages. Every page (when it edit mode) has the option of creating more pages on your websites. You can use the required settings and create sub-pages and fill in the information on each of the pages.
Keep reading to see how you can change your viewer settings. Go up to the top right corner of your site and click on 'More actions.' Click on 'Manage Site' near the bottom of the list. On the sidebar to the left, there are three main categories - Content, Settings, and Appearance. Click on 'Share this Site' under Settings. A window will pop up. The default setting is that anybody who wishes to access your site will be able to search it up and get on. You can change this by clicking 'Change' under Permissions. You can then change your share settings to allow either only people with the link can access your site or only people with granted permission. If you give access to your website for all (Google calls it 'everyone in the world'), then it will soon appear in Google search.
Making website on Google Sites is easy but can be time taking for initial few days. You will have to learn many things and then you will know how they work best for you. There are a lot of sub-options to make it really interesting for you and for your viewers as well. There are so many themes, colours, templates, gadgets which you will enjoy to use.
Now its time to add more pages to your site. You can as well add pictures, videos and your text to make it more beautiful. Even the documents, spreadsheets, presentations or calender can be easily added to your site. Google help centre is there to help us out in this process.
Source: Sites.google.com