How The Moon Affects Us
A Simple Guide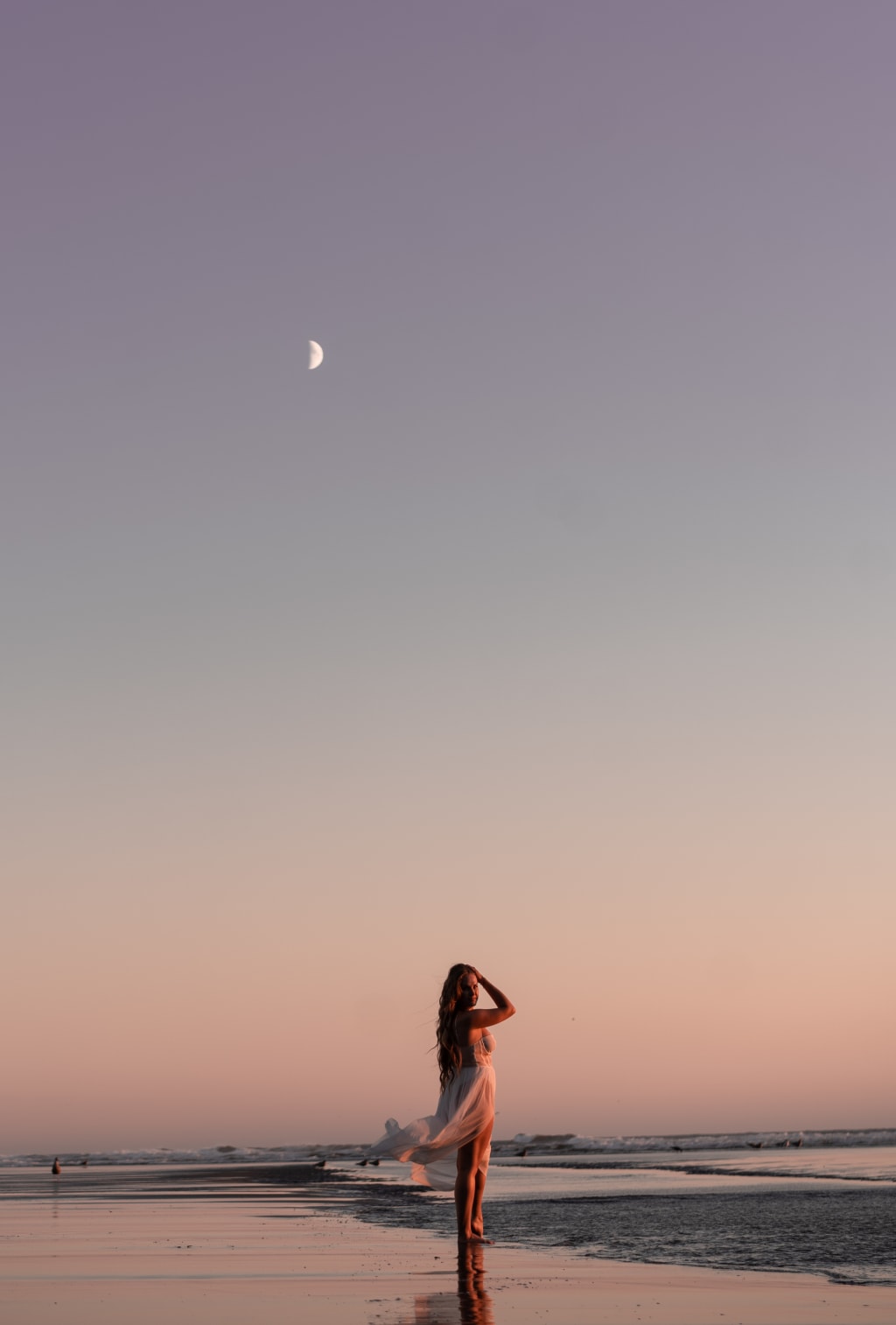 It's easy to get lost in all sorts of research and techniques as to how the moon affects our energetic beings. Something I dive deep into inside my Moon Manifestation Course. But you would be surprised how much you can understand the lunar phases by having knowledge of some core simple things about the moon.
First of all, the moon is one of the planets that a zodiac can also be ruled by, along with all the other planets, each with their own energetic meanings. The moon, in particular, relates to your emotions. So a zodiac that is ruled by the moon, such as a Cancer, can be a really emotional sign.
So as the moon effects our emotions, wherever the moon shows up on your natal chart, it will relate to your emotions. Everything going on in the cosmos and how other planets are aligned with the moon, will affect our emotions in that coordinating way. So if you would like to dive deeper into exactly how the moon effects your emotions, specific to your zodiac, you can do some research or have a reading of your own to discover this. I personally recommend The Chariot, they do online readings as well via Zoom.
But to make this a lot more simple, I like to relate the moon as an energetic pull from our own energetic being. So when the moon is new (all black) this is a time where we may have less energy, and with less energy, we may have a nostalgic feel of wanting to rid yourself of any feelings/behaviors or energies that are not serving you and begin a new phase for transformation.
This is why I begin my Moon Manifestation Course with setting new intentions with the new moon!
As the moon begins to light up, think of the light of the moon being an energetic tug, as during the waxing phases of the moon, our energy is being pulled. This is exactly why this two week time frame is perfect for achieving new goals and intentions that you intended during the new moon. (Exactly what we do inside this two week course - MMC).
If we are aligned with this intention and conscious with the energy of the moon, we can accelerate our manifestations with the energy of the moon and allow in the intuitive guidance along the way. Simply being conscious of this energy is also a way you can sync your cycles with the lunar phases of death and rebirth.
When we hit the full moon, I recommend spending your energy doing things that light you up, things of creativity and passion. If your an artist, paint. If your a writer, write. If your a musician, play music. Ect. This is because our intuitive guidance is heightened, as is our energetic connection to the cosmos. This is also the perfect time to meditate.
This is also a time of reflection, this is due to the heightened effects of the subconscious. The full moon tends to bring the subconscious mind forward. So any feelings or thoughts that you may have laid dormant, will come up during this time. This is because if it is an energy that is out of alignment with our truest selves, the intuition will try to "remind" you that it needs to be addressed and healed.
I believe this is why the night of the full moon is usually a night full of crazy happenings, bad or good... it depends on what's going on in your subconscious mind.
The next phases of the moon are the waning phases, these phases (the next two weeks) are meant for rest. I recommend spending this time for self love, possibly some more reflection towards the subconscious thoughts and energies that came through on the full moon. Or the goals you set and how far you came with them so that you can intend something new for the upcoming new moon.
These phases are very important... rest is very important. If you feel resistant towards resting and still have an overactive mind that feels guilty for standing still... than this is another indication of energetic misalignment. The rest is particularly important to establish feelings of worthiness for your desires, regardless of the action. And this rest gives an energy of ALLOWING your manifestations to come.
You may find more intuitive downloads coming in during this time, if you allow yourself to rest. Downloads that will open up the doors towards the next intention to manifest throughout the next lunar phases ahead. :)
Reader insights
Be the first to share your insights about this piece.
Add your insights