How Much it Costs to Own My Airplane
Living in the United States, anyone can own an airplane. It's an incredible privilege that I'm extremely grateful for. Here, I'll break down all of the costs that go into owning my airplane.
The costs of owning an airplane include several ownership and operational costs. These costs include hangar fees, fuel, maintenance, insurance, and annual inspection fees. Periodic engine overhaul expenses and other costs are also important to consider.
If you follow my aviation channel, MojoGrip, you know me as a private pilot. You may also have seen that I recently bought a 2021 Sling TSi. It's an experimental (build it yourself) 4-seater airplane. Here, I'm going to break down all of the different costs involved in owning my airplane.
Owning an Airplane Involves Several Different Costs
Owning an airplane is incredible, but it's a luxury. Buying the airplane itself costs money, of course. But, there will also be monthly and yearly expenses that you have to consider and they can quickly add up. While my airplane was being built, I made sure to anticipate exactly how much it would cost me to own and operate.
Fuel
The most obvious cost to consider is fuel. My Sling TSi can run on car gas, but I usually use Avgas 100LL (Aviation Gas 100 Low Lead). It's more expensive, but most airports, unfortunately, don't have car gas available. I budget $5/gallon for fuel and my plane uses about 8 gallons/hr. I estimate that I'll be flying about 200 hours/year. So, let's do the math!
Fuel - $5/gallon X 8 gallons/hr X 200 hrs/year = $8000/yr
Hangar Fees
When you own an airplane, it stays at the airport and you have to pay every month to keep it there. You have the option of having it parked outside and paying a tie down fee, but I keep mine in a hangar. It does cost more, but hangars provide protection from the weather, the sun, and other outdoor factors that can damage your plane.
This is a fixed cost of $330/month that I pay every month, regardless of how much I fly.
Hangar - $330/month X 12 months/yr = $3960/yr. I round it up to $4000/yr.
Insurance
Insurance is optional when you own an airplane, but it definitely makes financial sense. This is a fixed cost that has, unfortunately, skyrocketed in the past couple of years. I've shopped around for different quotes, but it looks like my insurance will cost me around $7500 for the year.
Insurance - $7500/yr
Annual Inspection
The Federal Aviation Administration (FAA) requires an inspection every year. If a plane is used for hire or for flight instruction, an inspection is required every 100 hours. Annuals are more expensive for used planes, but, in my case, I expect it to be about $1200.
Annual Inspection - $1200/yr
Reserves
A lot of things can come up when you own your own airplane. You wanna be prepared for unexpected costs and you need to put money away to cover them. In my case, I put about $15/hr in reserves.
Reserves - $15/hr X 200 hrs/yr = $3000/yr
Engine Overhaul
After a certain amount of flying time, airplane engines need to be overhauled or replaced. It's something that should be taken into account as an expense. In my case, the Rotax 915 engine in my airplane is brand new. I expect to sell or trade my airplane for an upgrade long before the engine has reached its life expectancy, so I won't be adding this in.
Here's the overall breakdown: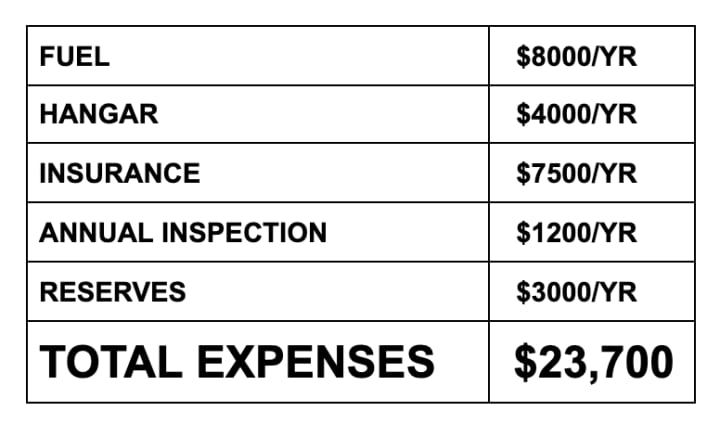 I'm rounding this up to $24K/yr, which comes to $2K/month. It's a major expense, so you need to be clear on why you're buying an airplane.
Know What Your Mission Is
When thinking about buying an airplane, you first have to consider what you plan to do with it. It's also important to have a budget in mind. These two things are extremely important and will determine the different airplanes that you'll look into. When it comes to single engine airplanes, you have plenty of options.
Some things to consider when buying a single engine airplane:
Passenger capacity (2 seater, 4 seater, etc.)
Buy used or buy new
Buy pre-built or build it yourself
But, regardless of what kind of plane you buy, the ownership costs are considerable. In my case, I have a wife and daughter so I wouldn't be taking on $2000/month in expenses if it wasn't benefitting my businesses and helping me serve them. I have real estate investments, I do consulting work, and I recently launched my airplane dealership, LookUp Aviation.
Of course, I also have my YouTube channel, MojoGrip, which is all about planes and aviation. Owning a plane is benefitting all of these businesses and will allow me to recoup the expenses within a few short years. It's an amazing feeling to know that my plane is serving me and my family in this way. If you can find a way to tie your airplane ownership into your business, I suggest that you do it.
I hope that I was able to give you a better idea of all of the costs that go into owning an airplane. It's important to know why you're getting into it. For my family and my businesses, it's well worth it!
Be sure to follow me on Instagram, Youtube, and merch store for more.
how to
Hello, and welcome to MojoGrip. My name is Mike. I'm a serial entrepreneur who shares his passion for business and aviation. Here you will find videos dedicated to airplanes, flying and self growth.
Receive stories by Mike Ojo - MojoGrip in

your feed