How much is a security license in Massachusetts?
In general, Massachusetts requires a security guard license for private investigators but for armed and unarmed guards the license isn't obligatory.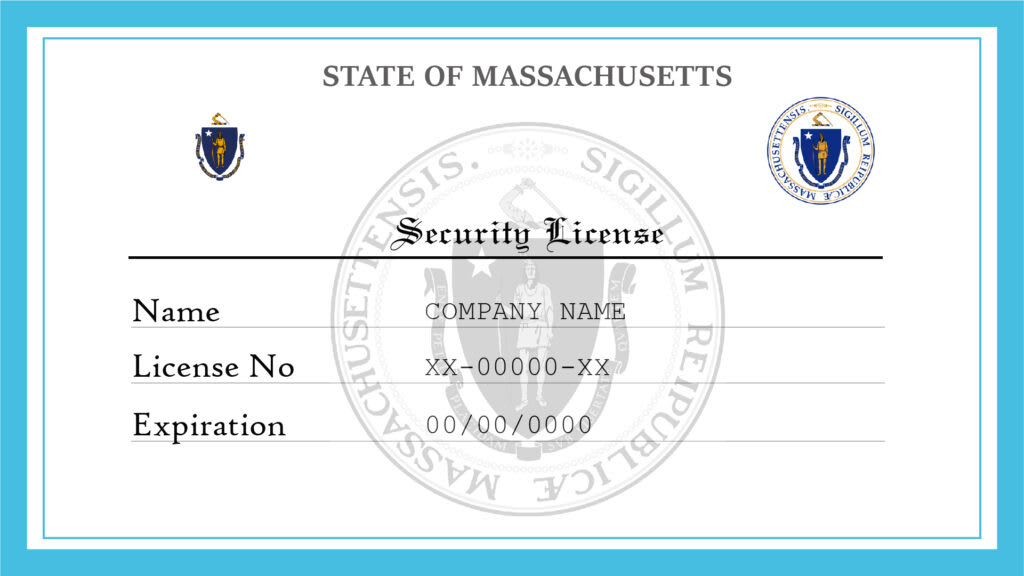 Massachusetts Security License
The state of Massachusetts does not offer a security license. Instead, agencies conduct the process. They enact a number of laws connected with the process. Besides, there are primary eligibility requirements to meet. So, you must be at least 18 years old and a high school graduate. Then, you should complete an approved training program for officers. It is worth selecting an accredited one. After that, you are to submit to a background investigation. For that, you will need to have your fingerprints taken. Note that past felonies can greatly affect the outcome. As soon as you pay the required fees, apply. Your company will review your application and confirm it.
In general, Massachusetts requires a security guard license for private investigators but for armed and unarmed guards the license isn't obligatory.
The licensure fees are the following;
The fee for the original application of $550.
You need also $150 every year to renew your license.
And, for sure, you will be asked to have $5000 of surety bond.
To get the security permit, you will need to fill out the online application form at the MSP Certification Licensing Service.
Requirements for Massachusetts Security License
In Massachusetts, guards don't need to get a permit unless the organization they work for requires it.
Whenever you decide on becoming a professional guard in MA, you will have to meet the following requirements;
You must be at least 18 years old.
You'll need to provide your U.S citizenship or the alien of residency.
The state also requires drug testing.
All the guards must also pass a background check.
Compared to the other states of the U.S such as Wisconsin, Alabama, etc. Massachusetts is among the 10 states of the U.S that don't require security guards to pass licensing process. The law is acceptable for both armed and unarmed keepers.
However, the guards must be at least 18 years old and have a high school graduate degree or a GED.
The next step for the guard is to finish the training in the classroom and have successfully passed the check of a background.
Massachusetts Security Guard License for Armed and Unarmed Guards
In fact, the state doesn't require licensing for armed and unarmed security keepers. However, if you want to get hired by a private company, you may have to provide the license.
Some companies also require training courses but that isn't obligatory. But it is a way essential and informative to pass the course.
The training mainly includes practice and theory. Applicants must have a good background and be physically fit. Besides the hard skills, the guards are also required to have some soft skills such as communication skills, stress resistance, work ethic, flexibility, etc.
Security Licenses for Private Investigators in Massachusetts
Private investigators' work is somehow the same as security guards. However, the state demands them to get a permit from the Massachusetts Certification Licensing service.
The main duties private investigators can complete are mentioned below;
Legal Guard
Watch
Patrol
All the private investigators may also be required to provide the working experience of not less than three years in a detective field. They can as well provide the documents showing they have been working in MA or another state police for about 10 years.
In Massachusetts, the law doesn't allow felons ever to become investigators.
Disqualification of Massachusetts SG's and PI's
Licensing and Enforcement Department of MA doesn't allow the applicants who have offenses or have been felons for the last 10 years to apply for an SG or PI permit.
The offenses that may result in the denial of your application are mainly firearms, use of weapons, drugs, robbery, affray, and other serious ones.
how to
LicenseSearch.org is a premium search engine to find and verify licenses, a useful service to search and verify all professional license holders. Our mission – to be the leading license data provider in the industry.
Receive stories by License Search in

your feed