How Hiring A Pool Contractor Can Save you Money, Time and Resources?
Read our latest blog on how hiring a pool contractor can save you money, time & resources?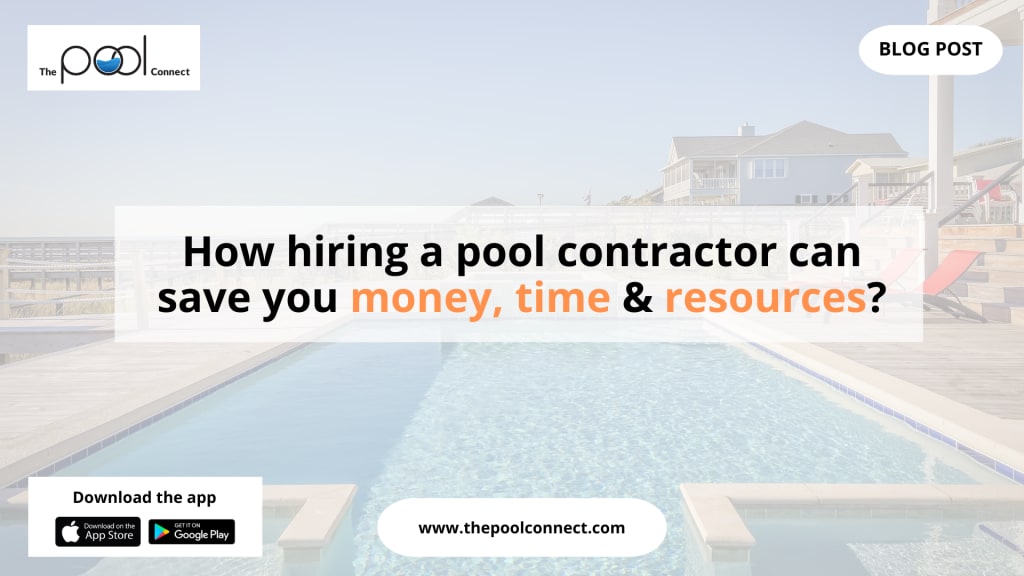 How Hiring A Pool Contractor Can Save You Money, Time and Resources?
Creating a new standard in pool service.
What's better than to have your own swimming pool where you can relax on your leisurely days, enjoy your weekends or hold pool parties for your friends and families?
Simply nothing!
But then, having a swimming pool demands regular pool maintenance and, most importantly, timely pool repair for any wear and tear.
However, swimming pool repair is not a do-it-yourself project. It's a specialized job that requires professional pool contractors.
Why do you need professional pool contractors?
Generally, a swimming pool is used by multiple people, be it the family members, including children, and at times, your friends. And so, its maintenance should not be compromised at any cost.
Pool contractors know how to clean and maintain your pool professionally. From your weekly maintenance to renovation, they can ensure that the hygiene levels and upkeep of the pool, including minor repairs, are conducted from time to time.
Regular pool maintenance consists of:
● Cleaning the walls and surfaces of the pool, so they do not become slippery
● Repairing or replacing important pool components like the filtration system
● Suggesting renovation or upgrades, as needed.
A professional pool contractor may systematically take care of all such things and ascertain that any repair or maintenance work is done correctly, saving your precious time, money, energy, and resources.
How to hire a professional pool contractor?
Before hiring a professional pool contractor, you should always ask them some key questions:
● How many years of experience do you have?
● Do you have any work references?
● Do you give any guarantee or warranty on your work?
● Which insurance do you have, and is it up to date?
● How much would the repair or maintenance cost be?
● What would be the payment schedule?
● How long will it take for the job to be completed?
The answers to all such questions will help you assess the experience and capabilities of the pool contractor. While experience is essential, their insurance plan is what you should be concerned about as it will help you protect your property and the people working on your pool.
So, any pool contractor you hire should have the right insurance to perform your pool work safely. It would be best to inquire about your pool contractor's property damage insurance, workers' compensation, and liability coverage.
Furthermore, you should inquire about your pool contractor's license (commercial or residential) and certificate.
• Pool contractors with valid licenses are preferred for building, remodeling, or repairing pools, besides any electrical or plumbing services.
• Pool contractors with a valid Pool Service Technician certificate can help you clean your swimming pool with suitable chemicals.
If you are looking for professional pool contractors in the USA, you can connect to The Pool Connect app - a mobile marketplace for local pool and masonry services. It enables pool owners to contact pool contractors and contractors to hire reliable and experienced professionals for all their services. The Pool Connect is an instantly accessible and user-friendly mobile app that can be easily downloaded on your Android/iOS mobile devices.
To more info click the link : https://thepoolconnect.com/
Pool Connect offers personalized service in a friendly environment. Our mission is to keep your pool clean and well-maintained. Additionally, we provide new construction, renovations and equipment repairs and upgrades.
We provide the highest quality on-site swimming pool services, such as pool cleaning and ongoing pool maintenance. The services we provide are tailored to fit the needs of both residential and commercial clients! Whether the project is residential or commercial, our repair specialists are qualified to manage it.
Reader insights
Be the first to share your insights about this piece.
Add your insights