How Healthcare App Helps People During Covid-19 Pandemic?
Uses of healthcare mobile apps during coronavirus pandemic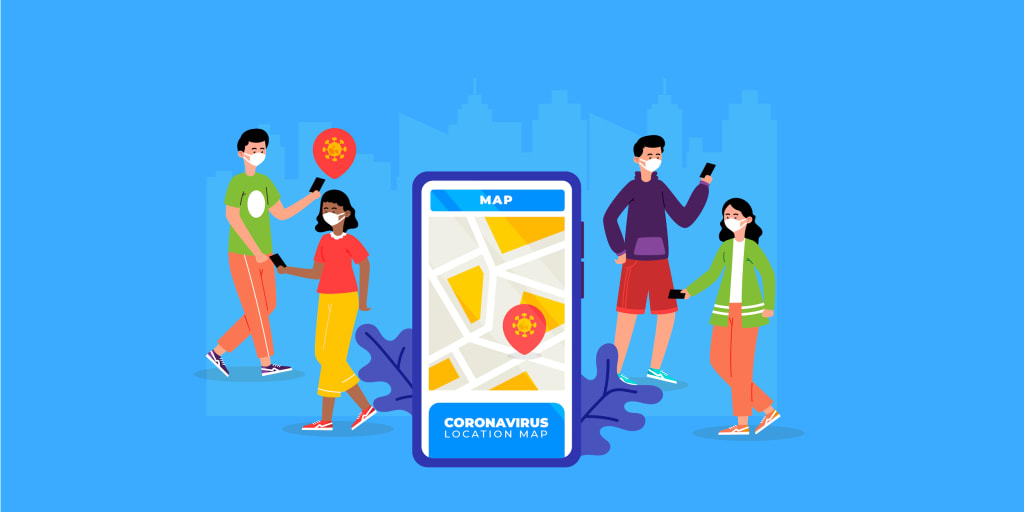 With a continued high transmission rate and absence of an effective therapy, coronavirus continues to be a pandemic. All the government-centric efforts around mitigation and containment have been clubbed with digital and tech companies' efforts to make the pandemic as stress-free as possible for the people. One technology that is aiding their efforts is mobile apps.
The inclusion of mobile apps in the healthcare sector is not a coronavirus-pushed event. Mobile apps have been playing a key role in making the sector more accessible to the end users. But what is safe to say is that the speed at which the offline to online transition was happening in the health and care domain has definitely been activated in full throttle with the pandemic and people getting locked down to their homes with nothing but their smartphones to be the source of getting medical assistance.
This event in turn has led to the launch of a number of mobile applications falling into different sub-components of the healthcare domain.
In this article, we are going to look into the different kinds of applications which have been keeping people feel in control of the situation. In addition to helping people and healthcare agencies track and monitor the pandemic spread, these apps are also helping people take precautions and work on their mental peace. These apps, in turn, are playing the role of a catalyst in increasing the demand for mhealthcare app development.
Here are some of the use cases of how mobile applications are helping people stay sane and on top of the coronavirus pandemic.
A. Tracking the virus spread
A number of contact tracing applications have been launched in the market helping people to monitor the health of the area they are going to visit and at the same time be notified when they are sharing the vicinity with someone who has been tested for coronavirus positive in recent times.
These contact tracing applications are also acting as an online source wherein users can find information about COVID-19, how it spreads, ways to protect yourself, etc.
B. Monitoring health
Although there is not a single effective application that would enable users to turn their smartphones into thermometers, there are, however, applications that help with monitoring their health. App users can enter in and track their temperatures, monitor their blood pressure, cholesterol etc. all from inside the application.
The applications play a crucial role in helping people keep track of their health ensuring that they are well-guarded from getting caught into the coronavirus pandemic as an infected person.
C. Clinical management
The rise of COVID-19 has brought a seemingly unmanageable pressure on clinicians. With the number of coronavirus cases increasing everyday by thousands in number, it is becoming extremely difficult for clinics to keep track of the patients' history and which doctor or staff attended them and when. All of these issues are not just delaying care but even causing several confusions in terms of medical treatment and discharge status.
To solve the healthcare crippling issues, a number of clinic management apps have been launched in the market, giving clinics the feasibility to put in information in the dashboard and track them from the cloud. The fact that these apps are on the cloud makes it possible for the clinicians and doctors to record data across devices.
D. Receiving medical advice through telehealth
With hospitals becoming a common form of epicenter for coronavirus spreads, patients who need regular hospital visits or have routine checkups are preferring to stay at home. But this is affecting their health monitoring process to a massive extent.
This challenge, however, brought the telehealth functionality which had been working in the backdrop for some years on the forefront. Through the mode of on-demand medical consultation apps or video messaging applications, patients are able to connect with their doctors in real-time.
E. Medical assistance through home care solutions
Another challenge that the healthcare industry has been facing is in terms of the health and care support that the senior citizens require. By being one of the most at-risk candidates when it comes to deaths caused by coronavirus, the time is for the senior citizens to be extremely careful.
But does this mean they can afford to let their health go unattended? Obviously, not. The solution to this dilemma has come up in the medical world through the face of home care applications. Through a few simple clicks, senior citizens can call on-demand assistance from healthcare providers in their homes, without having to step outside.
F. Meditation apps helping people keep their calm
Besides the physical impact that the coronavirus is carrying on the people, its mental impact can also not be ignored. The fear of getting caught by the virus added to the forceful isolation has led to people being unable to find peace and even go through phases of mental unrest.
The solution to these mental unrest challenges lies largely on the inside of the users, which they are able to connect with through meditation applications. In addition to online counseling applications, these apps like Headspace and Calm have been able to keep people calm and in control of these unseen, unpredictable situations. This has resulted in a sharp rise in the download and installation count of meditation apps ever since the pandemic.
So here were the different use cases of mobile applications in the healthcare sector, making it easy for people to take control of the coronavirus pandemic situation. In the current situation, the healthcare sector is on the verge of finding a use case for digital solutions across all channels and issues. What the industry needs currently is more use cases to make health and care accessible, transparent, secure, and open.
So the applications that you read in the article are only the surface of how mobile apps are going to change the healthcare sector. As a part of the receiving end of the digital transformation happening in the medical tech world, we can be rest assured that the list is only going to expand further.
how to
Holding a Bachelor's degree in Technology and 2 years of work experience in a mobile app development company, Jason is focused on making technology digestible to all.