Go the Extra Mile with Your Book Club
How to host the best book club ever.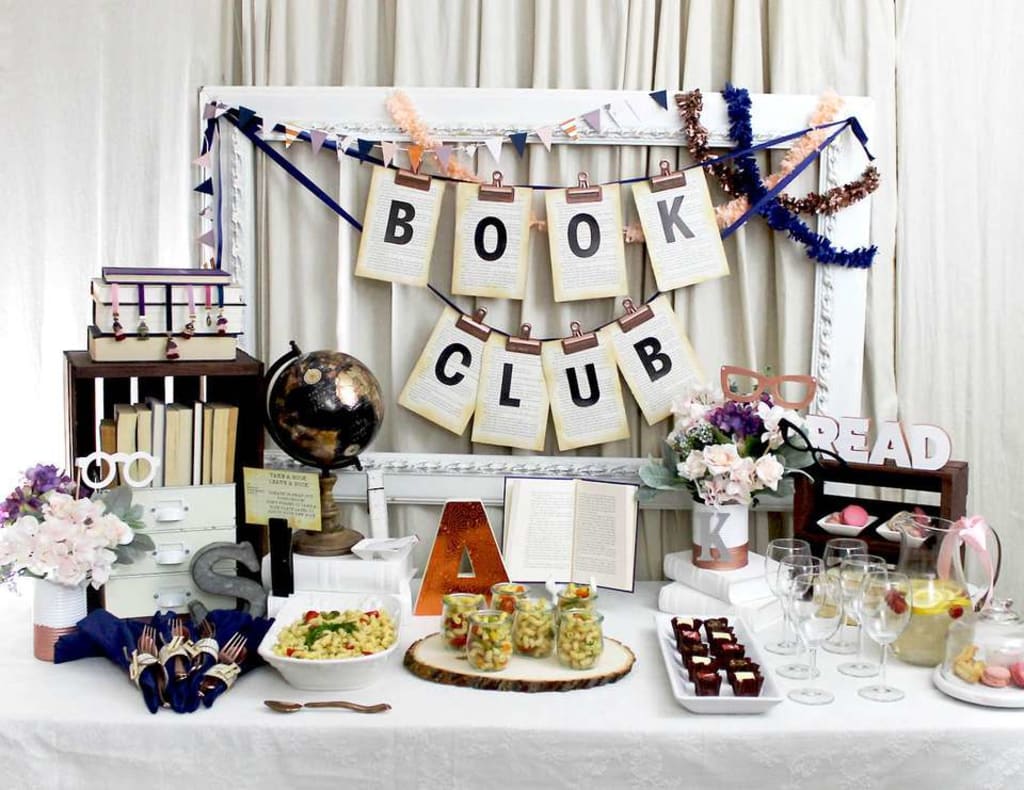 So you're thinking about starting a book club. Maybe you've already got a book in mind, or a group of people in mind. Book clubs can be a great way to meet new people, or to connect with people you already know, and give you a great excuse to keep in touch with your friends, and a great excuse to make time to read. Maybe it's been a while, though, and you're not sure where to start. There's a lot to consider, after all, and you don't want your book club to fall apart before it even has a chance to form.
Choose the People
Don't underestimate the importance of choosing your group with care. You don't just have to consider whether the people you want to invite are people who are likely to enjoy reading, you also have to consider whether they're going to mesh well with each other. A book club party isn't just about the book you read, it's about the people you're with. It's about finding people who are going to read the book and have interesting thoughts about that book. Perhaps most importantly of all, it's about finding people who are going to have a different opinion of the book than you do, broadening your horizons and expanding your own enjoyment of the book. Not to mention making friends along the way!
Choose the Book
When you know who you want to include, you can choose the book, or you can choose the book first and then find people that you want to discuss it with. Whichever you end up doing first, these steps are going to be intertwined to a certain degree. The book has to be one that will be interesting to the people reading it, after all. They have to be willing and able to finish it, and have opinions worth sharing about it. You may want to choose a book that's relatively new, so that it'll be fresh to all the people in your group, and if you choose just the right book, you might find that there are even book group questions available online, to make your job that much easier.
Choose the Location
Now you need to find a place for everyone to meet. That could be a library, or a coffee shop, but it might also be your home, or one of the other members' homes. Choosing a private location will let you really take that book club party to the next level with themes and drinks and food. Think creatively! If you're having a book club for a book about swimming, it might be worth the cost of a pool because you could use it year round if it's a heated pool in the winter. Perhaps you can't always meet at a thematically appropriate yet conveniently accessible location, but you should at least give it some thought.
Choose the Accessories
This final step is going to be what elevates your book club party to the next level. If you've chosen your participants, your book and your location well, you can hardly go wrong, but accessorizing is your chance to truly shine. Prepare for the discussion with a comfy place to sit and a set up to encourage conversation, but also be prepared with topics for conversation, and items to discuss. Consider appropriately themed decorations, drinks and snacks. If you've got an enthusiastic group, maybe make it a costume party and have people come dressed as their favorite characters from the book. Take the discussion online with a social media account and get feedback there.
There's all kinds of ways to differentiate your book club from every other book club that exists, and there's nothing wrong with going the extra mile. Book clubs can be a great way to make and keep friends. Make sure your meetings are going to be fun for everyone involved, including yourself. Give everyone a reason to come, and to keep coming back.