Get Paid To Talk To Lonely Guys 7 Ways To Earn On Chat
Top 7 Sites that Pay You To Talk With Lonely People
Earning Online money is much easy but needs a little consistency, even you can get paid to talk to lonely guys. There are many applications and sites available where you can find lonely people and get paid. And believed me that it is legit extra money that you can get from anywhere as long as you have a smartphone.
This is perfectly the money-making opportunity for you while working at the home, by the way, we spend time on social media and texting, chatting with our friends, and wasting our precious time.
Today in this story I will show you some websites that you can get paid to talk to lonely guys while doing the same things.
If you love to chat, text, this may be a great opportunity for you to earn.
The sites and applications that I am going to explain to you are not only for lonely people but also you can connect with other friends/companies as well.
Why They Pay You: People who use these sites or applications have an intention to have a fun connection to someone or they use it to fill the emotional void.
When users sign up for a subscription then they pay per chat, and the part of the payment goes to you.
Some of the companies that pay you while chat, text, and flirt with lonely guys are the following.
ChatOperatorJobs
ChatOperatorJobs is a legitimate site that pays. But this site hires only women to talk to lonely guys for $0.20 per answer text on your phone. You can show the people when you are available for a new chat, or how much should wait to connect.
You must have a PayPal account to receive payment, and also your age must be at least 23. If you get hired then you must be available to answer at least 75 text messages weekly.
ChatRecruit
ChatRecruit is an online chat site that enables you to chat with strangers through a phone call or text message. It also provides webcam chatting for those who are familiar with video chats.

If you start working on it as a part-time job, you can gain as much or as little as you want to make some extra side money. This job is not frustrating, however, but enjoyment with people.
If you live in the UK they pay you monthly, weekly, and fortnightly through direct bank transfer. If you are live outside of the UK, they would pay you through an international bank transfer.
McMoney
McMoney is much easy to use. With a catchy name like McMoney, it should also definitely be a fast way to make some extra money for you. All you have to do is to receive a text message on your smartphones once in a while, for every message you will automatically get paid on your McMoney account.
But why McMoney Pay you just by receiving the messages? Even you don't need to read messages.
You must know how its works.
Companies around the world continue to send valuable SMS messages to customers like you. To ensure optimal service, they need to test the available SMS routes around the world. The fast internet you've, the more messages you'll get and the more you'll earn.
You'll get paid for any SMS they send you since they are using your phone number to provide those testing services. But sometimes if your registration is not available for you, it's because that it supports a limited number of people in a specific country. It's a legitimate app owned and developed by CM.com
JustAnswer
JustAnswer is different from other chatting services. It involves Fans asking questions to professionals in different areas to get a concise understanding of something.
If you are an expert in any specific skill, professional, or researcher then this is a great opportunity to earn from this website as a part-time.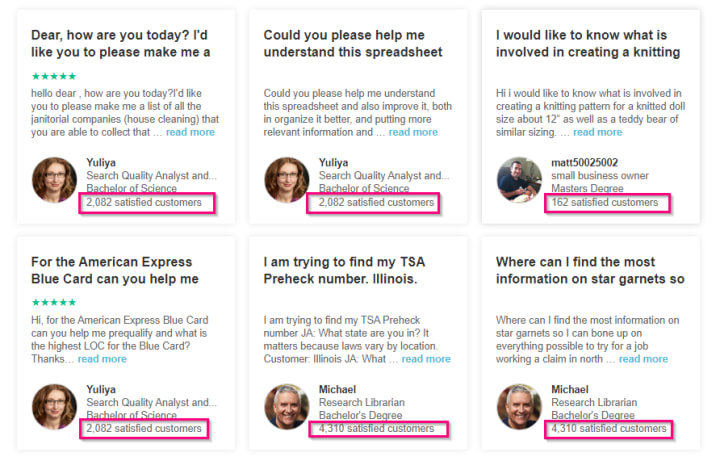 You will get paid to answer the question that your fans posted. This chat is active 24 hours so you can do it anywhere and anytime. So at any time if you feel lonely, connect with your fans. You may make up to $5-$30 per accepted answer, which is wonderful revenue in a relatively short time.
JustAnswer has more than 12,000 + verified experts and they are 24 hours available to answer and satisfy the customer. Experts will answer your questions on:
Lawyers
Doctors
Vets
Mechanics
Electronic Techs
Computer Techs
Electricians
Plumbers
Working Solutions
In working solutions, your job will be to reply across a variety of media such as email, text, and social media and often through voice calls to customer requests from legitimate companies. It provides a centralized call center for other companies to satisfy their customer service need.
You will be hired to answer customer questions or also you can work in sales as well, which means you can both receive and make calls to close the deal. This is a much better-paying site than other chatting services. But you must have strong communication skills and also some experience as well in chat.

Your pay is expected to be from $10 to $15 an hour, depending on "talk hours," which are the number of hours you're talking to people.
FriendPC
FriendPC lets you get paid to talk with lonely guys that looking for a friend. And almost all types of contact you can think of can be used: a text message, a chat room, an online call, or even just a phone call.
This site is legitimate because it's platonic and users are charged a reasonable amount to sign up for the site.
And you'll be paid somewhere between $15 to $50 per hour, with average earnings expected to be around $20.
Phrendly
Phrendly is one of the most popular websites to find lonely people who love to chat with strangers. It was launched in 2015, and now it has more than 600K users.
The income in Phrendly depends on the number of chats you've made on the site. If you have ignored a chat or failed to answer within 24 hours, you will not earn a penny. Phrendly's income is not constant, but the site itself is famous for outstanding customer service and on-time payment. To make a reasonable amount of money, you will have to promote your profile successfully to start receiving chats.
If you replied within 24 hours, each chat would earn you $0.35. And then 30 percent of your revenues will go to the website, while 70 percent will be in your account.
I Hope This Helps You!!
list
About the author
Reader insights
Be the first to share your insights about this piece.
Add your insights