Five Ways to Go Zero Waste
Easy steps you can take to live more sustainably.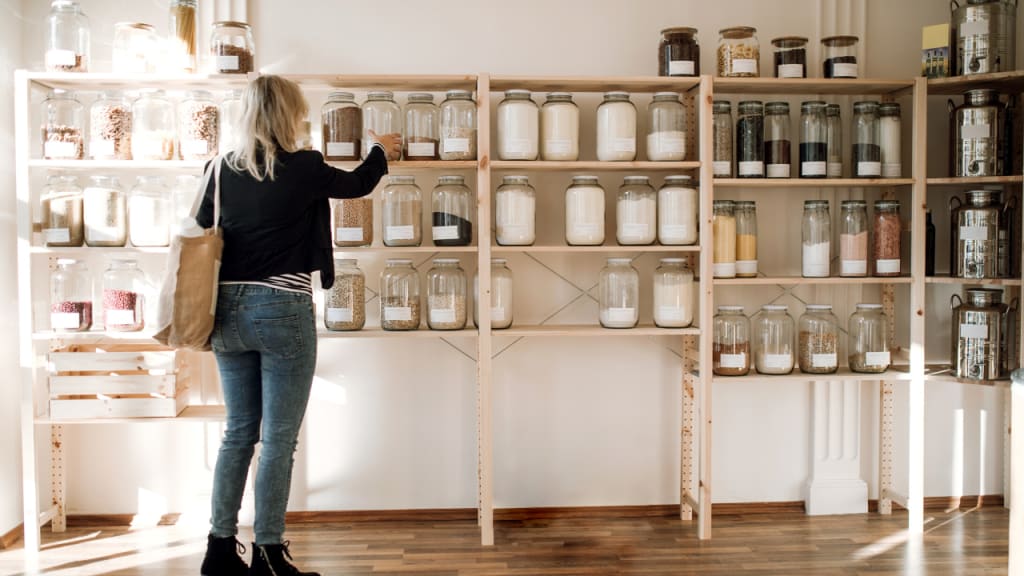 Bulk Food Store
Embracing a zero waste life is one of the best things you can do for the environment (and yourself). 
It may seem daunting, but it is a lot easier than you think. 
By making everyday, zero waste swaps we can make our planet a more sustainable place for future generations. 
Going zero waste can even help you save money. Yes, really. By starting a vegetable garden to making your own natural cleaners, zero waste living can be great for your wallet. 
Below are a few of my favorite tips and tricks to going zero waste. If you have any other tips, please feel free to leave them in the comments section. 
1. Start a vegetable garden 
Vegetable gardens are a great way to help you live a life with less waste. Instead of buying packaged produce, you can grow your own vegetables. It will help you save money, help the environment and reduce your waste.  
2. DIY cleaning sprays 
By making your own cleaning products, you can reduce a huge amount of plastic waste. 
Homemade DIY cleaners can be used throughout your home. Whether you are cleaning your bathroom or kitchen - they can be used for just about anything. 
DIY cleaners are really easy to make. I've included my favourite DIY zero waste cleaning spray recipe below.  
Natural & Non-toxic Cleaning Spray 
What to include: 
- 1/2 cup white vinegar
-15 drops of essential oil (my favourite is eucalyptus essential oil)
- Warm water
Method:
Find an empty spray bottle and add the essential oil and vinegar. Fill the remaining spray bottle with warm water. Mix and start cleaning :)  
This cleaning spray can be used for all surfaces, bathroom, toilet etc - I even use it to mop the floors. 
3. Get composting 
Part of embracing zero waste living includes composting. 
Putting your food leftovers in the trash can have huge environmental impacts. When your food leftovers end up in landfill, it produces methane gases, which contributes to climate change. 
Therefore, by composting you can reduce your waste and carbon footprint - it's a win win. 
Also, you can use your compost as an organic fertilizer to feed your plants.
4. Shop at bulk food stores 
Doing a zero waste shop at supermarkets is really hard. Most things are wrapped in single-use plastic bags which can be difficult to recycle.  
By shopping at bulk food stores, you can bring your own produce bags, and reduce a significant amount of waste. 
Most bulk food stores offers a variety of nuts, rice, grains, pasta, honey, cleaning products and other commodities package free.
5. Follow the 6 R's of zero waste 
The 6 R's of zero waste are great principals to follow and help you live a life with less trash. The 6R's of zero waste include rethink, refuse, reuse, reduce, recycle and repair.
Personally, the 6 R's of zero waste guide my daily decisions and actions. Whenever I am unsure whether I should be buying something, or how to dispose of something, I always remind myself of the 6 R's.
When starting out, I wrote the 6 R's on the back of my iPhone. Then every time I needed a little reminder or guidance, I just looked to my list. It really helped, and I suggest this tip for anyone starting out on a zero waste journey.
1. Rethink: Rethink your purchases and what you (really) need to buy. 
2. Refuse: Refuse plastic wherever you can. At your local cafe, refuse the plastic straws, cutlery and ask for no bag. Remember to always carry around your reusable bamboo straws, reusable bamboo cutlery and bags and maybe even a reusable coconut bowl for an impromptu takeaway meals.    
3. Reuse: Reuse what you can and avoid things going to landfill. 
4. Reduce: Reduce your waste wherever possible.  
5. Recycle:Recycle what you need to. If you can, try to reuse first :) 
6. Repair: Before you throw something out. Try to repair it. 
About the Creator
Jamie-Lee is a social entrepreneur and co-founder of theotherstraw- social enterprise replacing single-use plastic straws with reusable, ethical bamboo straws. Want to be part of the solution to plastic pollution? Let's talk bamboo straws.
Reader insights
Be the first to share your insights about this piece.
Add your insights