Faux Sea Glass
'Though you can never replace the real beauty of sea glass...' here are some tips to create cute faux sea glass with polymer clay:
Use ink and not paint as the colour source to help make a translucent effect.
"Apply a very small amount of desired ink colour. NOTE: It's really important that the clay not be saturated with the ink."—Lucy L.
"Form irregular pieces in the shape of broken glass."—Lucy L.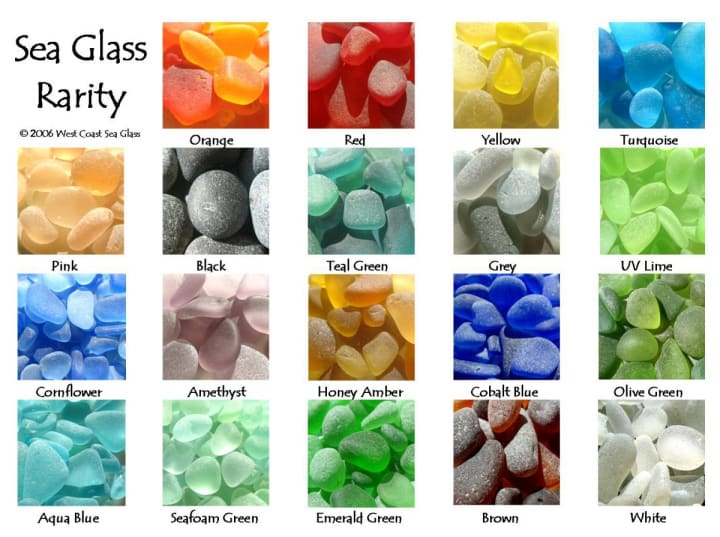 The Seven Ultra Rare Sea Glass Colours:
Orange
Turquoise
Red
Yellow
Black
Teal
Gray
Five Rare Sea Glass Colours:
Pink
Aqua
Cobalt & Cornflower Blue
Purple (Amethyst)
More Common Sea Glass Colours:
Amber
UV Green
Sea Foam Green
Most Common Sea Glass Colours:
Premo Translucent Clay
"Premo translucent on its own has a yellow tint in thick sheets. However, at thin settings the tint is far less noticeable than the Kato. The yellow tint means that this clay works well with projects that contain red, yellow or orange tones, but it isn't great with the cooler, blue side of the colour spectrum." - Barbara S Fernald
Translucent Polymer Clay Canes

"Polymer clay canes are generally comprised of simple patterns that when combined form a quilt-like display of colours and designs. Canes can be used to make beads for jewelry projects. You can also use slices from canes for items like buttons or to cover home decor items." - Sculpey
Frustrations from Working With Polymer Clay
"Translucent polymer clay is an uncoloured body of clay, without any pigment added. Because adding pigment to clay is a bit like adding flour to cookie dough, coloured polymer clay tends to be a bit more stiff, translucent clay a bit more soft and/or sticky. Depending on the brand, this can be somewhat of a challenge." - Ginger Davis Allman
"Another frustrating thing about dealing with translucent polymer clay is that any stray fibers or dirt or contamination from other clay colours on your hands or pasta machine can get mixed in with your translucent clay and it's instantly visible. Use baby wipes to keep your hands and pasta machine spotlessly clean. And use a scrap lump of translucent clay to clean your hands and pasta machine between colours. Here's so more information about keeping lint and dust out of your clay." - Ginger Davis Allman
Tips:
Careful, translucent clay will brown easily if left in the oven too long.

Hello. Nice to meet you! How are you? Hmm... this feels like a really one-sided conversation... why don't you follow me on social media so I can get to know you too!
Like the story? Share it!
Thank you for reading my article. Would it be okay if I ask another favour though? Would it be okay if you share this on your Facebook page or Twitter? If you can't share, there is a tiny little donate box at the bottom too. No pressure though, just thought I would mention it.
Work Cited
Allman, Ginger Davis. "Translucent Polymer Clay FAQ." The Blue Bottle Tree, 15 Aug. 2019, https://thebluebottletree.com/translucent-polymer-clay-faq/.
Diana, Nana, et al. "How to Make Faux Sea Glass with Polymer Clay." Craftberry Bush, https://www.craftberrybush.com/2015/06/how-to-make-faux-sea-glass-with-polymer-clay.html.
"Overview of Translucent Polymer Clays." Jessama Tutorials, https://www.jessamatutorials.com/translucent-polymer-clay.html.
"SeaGlass Color Rarity." West Coast Sea Glass, https://westcoastseaglass.com/about-sea-glass/sea-glass-color-rarity.
"Translucent Polymer Clay." Barbara S Fernald Jewelry, https://barbarasfernald.com/tag/translucent-polymer-clay/.