Do you want an unusual recipe?Recipe for chicken nuggets with coconut
Recipe for chicken nuggets with coconut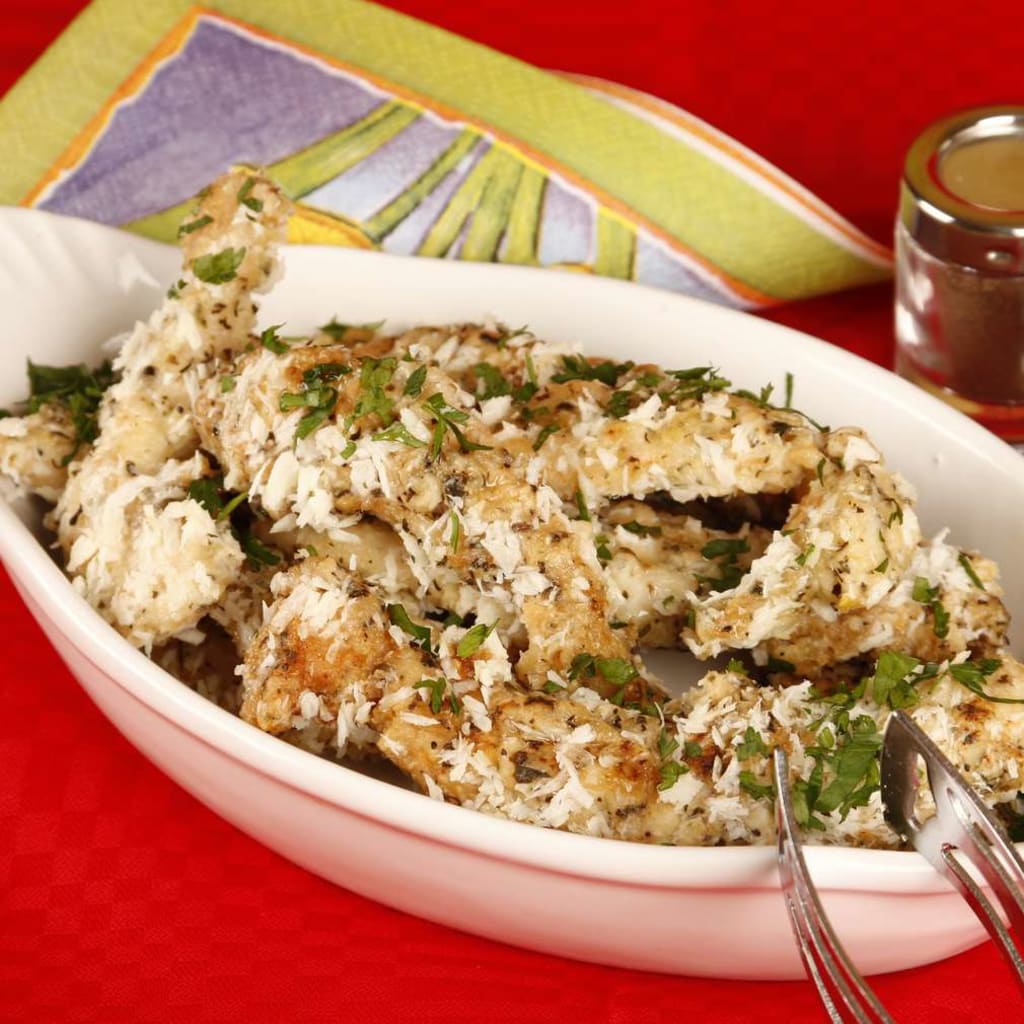 If you like crispy chicken meat, choose to make homemade nuggets! An easy recipe to make! You just have to mix the ingredients, roll them in breadcrumbs and cook them in the fryer for a result that is crispy on the outside and juicy on the inside.
Preparation times
Preparation time: 15 min
Cooking time: 7 min
Ready in: 22 min
Chicken nuggets with coconut
Ingredients
800 g chicken breast
1.5 teaspoons oregano, marjoram, thyme
3 spoons grated coconut
50 g flour
1 parsley
2 whites
200 ml milk
6 spoons olive oil
salt
Method of preparation
Remove the bone and any fat from the chicken breast. Cut the meat into horizontal slices of approx. ó cm, which you beat evenly with a hammer, then cut them into 2-3 cm wide strips.
Beat the egg whites with a pinch of salt. Put the flour and spices in two different plates. Pass the chicken strips through the egg white, then through the flour and finally through the spices.
Heat the oil in a non-stick pan and fry the strips for 5-10 minutes, stirring constantly so they don't stick.
When they are browned, sprinkle the grated coconut, mix and sprinkle with milk. Simmer the preparation for another 10 minutes, on low heat, stirring from time to time.
Season to taste, add the washed and finely chopped parsley, blend and you can serve your guests.
Do you want another nuggets recipe? Look below
Chicken nuggets, pieces of chicken rolled in a mixture of breadcrumbs and fried in an oil bath, are a fast food dish much loved especially by children. Because, most of the time at fast food you will be surprised to find them prepared with processed chicken meat, it is best to prepare them at home.
Chicken nuggets
Ingredients
1 boneless chicken breast
2 eggs
50 gr breadcrumbs
50 gr parmesan
1 teaspoon garlic powder
salt to taste
Method of preparation
Cut the chicken breast into cubes. The chicken cubes must not be very large because they will not penetrate, but also not very small because they will cook too hard and the chicken breast will become bland.
Beat the eggs with salt and put the chicken cubes in the egg mixture. I leave it aside.
Put the breadcrumbs, garlic powder and grated parmesan on a plate.
We mix them and pass each piece of chicken through this mixture.
Fry over high heat, in an oil bath, just until it is lightly browned.
Remove with absorbent napkins or in a sieve, to get rid of excess oil. If you want, you can opt for a healthier option and bake them in the oven.
Chicken nuggets with corn flakes
Ingredients
2 chicken breast fillets (approx. 300 g each)
5 tablespoons flour (type 405)
4 teaspoons of salt
4 teaspoons paprika
2 eggs (size M)
200 g corn flakes
Method of preparation
For even crispier chicken nuggets, heat oil in a pan and fry the pieces of nuggets for about 5 minutes in it.
Preheat the oven (upper/lower temperature: 200 °C / recirculated air: 175 °C). Rinse the chicken breast fillets with cold water and pat dry, then cut into bite-sized pieces.
Mix the flour in a bowl with salt and pepper. Eggs are beaten in a deep plate. Crush the cornflakes and pour into a deep dish.
Dredge the pieces of meat in flour and shake, then dip in the egg and drain. Finally, put them through the cornflakes and press them gently.
The pieces of bread nuggets are placed in a form lined with baking paper and baked in the oven, on the middle rack, for about 15 minutes.
About the Creator
Food recipes for you and your loved ones. I present both food and sweets, from different countries, for a diversification of tastes to your liking.
Reader insights
Be the first to share your insights about this piece.
Add your insights