DIY Cinderblock Bench
Affordable and fun project to add a creative touch to your home.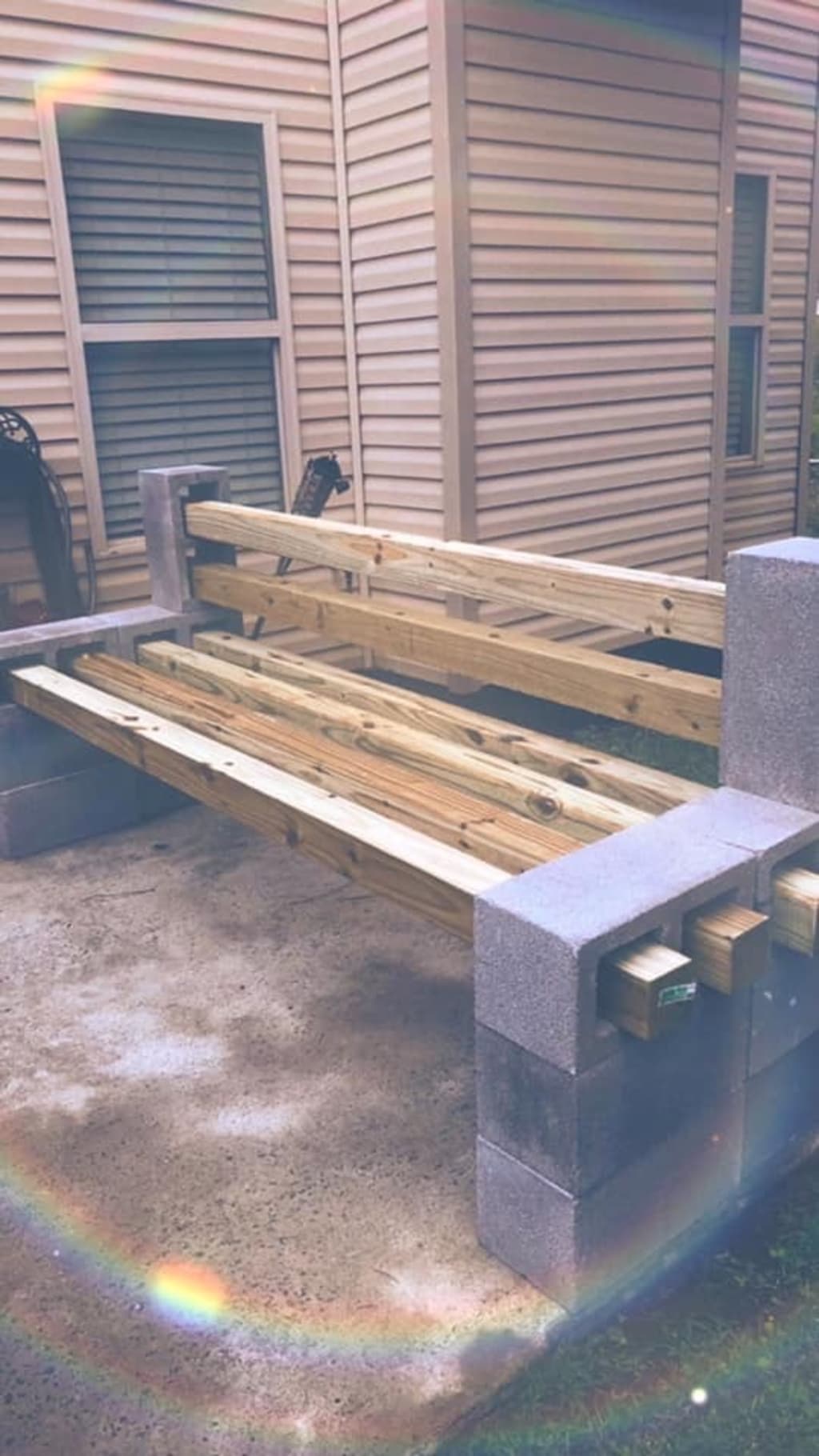 What you will need:
14 cinderblocks
6 4x4 8 ft wood post
Adhesive (to clue cinderblocks together)
I recently found out that using cinderblocks for "Do it yourself" projects have endless ideas. I was amazed at when I came across this simple plan for a bench and had to test it out for you guys, and it sure did not disappoint. So many people have reached out to me on my socials or when they come over wanting me to make them one, BUT it's so easy that anyone can do it! So for you guys, I have been motivated to share the simple ingredients needed for this bench and the rest is pretty explanatory. I plan to make a vlog later on with how I decorated it and how I added my personal touches, but till then, this is all I got for now to show for.
With that said, if you're reading this, I assume you are looking for a way to decorate your backyard with an affordable DIY? Well, here you go! What I love about this bench DYI, is that you can add your own personal touch to it. My bench pictured above is nowhere near finished, but I am excited about all the ideas I can do with it. You can leave your project in its natural form or paint it up by adding colors to complement the space that you intend it to be in. I plan to paint the cinderblocks black, adding a cute cushion and flower pots. Most would find it hard to believe the result that can be attained with this simple DIY, I definitely was skeptical. This bench is also durable and will last you through all the seasons.
When going about projects, I usually always find myself trying to do more than what I'm capable of. Like thinking I have a huge truck that can fit all the supplies I need. (Who can relate?) When I was getting the supplies, I pulled up to Lowe's in my Toyota Corolla, or what I viewed as my massive truck, ready to haul stuff in. They laughed and found it humorous I thought I was going to fit all the supplies inside my car. Personally, I would have tried it, but they greatly suggested I get a truck to have everything loaded in (thankfully, my friend came to help me). Moral of the story, don't show up in your Toyota Corolla for this project. Everyone at Lowe's kept asking what I was making and I showed them a picture and now they are wanting to make some. It's super easy to put together, and a lot of fun thinking about all you can add. It looks so good in my backyard, is affordable, extremely sturdy, and I can't wait to add my personal touches. I would strongly suggest, before adding adhesive glue, to make sure the bottom four cinderblocks are facing the right way, unless you want the holes showing. All in all, this project took a matter of one hour to put together with the time spent getting the supplies. It probably wouldn't have taken as long if I had a truck, but I would say an hour is pretty good timing considering how awesome this bench looks.
For your information:
This was not an original idea, I was definitely inspired by photos and different "do it yourself" blogs from Pinterest. Even though it's not my original idea (I wish), I just wanted to share with you all on how to make it so that perhaps you could add some outside seating without breaking the bank. It's also truly fun to put together with a spouse or friend, and could definitely be a great way to bond.