Digital Planning for Paper Lovers!
Taking an Old-School Passion into the Future…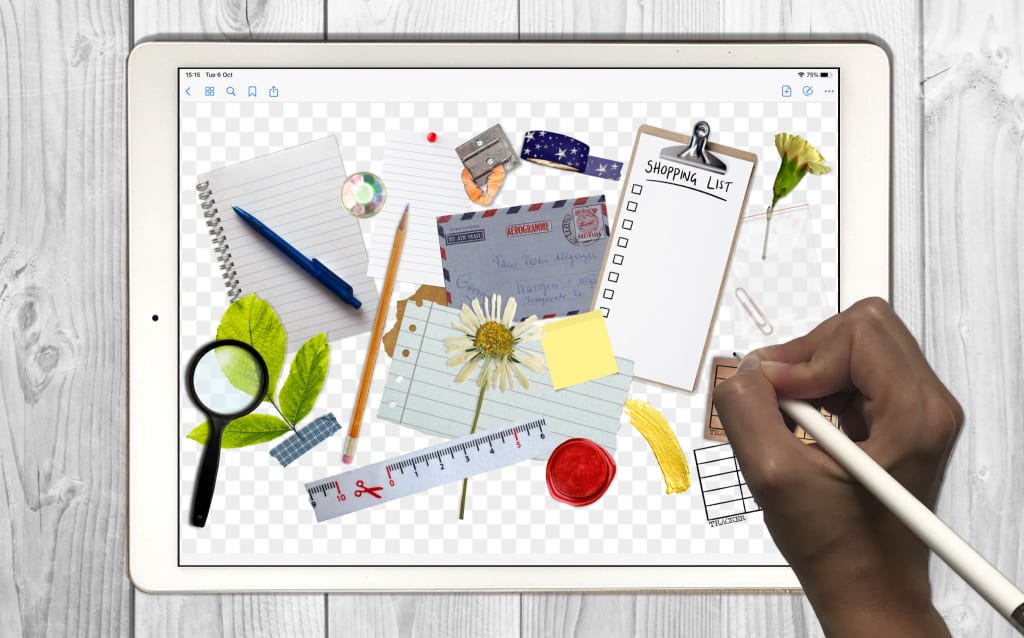 Have you ever accidentally started a business?
I have.
And the phrase "I just sort of fell into it" could not have been more literal…
In 2018, I tripped over a storage box containing all of my old journals and diaries. As I fell through the air, I grabbed onto the nearest shelf which happened to be holding a box of (and this is a rough estimate) FIFTY MILLION paperclips. The shelf collapsed and I was left laying on the floor facing the ceiling just in time to see the most sinister sight in the craft universe, an open box of glitter, teetering dangerously on the edge of the last remaining shelf. It swayed towaaaaaards me….then away from me….then towaaaaards me…
NOOOOOOOOOOOO!
It was like the final scene in Carrie. But sparkly. And not as good.
Once I'd cleared up the craftermath, I took a long, hard look in the mirror and admitted I had a problem.
I was a stationery addict.
Ever since I can remember I've been a stationery hoarder - notebooks, planners, journals - I couldn't get enough. I'd while away hours scribbling in my diaries, sticking memorabilia in my scrapbooks and I don't want to blow my own trumpet here but…I was bullet journaling before it was a hashtag.
I carried my obsession into adulthood, using planners for work and journals for leisure. I loved sitting down on a Sunday night to plan out every hour of the next seven days and my favourite part - the satisfying tick in a box as I checked off my to do list from the previous week.
To unwind, I'd spend evenings and weekends making pretty journal spreads; my favourite thing to do was to sit in a quiet corner of a coffee shop and work on my film journal: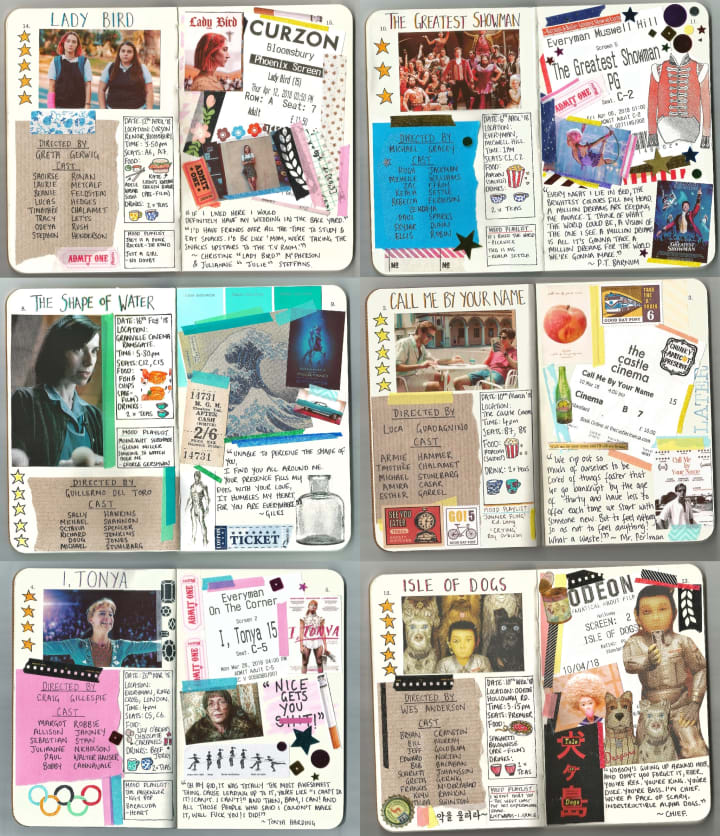 I first noticed my habit was getting out of hand when I developed a dull ache in one of my shoulders…suspiciously the same shoulder I used to lug a bulging satchel of journals and stationery around town.
The second red flag came when I caught an episode of Hoarders and for a good minute thought somebody had secretly filmed my house.
After the epic glitter disaster of 2018 I realised something had to give. I had to start cleaning up my paper trail.
I turned to the one place all craft addicts go in their hour of need:Pinterest.
That's where I discovered Digital Planning. It seemed like the answer to my paper-hoarding prayers.
Digital Planning
Digital planning is basically what it sounds like - planning on a digital device - no paper or stationery required. Most people I came across online were using an iPad or tablet with a stylus to mimic the act of putting pen to paper. So far, so good.
I learned that digital planners came as an interactive pdf file with clickable links; for example, you could 'click' a page to turn it, or click a date on a calendar to go to a page solely dedicated to that day's plans. Woah. You can't do THAT with paper!
I was sold. The shelf space I was going to gain! The money I was going to save! The shoulder aches I'd eliminate! I was going to be a digital planning extraordinaire!
There was just one problem…
I hated them all.
Back then, the world of digital planning was still in its infancy and all of the pre-made planners available were…well…not the prettiest. They were spreadsheet-y, clinical and, frankly? Too digital. I couldn't imagine giving up my paper planning, with its gloriously olde-worlde aesthetic, for pixels and pie charts. The act of decorating my paper journals with stickers, torn paper and tape was a form of creative therapy to me and none of the digital planners I found seemed capable of anything similar.
As I looked around my room at the boxes of old notebooks, the cupboards I hadn't opened in months for fear of a craft paper tsunami and the rogue specks of glitter still clinging to the carpet, I made a decision. I had to go digital; but I was going to have to do it my way. I decided then and there to build the digital planner of my dreams myself.
For it to work, it had to meet certain criteria:
It had to look and 'feel' like a real paper planner
It had to have character
It had to capture that magical feeling you get when you crack open a new journal to a fresh blank page.
Cut to: a Rocky Montage of me scouring YouTube for 'how to make a digital planner' videos; close-ups of my Google search history - 'what even is a pdf?' - a timelapse of the sun setting and rising as I tap and scribble away at my screen. Finally I emerge, triumphant, raising my ipad to the sky like that scene in The Lion King. I had done it. I had created my first digital planner.
Ok, ok, so the first one was pretty ropey. Let's just pretend that one never happened and have a look at the SECOND one I created. I'd developed a little bit of my own 'style' by then and was (still am) so proud of what I'd made!
It was inspired by an old, leather travel journal I used to own and I'd also been going through an Indiana Jones phase at the time and wanted to capture the feel of Jones' Grail Diary. I made tabs for each month of the year which looked like vintage train tickets, charms that you could click to navigate to different sections in the planner and I even added a candle which lights up when you open the journal and goes out when you close it!
I've always enjoyed arty things, I'm a part-time illustrator so that definitely helps, and I found that once I'd got the hang of the tech side of building a pdf planner, the creative and designing side was SO satisfying! I was hooked and I couldn't believe I could create my dream planner with nothing more than an iPad and my imagination!
I was SO proud of my creation. I posted it on Instagram and over the next few days I received a few messages from fellow digital planner users from around the world asking where I'd got it and could I send them the link. When I revealed that I'd made it myself, they asked me if I'd consider listing it for sale on Etsy so they could buy one for themselves. I'd never even considered selling the planner, I was solely doing it for me, but with hindsight I realise I'd unwittingly followed the first rule of business school: make something YOU like and others will like it too.
I listed my planner for sale with no plan, no expectations and, honestly, no idea what I was even doing! And people bought it. And LIKED it! And they asked for more!
I'd fallen completely in love with digital planners - both using them and creating them. It literally changed my life. I was more organised than I'd ever been, I had more time to create without having to set up my tools and clear them away afterwards, my productivity was on fire! I even took my beloved film journal fully digital:
I wanted to tell the world about digital planning! There were so many benefits:
Hands down, the main thing I loved was being able to fill my journals with any photo from my camera roll - no printing, no sticking!
Having everything I need with my iPad and stylus. No need for the countless journals and pencil cases I used to cart round!
Being able to delete/move/undo etc. It meant the perfectionist in me didn't have a total freak out if I made a mistake!
Taking away the clutter and mess of my stationery hoard left me with so much more space (physically AND mentally) to create and get things done!
Not only was digital planning good for my mind, body (the sore shoulder was no joke!) & soul - it's also good for our planet! By going paperless I was saving trees, the wildlife who live amongst those trees & helping cut down on the harmful emissions produced by the paper industry (which is the 5th largest energy consuming industry in the world!).
I've been using, creating and selling digital planners ever since - getting better at designing, inventing new 'digital stationery' for them and constantly trying to grow and improve my creations. I've always stuck to my original vision - digital products with all the charm of a paper (and sometimes…a little extra magic!).
I made a fairytale themed planner with secret compartments:
A more traditional planner with 40 different styles and colours of paper (that never runs out!):
An Artist's Journal (my absolute FAVOURITE!) with cut-outs, Dutch-doors and a whole range of papery inserts to customise it to your heart's content!
And a Moon Journal, a diary with dated pages detailing the phases of the moon!
With each new item I created, I'd list it on Etsy and, to my surprise every time, people would buy them! It seemed there were others like me, ex-paper-addicts, looking for a digital stationery fix! If you told me me a few years ago that I'd be creating and selling digital products I would have laughed - I am the least 'techy' person I know - but I think that's my superpower - I don't want to make a book feel 'digital', I want to make the 'digital' feel just like a book!

I called my digital planner store "The Full Moon Society", named after a real life secret society of inventors, artists and craftspeople who would meet on the night of the full moon to discuss their latest ideas and projects; I'd always been fascinated with the group and this was my little homage!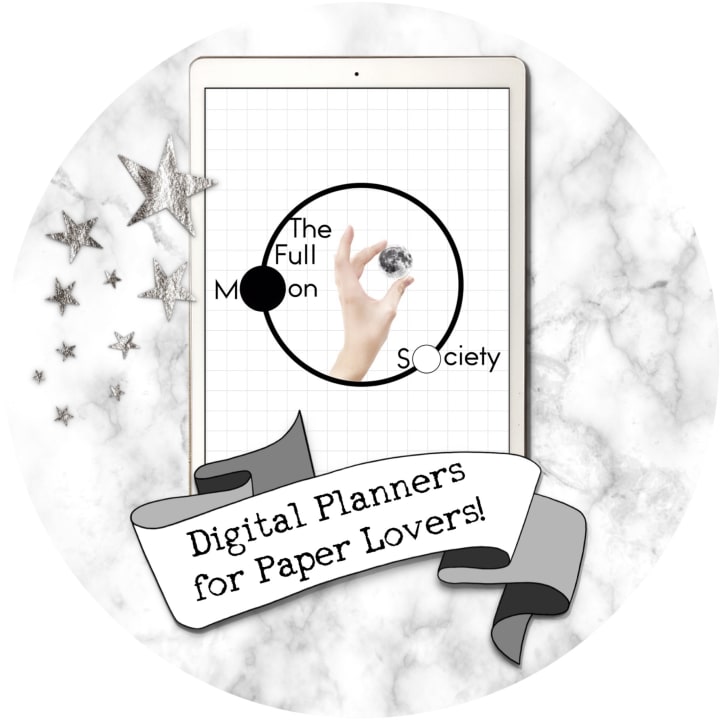 The Full Moon Society has been going from strength to strength ever since. I've added more planners and journals to my store and I now design and create digital stickers - png images on a transparent background which are used to decorate and enhance digital planners - all based on old school stationery and scrapbooking supplies!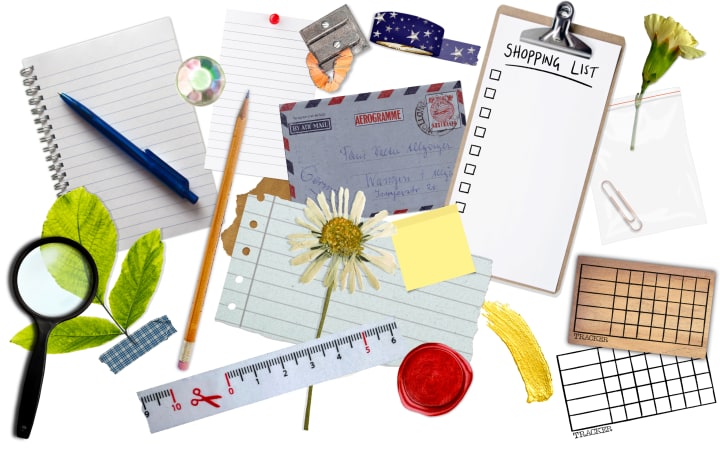 I'm still committed to making my products feel just like (or better than!) the real thing so I display all my stickers in a "sticker packet", just like they'd be displayed in a craft store!
Alongside the Etsy shop, I set up a Facebook group as a place to connect with my customers and other digital planner fans; to share ideas, inspire each other and geek off on our favourite topic! I thought I'd maybe get ten or 20 members of die hard digital planner fans but we've now got 1.2k members with absolutely no promotional effort and it's growing quickly every day.
It's such a special community and they're the reason I'm writing this article in the first place - I want to offer them MORE!
They say "if you build it, they will come" - but what if you don't know what to do with them when they get here?! Through this whole process, I've been learning on the job. I had no plan, I didn't even mean to start a business! It's all been a very happy accident. Now I have a growing, passionate, engaged audience ready and waiting for me to…DO SOMETHING! I want to serve them efficiently and this time I want to do it on purpose!
So I'm making a plan.
I want to take The Full Moon Society to it's next incarnation, and with the help of a service like Memberful, I'm SO excited about the possibilities!
Here's my vision for taking my passion project and turning it into an intentional passion business:
CREATE A MEMBERSHIP:
A community needs a headquarters, and that's exactly what I envision for my membership. At the moment, I have customers in our Facebook group, some following on Instagram, some following on Etsy, some on TikTok and others who don't follow on any platform but purchase my products as a guest account. There is no real hub where I can reach my audience as a whole. While the Facebook group has been a wonderful way to gather as a community on a casual basis, it's not an efficient way to connect 'on demand' with my customers. Currently, customers have to navigate to the group manually and scroll through the feed to catch up on news from me. A membership would ensure I could reach my customers all at once at a specific time to keep them up to date!
A Monthly Newsletter:
Each month, subscribers will receive a newsletter featuring new product details, a freebie product of the month, a blog post with planning inspiration & tips, and a monthly planning challenge!
A Quarterly Magazine:
I currently offer my followers 'The Full Moon Times', a quarterly digital magazine full of freebies, articles and inspiration. To access this, users have to join the Facebook group and remember to check back and manually download it each season. I'd love to streamline the delivery of this to offer customers the option of having it delivered to their inbox every month!
Sticker Club Subscription:
This is somethings I've wanted to create for SO long! Digital stickers are a hugely popular product in my store and I love to create them! The busiest time for my shop is always September when I run #Sticktember - a new pack of stickers created and added to the shop every day for 30 days. It's always so fun and popular with my customers that I'd love to offer a monthly (or even weekly!) sticker subscription where members are sent new creations regularly for a small, recurring fee.
Selling Digital Products in one place:
Currently, my digital products are only available on Etsy - nestled amongst hundreds of other sellers. I'd love to have a stand-alone place where customers can browse through my items in one place without distraction or confusion.
Plan With Me Podcast:
Each quarter I create a Spotify playlist for customers to plan along to. I'd like to take this idea one step further and release a monthly podcast with advice, interviews and perhaps even some ambient sound for users to listen to while they journal and plan!
A Community Forum:
My favourite thing about our Facebook group is seeing users post their planner pages and inspire each other with how they're using their products. I'd love to encourage more of this with a dedicated chat forum.
A Digital Planner Creation Course:
Finally, I'd love to share everything I've learned on my journey to teach others how to create their very own digital planners from scratch! I learned very much by trial and error, cobbling together information here and there - I'd like to create the course I needed when I first set out to learn!
I'm so excited about the future of digital planning and I can't wait to offer my wonderful community what they deserve - ease, efficiency and the very best!