Cover Letter: 7 Tips & a 5-Step Guide
What's a cover letter, how is it different from a resume? A step-by-step guide on crafting a job-winning cover letter, and 7 tips/hacks to gain an edge over the competition.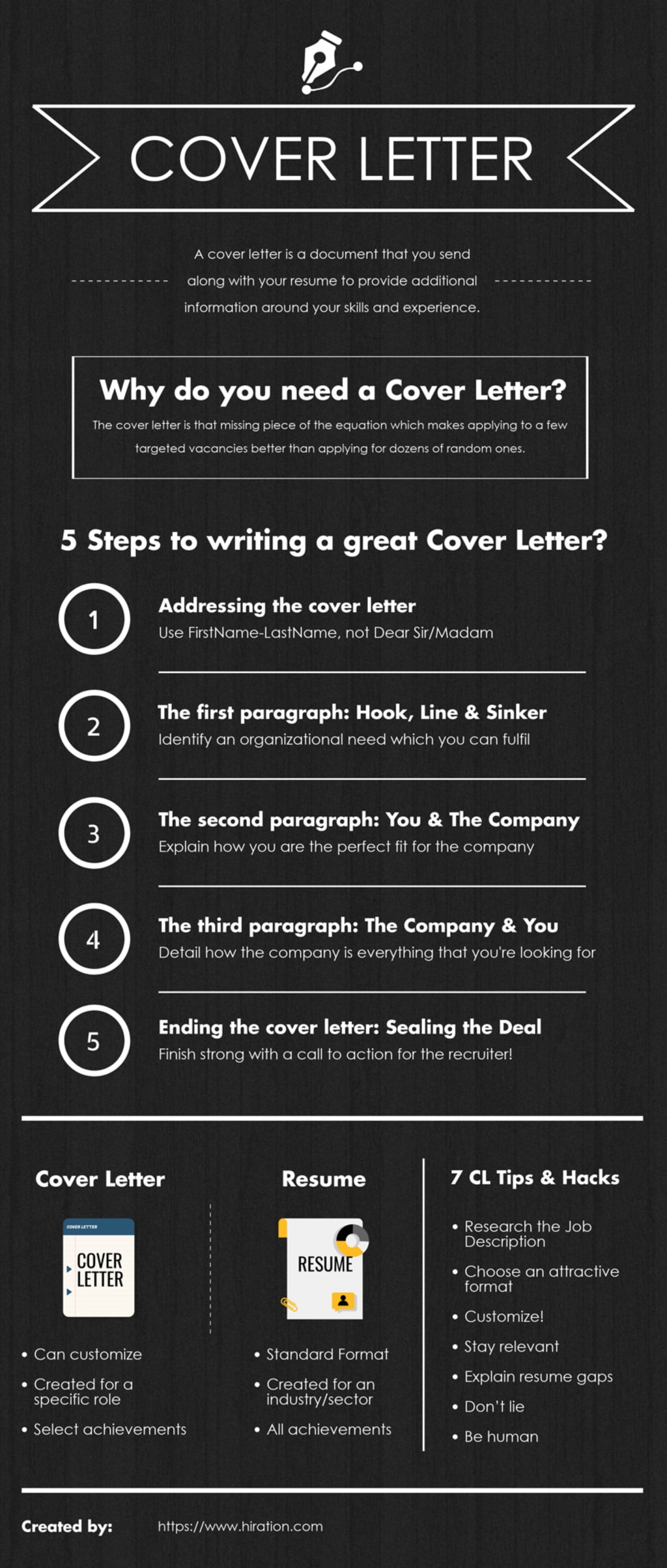 Cover Letter [Infographic] specifying the differences between a cover letter and a resume, a 5-step guide and 7 tips/hacks
We like to believe that a resume without a cover letter is like Lennon without McCartney. It just feels incomplete.
In this exhaustive yet minimalist infographic, we start off by clarifying what a cover letter is. We then specify the key differences between a resume and a cover letter.
Once these basics are addressed, we continue with a brief 5-step guide you can follow for crafting a job-winning cover letter. We break down each paragraph in a cover letter and mention its importance and context in the overall job application process.
To summarize the key ideas from our original post, the first paragraph in a cover letter will give an introduction while explicitly stating your interest in a specific profile. Keep it crisp and start off by mentioning the number of years of experience you have. Mention your current/last profile and set the tone for the subsequent two paragraphs.
In the second paragraph, you'll try to convince the recruiter why you are a fit for the role. Briefly mention your past achievements in the light of what the target profile requires. Keep it limited and relevant to what the recruiter might be interested in. It will help if you are able to provide quantifiable data around your contributions. At the same time, make sure that you don't litter the cover letter with numbers since that will heavily dilute the impact.
If you are a senior professional and have worked in multiple organizations, there's no need to mention all the companies you've worked in. Since a cover letter is extremely brief, make it a point to ensure that you're only selecting the most relevant profiles and contributions that will finally go in the cover letter.
Finally, in the third paragraph, talk about the company, and why you think the organization is a good fit for you. Do your research and mention the specific attributes of the company that appeal to you and align with your own value system.
A word of caution though! Make sure there's a concrete call to action (CTA) when you are ending the cover letter. There's no point in spending hours drafting the perfect cover letter only to be ambiguous in the end. The recruiters should know exactly what is it that you require from them.
Make sure that you mention the Enclosures in the end. If you're only sending a resume along with the cover letter, just mention Resume. However, if you are also sending a portfolio or additional documents relevant to the profile you are targeting, you can go ahead and mention all of that. Remember: a cover letter is a part of the entire application process. It's a key component, but it's not the only one.
It's a mistake to simply send across your resume without an accompanying cover letter. A cover letter is the place where you can take the opportunity to elaborate on your intent behind applying for that coveted role. In case your professional trajectory is marked by gaps, you can take the cover letter to explain the reasons behind the same. It's strongly recommended to not give lengthy explanations in your resume but only use the cover letter to state your case. It helps to always state the truth - it doesn't matter what the reasons were behind the gaps in your career, make sure you clearly state the truth. That will save you a lot of hassles later on.
Once you know the basic steps to follow for writing a cover letter, we end the infographic with some lesser-known tips and hacks for gaining an edge over the competition.
Good luck! For any other concerns, feel free to drop a line at [email protected]