Benefits and Applications of Cupro Nickel Pipes
Benifits and Applications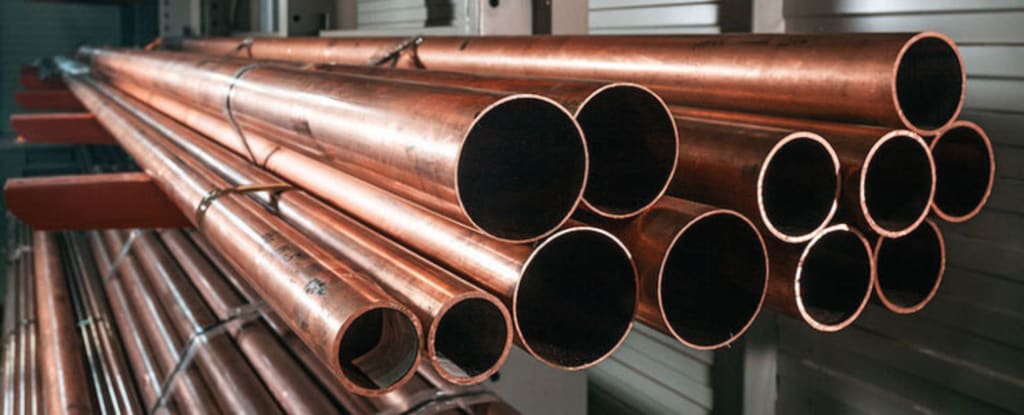 Cupro Nickel Pipes
The most extensively used alloy materials for various purposes are copper (Cu) and nickel (Ni) alloys. Their suitability is owing to their high resistance to corrosion when working in seawater. The alloy has great fabric ability and can successfully deal with macro fouling. Cu Ni goods are very popular because of their long lifespan, antibacterial capabilities, and exquisite appearance. These pipes may be used in a number of sectors because to their high flexibility. These pipes can be utilised in a variety of industries, including aerospace, medical, construction and design, fertilisers, nuclear power, transportation and transportation industry, pumps and valves, the chemical industry, the oil business, and many more.

Benefits of using Cu Ni Pipes
Cu Ni Pipe holds various advantages and features over other piping material. Due to the effectiveness in the production of Cu Ni pipes, it becomes popular. Cu Ni is a high-quality alloy that offers outstanding qualities such as high tensile strength, reusability, and unique forming ability. Cu Ni Pipes are highly resistant to mechanical stress, give higher resistance to work at a higher temperature, and resist high-pressure conditions. These pipes are typically circular in shape and can be regular or trimmed to length according to customer requirements. They're mostly employed in heat treatments, machining, expansion, and machining, among other applications.

Mechanical features that are exceptional.
Low pressure due to low gas content.
Properties of magnetism.
High heat and electricity conductivity.

Applications of Cu Ni Pipes

Electronic elements, electronic parts, wires for heating components, connections / terminals of batteries, chemical manufacturing, aircraft parts, food manufacturing, and processing synthetic fibre are only a few of the industrial uses for nickel alloy pipes. Following are few applications of Cupro Nickel Pipes.

Ship Construction and its Repair
An alloy of copper and nickel is useful in seawater cooling, firefighting instruments, pneumatic and chilling systems, bilge and ballast, and sanitary. These Cu Ni pipes are also applicable for the cargo tank heating coils and the desalination units' feed line.

CDesalination Plants
Cu Ni pipes are useful in high temperature involving desalination units. Here, Cu Ni pipes are the most helpful desalination plants. Also, Cu Ni pipes are useful in the recovery section and heat rejection points. These pipes work in brine heaters. Cu-Ni alloy pipes are helpful for evaporator tubing.

Power generation
Cu-Ni pipes and alloy components are easily integrated into oil cooling systems and steam turbine condensers. These pipes are also useful in applications that require a lot of pressure. High pressure and temperature are required for the pre-heaters of fossil-fuel power plants, nuclear power plants, and the auxiliary cooling system. Cu Ni pipes are helpful for transporting both clean and brackish water. In maritime renewable energy generation plants such as tidal devices, wind farms, and waves, Cu Ni alloy has more substantial advantages.

Offshore Oil and Gas
Copper-nickel alloys are utilized in seawater, cooling, and firewater/deluge systems on both platforms and FPSOs (Floating Production Storage and Offloading vessels). Their resistance to chloride crevice corrosion and stress corrosion cracking makes them popular in hotter areas.

Car Applications
Because the copper-nickel composite Copper 90/10 does not require surface security and so provides further safety, this copper-nickel combination is increasingly being used for braking and pressure-driven suspension frameworks, as well as cooling frameworks in automobiles and commercial vehicles.

Thermocouples
Copper-nickel composites, which are comprised of a copper-45 percent nickel combination, are also used in thermocouples because they provide a high and consistent EMF when mixed with other metals like copper and iron.

These pipes are also utilized in shipping drums in the electrical industry, where high conductivity is required. Nickel pipes are ideal for applications such as aerospace, chemical equipment, rocket motors, defense, missile components, and many others due to their increased mechanical strength and ductility. These tubes are acceptable for use in pipe systems that include alkalis. Nickel Tubes have a stronger resistance to acidic media, making them a very dependable product in the food processing business.