6 Free Tools Every Content Writer Needs to Know
Content writers of the world, unite! If you're like most people, you've found that creating engaging content can be time-consuming and tedious work. So in order to free up your time and make your work more enjoyable, we've put together this list of six free tools every content writer needs to know about to help you write faster, better, and smarter.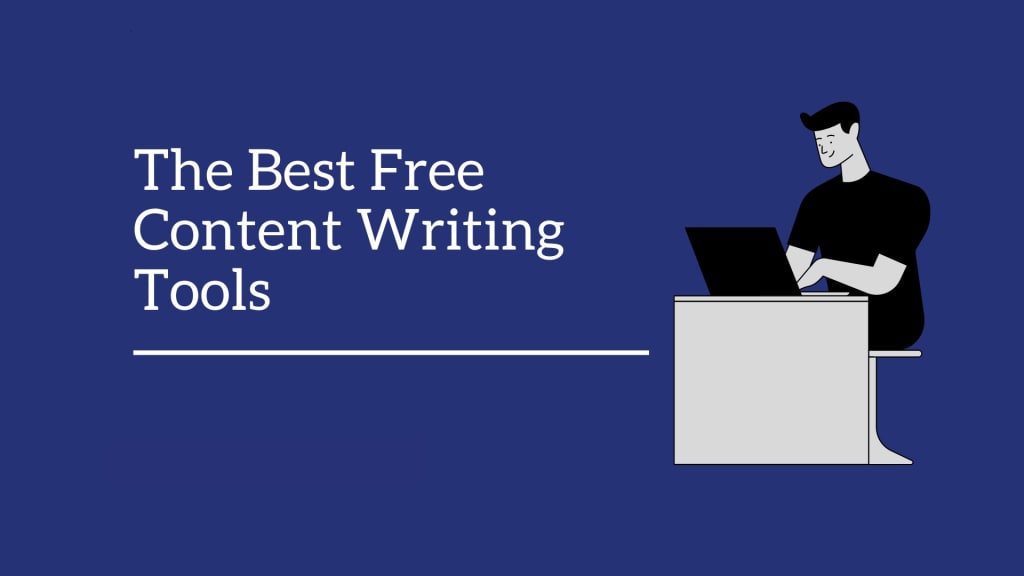 1) Google Docs
Google Docs is an online word processor that works much like Microsoft Word does on your computer. You can create, edit and collaborate with others on your documents all for free.
This tool is a great way to share ideas and store copies of your work in one place. If you're writing content for any business, Google Docs should be a staple in your toolbox.
Not only is Google Docs free, but it's also an amazing collaborative tool for working with other writers or editors. I wouldn't recommend it for long-form writing or for document creation (you might be better off with Microsoft Word).
But Google Docs shines when you're collaborating on a project and need to edit the text in real-time. You can even collaborate on spreadsheets (see what I did there?)!
The best part is that you don't have to go into Google Docs; simply click Open in Editor and start typing away on your favorite word processor — Google will pull in all of your changes when you're done.
Yes, you already have access to Google Docs, but I bet you didn't know that you could also use it as a publishing platform. With Google Docs, you can create your content and preview how it looks on a smartphone or tablet.
Or send your content straight to your editor. It has never been easier! Check out these 8 tips for using Google Docs as a content-writing tool.
2) Grammarly
A free grammar-checking tool that can detect and fix basic grammatical errors. When you're writing web content or other documents with text intended for wide audiences, Grammarly is a simple but very effective tool.
It can also help check punctuation, find spelling mistakes, and even identify plagiarism in your work. It's an excellent choice if you write a lot of online material.
Like most programs like it, it's pretty fast — when I tested it out on one of my stories, it took less than five seconds before beginning its scan of over 350 words in just three sentences.
Grammarly is a solid proofreading tool that goes way beyond spelling and punctuation. It's one of those tools you don't even think about using until something embarrassing happens — like sending out a press release with a few grammar errors. But Grammarly can be much more than an emergency safety net.
The most accurate grammar tool available online, Grammarly is an incredible time-saver for content writers. This browser plugin will identify over 500 different types of errors in your writing.
From punctuation and spelling mistakes to misplaced modifiers and syntactical discrepancies. It's a must-have for anyone who writes on a regular basis.
3) Trello
There are quite a few grammar-checking tools out there, but Grammarly is my favorite and it's free! This tool scans your writing for any grammatical errors, spelling mistakes, punctuation problems, word usage issues, and more.
For most people (including myself), proofreading can be tedious, especially if you aren't too familiar with proper grammar. That's where Grammarly comes in. It can help you proofread without getting distracted by small mistakes (which you might miss when reading on your own).
All you have to do is highlight a block of text and it will underline each problem with color-coded suggestions. Trello is a great tool for both managing projects and organizing ideas.
It can also be used by more than one person at a time, making it a popular choice for team collaboration. Trello makes project management simple with its easy drag-and-drop interface, and it's entirely free.
Whether you're writing an informative blog post, planning out your wedding reception, or building a website, Trello is an excellent choice for any project that requires organization and collaboration.
Trello is a great tool for content and social media marketing. It lets you map out specific tasks and campaigns all in one place. Once a campaign has been mapped out, you can keep track of its progress and overall success with ease.
No more wondering if things are moving along as they should be. Trello's organizational structure is intuitive, meaning it only takes about 15 minutes to learn how to use it effectively. Plus, as an added bonus, it's free!
4) MailChimp
In one of our previous posts, we talked about Trello, a project management software that also helps you plan and organize content. Why? It's easy to use and free. One thing that makes it stand out from other platforms is its amazing flexibility.
You can organize your content in different ways and make it available for clients or coworkers. You can even import existing cards if you want to keep track of projects that have already started (which means more time for creating new content).
There are plenty of add-ons out there, too, so you can really personalize Trello and get exactly what you need from it. Overall, it's a pretty user-friendly platform with a lot of potential (and some great integrations).
MailChimp is my go-to email marketing service, used primarily for its incredibly clean and easy-to-use templates. Some say that its template options are a bit limited.
But since I'm not a graphic designer or copywriter by trade (okay, so I'm not a graphic designer…), it works just fine for me. The best part of MailChimp? It's completely free. The first 2,000 subscribers get a free list management tool as well.
MailChimp is an email newsletter service that lets you create and send email newsletters, targeted campaigns, and product updates. If you're planning on creating a lot of content and need a way to get it in front of potential customers or clients, then MailChimp is worth checking out.
It has a free plan that allows you to send 12,000 emails per month. This should be enough for individuals who are just starting out or for those who only need to get their name out there once in a while.
5) Adobe Spark
Adobe Spark is an easy-to-use tool that lets you create and edit videos, infographics, websites, logos, and more. Download it today for free on your laptop or desktop computer.
You can also try it out through Adobe's mobile app if you're on the go. There are a lot of tools out there for content creators — but Adobe Spark is one of my favorites because it's so easy to use.
And, best of all, it's 100% free! Here are 6 amazing things you can do with Adobe Spark (you should download it right now). Conventional wisdom says you should create a bunch of different writing samples and throw them up on LinkedIn. In fact, I've done it myself.
The problem is that these samples aren't designed for online consumption, so unless your goal is for people to think you have horrible writing skills, your content may be more likely to repel than attract potential employers.
Spark allows you to create content without writing it yourself. The tool includes templates and themes so that you can create professional-looking content in minutes.
We recommend sticking with your own voice, though — relying on canned content can be tricky if you ever need to stand behind your writing. (Plus, why use canned material when we've got all these amazing examples?!)
Also, try Wordle. Wordle generates a word cloud from whatever text or information you put into it, then prints it out as a poster.
6) Snagit
If you need a tool that can help you take screenshots of your computer screen and add text or arrows to them, Snagit is a great free option. It lets you add callouts and arrows to highlight areas of your screen and has great photo-editing tools for cropping images or adding graphics.
When writing an e-book about using technology in education, I used Snagit a lot because it made it easy for me to draw attention to different parts of my screenshots. (For more information on how teachers can use tech tools in their classrooms, check out these five free e-books.)
The name says it all. Snagit is a screen-capture software that allows you to snag anything on your screen — and make it look good. The program also has an annotation tool, allowing you and others who are collaborating with you to add text, images, and other objects to your screenshots.
This nifty little tool will help you easily create visually appealing content for blogs and websites. And since it's free, it makes our list of tools every content writer needs!
Sometimes, creating a quick video requires more than just words. Snagit (formerly known as Snagit) allows you to take screenshots and record videos on your computer — and it's totally free.
I've used Snagit for years, and I can confirm that there are few programs out there as intuitive and easy-to-use as Snagit. Try it out! It's a lifesaver for bloggers like me who are constantly taking screenshots.
list
About the author
My articles cover a variety of topics, so you can find all the information that interests you! || Blogger and I Provide writing services.
Reader insights
Be the first to share your insights about this piece.
Add your insights