5 Renting Nightmares and How to Deal With Them
Renting Nightmare Survival 101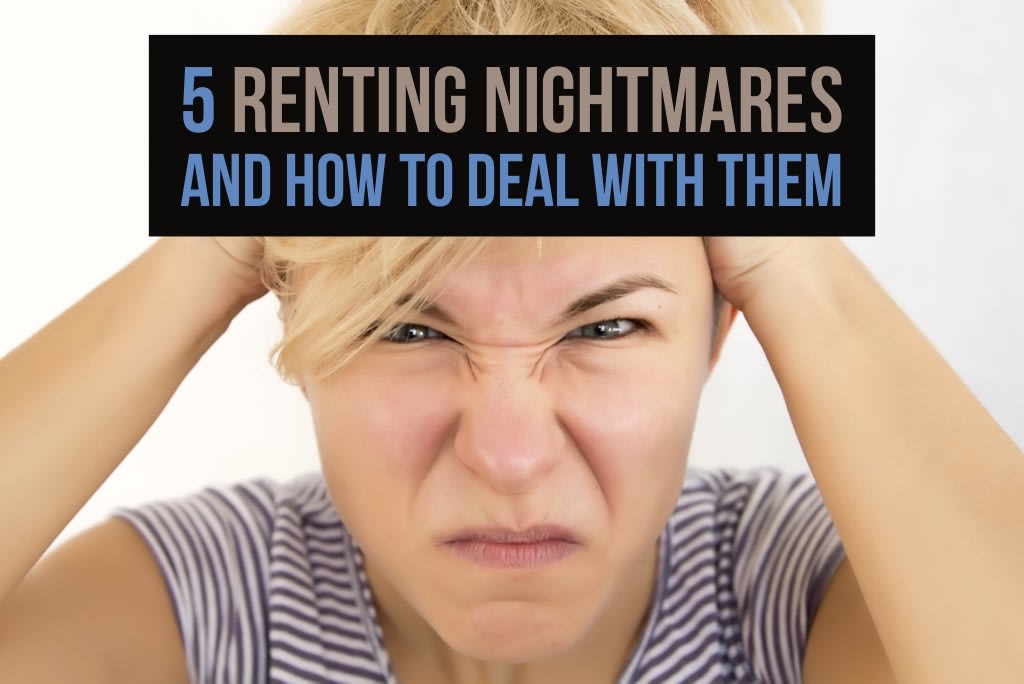 There's no doubt about it: renting can be amazing - if you have the perfect place - and, of course, the perfect landlord!
But let's be real: there are many challenges tenants all over the country are facing and most of them truly have no idea how to deal with them.
The flexibility that comes with renting vs buying is not always as easy as people make it out to be. Plus, many of these problems are often out of the tenant's control, and/or likely subject to waiting for someone else to sort it out!
Perhaps you ought to stop renting and buy a house?
Until then - patience, grasshopper...
However, there are a number of ways you can turn those renting nightmare into a renting dream (or at least close enough) with the following five tips:
1 - Noisy and nosy neighbors
Always a popular one - and most of the time #1 on renting nightmares!
Even though most neighbors are keen to exchange pleasantries and welcome you to the neighborhood with a warm smile (and if you're lucky, with some home-baked goodies), but some of them can seriously push your buttons!
It shouldn't be a surprise to hear that one very common problem with neighbors is noise. Perhaps next time your neighbor is being particularly noisy, then try to talk to them directly without involving your landlord.
Another major problem tends to be the boundaries of the property between two neighbors. If there is a tree that straddles your property, which is a frequent occurrence (and issue), it will be your landlord's responsibility to get someone who can take care of it. Unless you decide to be brave and tackle it yourself - in which case, you better let your landlord know of any costs incurred.
2 - Unsafe surroundings
Even though you are living somewhere temporarily, that does not mean that you should feel unsafe.
If you want to secure your apartment, ensure that the deadbolt is working properly when you move in, and make sure to lock your doors and windows when you go to bed.
If need be, many security companies offer extra wireless devices that you can have installed for added security. Plus, these are easy to uninstall which will get the landlord on board as well. If any doors and windows are stuck, let your landlord know as soon as possible, so that s/he can get someone out to fix it.
3 - Plumbing disasters
It is important you do what you can to ensure that the plumbing is in good working condition when you live on the property. However, accidents do happen.
Plumbing problems do take place every now and then, and when they do, they often are of an emergency level.
Obviously, you need to contact your landlord right away, so that they can take care of the problem. If you can't hold of them (or if the landlord refuses to respond), do the necessary research on the landlord-tenant laws, and scrutinize your lease agreement! You'll quickly find out whether the landlord is obliged to attend to these types of problems.
Small tip: in the event of the latter, perhaps you ought to do this research AFTER taking care of your plumbing emergency. Just saying...
4 - Pest infestation
Pests can be, well, a real pest!
Swarms of cockroaches or a family of rats suddenly making a home inside yours can be 'very annoying'.
What's even more annoying is the fact that you don't always know what to do about it. It is usually up to the landlord or the apartment office to get an exterminator out but many of them try to weasel their way out of it.
The solution? Deal with it yourself.
Keep your home clean and find good storage space for your food. Plus, there are many DIY remedies that you can try to get rid of these pesky creatures.
5 - Deposit disagreements
And last but not least: the deposit battles!
Deposits are quite often a huge expense for tenants, but as painful as they might be, they protect the landlord in case of dishonest tenants.
The landlord cannot, however, charge the tenant for minor damages, like wear and tear on the carpets, or fixing of appliances that have been worn out over time.
If you feel like you did not get the correct deposit amount back at the end of your lease, consider legal advice. Most of the time, the landlord (or rental agent) will do a move-in inspection, as well as exit inspection, whereby too many photos won't harm your case!
Unless of course, you forgot about that drunken evening a few months ago whereby you tried to start a bonfire in the middle of your rental unit - in which case, you might be smoked!
how to
Top 1% Real Estate Agent with Keller Williams Realty in South Africa | Social Media Junkie | Content Curator | Proud Father & Husband