4 Tips to Prevent Crane Accidents
Some of the tips to prevent complications or fatalities from improper maintenance or handling are.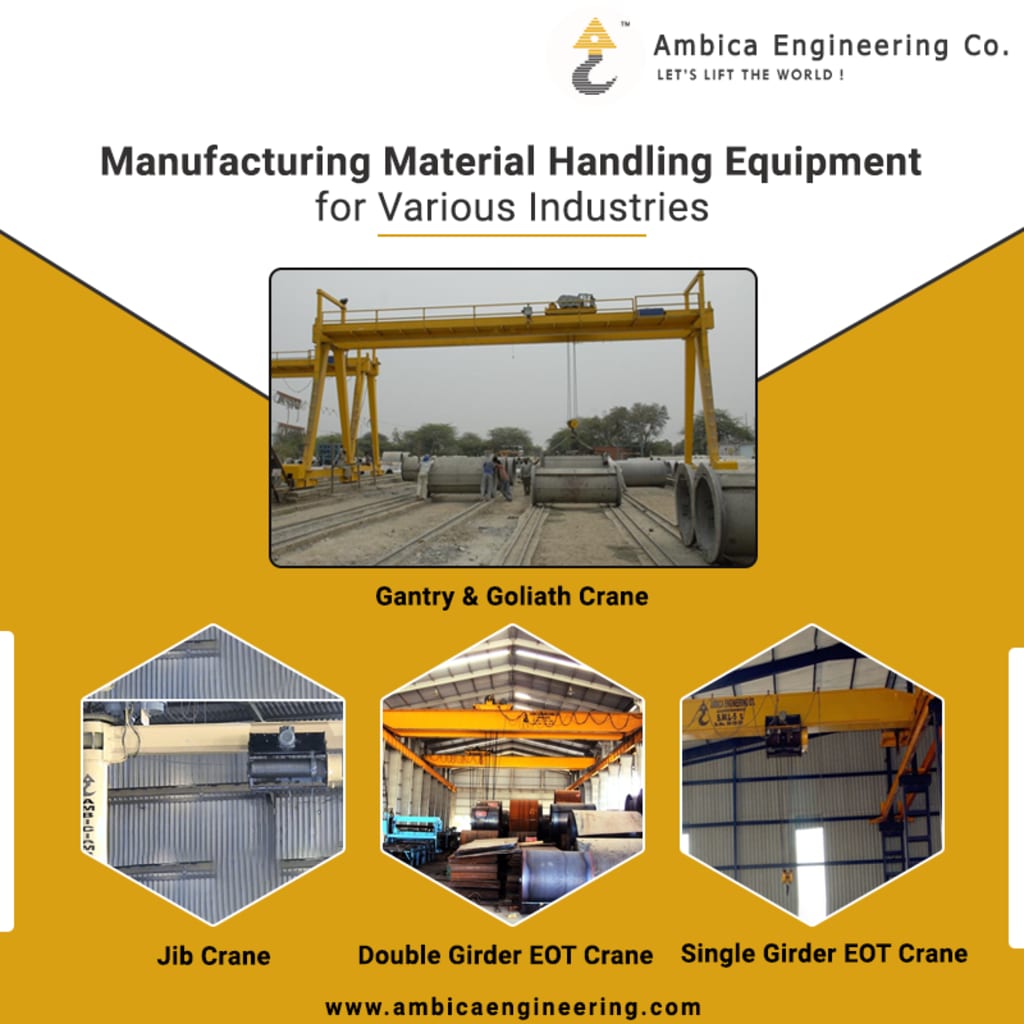 Cranes are the unsung heroes of modern industrial applications, from lifting and moving countless raw materials to final products. Jib crane, eot crane, bridge crane, and several other types of cranes come in various sizes and shape to suit the custom industry requirements and withstand harsh working and weather conditions.
From aircraft to construction, food & beverage to waste management, cranes are a part of every industry. Useful in multiple applications, it is essential to ensure the crane's and its operator's safety, not to let the hero become the devil instantly. For that, contacting a successful crane manufacturer in India is important to purchase the best quality equipment.
Moreover, safety starts with a quality purchase, but it is not limited to that. The heroic equipment brings home some risks, and regular checks are necessary to reduce or eliminate them. Some of the tips to prevent complications or fatalities from improper maintenance or handling are.
Choose a Relevant Crane
Selecting a crane that best suits industrial applications is of utmost importance and is the first step toward preventing accidents from occurring with cranes. They are either fixed or mobile, wherein the former is generally used in an industrial setting or on construction sites with varied levels of complexity. In contrast, mobile cranes are generally used to transport or shift hefty loads at great heights.
Cranes vary in functionalities, specifications, and load-bearing capacities. Several factors are taken into consideration while choosing the best suitable crane. The four most important ones are.
The weight, size, lifting material, and duration of the lift.
The route and methods of transportation.
The conditions and geographical location of the project or site.
Choosing the right crane manufacturer like Ambica Engineering
Employ Professionals
Working on and with cranes requires experience and training to conduct safe operations. Even the smallest mistake can result in fatal consequences. Therefore, it is essential to employ people with experience or relevant training in setting up, signaling, rigging, and operations of the crane.
In addition, it is also important to connect with a prominent crane manufacturer in Ahmedabad to rest assured about the quality of your crane. Doing this will ultimately increase your efficiency and safety while reducing the cost of maintenance and time of operations.
Be Thorough with the Manual
Employing an experienced person may reduce but not eliminate the risk of accidents. Knowing and understanding that various manufacturers make cranes varying in controls, features, and safety is vital. Therefore, a person working or operating cranes should go through the manufacturer's manual or connect with a crane manufacturer in Gujarat to develop a detailed understanding of the equipment.
Generally, the manual or equipment guide includes information concerning.
Crane load-bearing capacity
The safety techniques or mechanism
The operative controls
Counterweights and stabilizers
For a smooth operation, the operator should understand the manufacturer's instructions and clarify unclear things, if any.
Perform Pre-Operation Check Daily
Crane is a piece of equipment that can malfunction anytime, any day, and to prevent that, it is vital to undertake regular checks daily before the operations begin.
External check: Checking the external condition of the crane includes scrutinizing the tire, oil level, seat belts, battery, air reservoir, and every external component that plays an important role in the equipment's and operator's safety.
Engine check: It's crucial to check the level of fuel, horn, pressure gauge, system, and necessary parts or things that impacts the engine's performance before beginning the operations.
Safety check: The most important of all, safety systems should be in place to prevent fatal accidents. Assess the rated capacity limiter, anti-two block, and outriggers. In addition, the operators should check the hydraulic system and complete a checklist of tasks allotted by a site operator.
Congratulations, You are Safe!
While there is a long list of safety checks for cranes, undertaking the common ones articulated above will give you an idea of your crane's condition. Remember, the safety process starts with purchase. Hence, don't compromise on the crane's quality and contact leading crane manufacturers like Ambica Engineering for the best cranes suitable for your requirements.
Reader insights
Be the first to share your insights about this piece.
Add your insights