4 Simple DIY Crafts to Make At Home
Get your self-care on.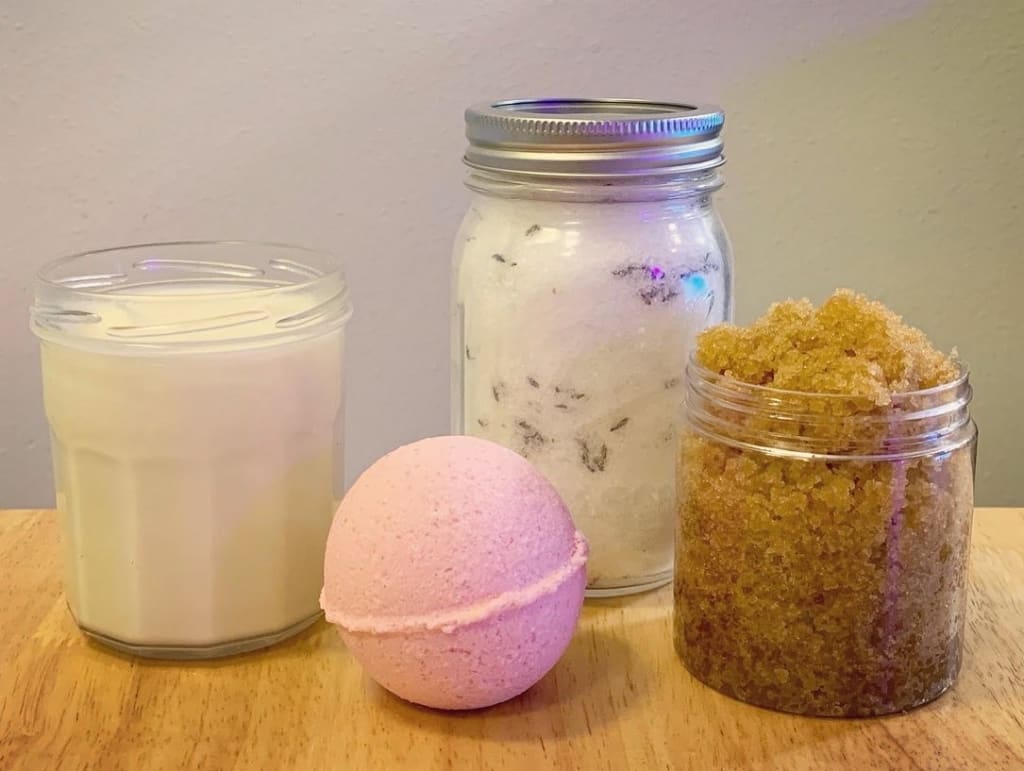 (from left to right): Soy Candle, Bath Bomb, Lavender Epsom Salts, & Brown Sugar Body Scrub
I love making things. Whether it's poems, cards, or crafts, I'm happiest when I'm creating something.
A few years ago, I moved out of my parents' house to finish college in another city. I was working ten hours a week at an on-campus job, so I didn't have much disposable income for Christmas gifts. I started looking around online for inexpensive gift ideas and saw a lot of DIY projects – candles, bath salts, lip balms. I made sugar scrubs and bath salts that year, and was surprised by how much my friends and family liked them. It's now a yearly tradition to whip up a batch of holiday candles, and I most of the gifts I give for birthdays and other occasions are homemade now, too.
Whenever I tell people I make candles and bath bombs, the response is usually, "That's so cool! I don't think I could do something like that." Well, guess what? It's surprisingly easy. Buy your ingredients in bulk, do lots of research, and don't be discouraged when things go wrong! I've had more bath bombs fall apart on me than I can count, and I still don't get a perfectly smooth candle every time. There's definitely a learning curve, and it won't take you long to get the hang of it.
Have I convinced you to spend an afternoon crafting yet?
There are a couple of things to keep in mind when making anything that will be used on your body (or in your tub):
• Some essential oils are great for your skin, but some aren't safe to use. Do your research, and make sure the oil you choose won't dye your skin or cause a reaction.
• Similarly, if using a fragrance oil, make sure it's safe to use on your skin. Check the ingredients or combine essential oils to achieve your desired scent.
• Make sure you use a dye that won't stain your skin, clothes, towels, or tub. Nothing ruins a hot bath like having to scrub purple residue from the tub afterwards!
Now, ready to get crafting?
Here are four of my favorite things to make, and how to make them. I promise – it's not as intimidating as it seems!
Bath Bombs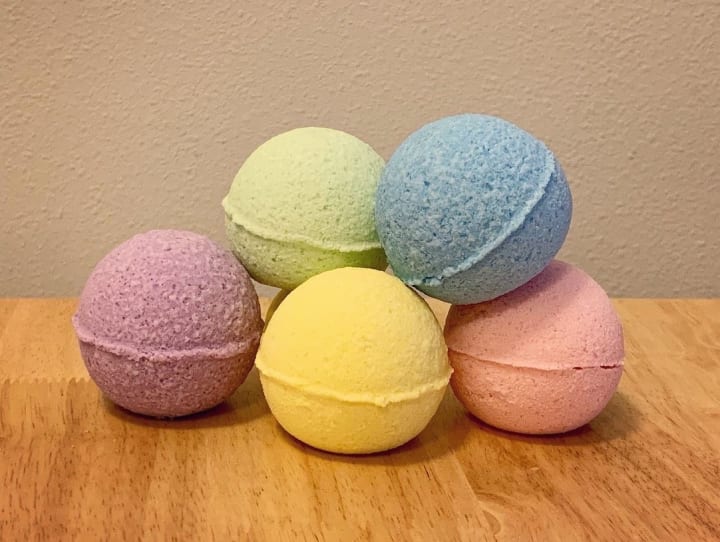 Bath bombs are finicky: they have to be made just right, or they won't work. This craft requires close attention to detail and decision, so be prepared to spend some time making these. That being said, there is nothing more satisfying that sinking into a nice, warm bath and adding a homemade bath bomb!
Ingredients:
• 1 cup baking soda
• ½ cup Epsom salts
• ½ cup citric acid
• ½ cup cornstarch
• Powdered dye (optional)
• 2 ½ tbs coconut oil (or almond oil)
• ½ tbs water
• 15-20 drops essential oil
Materials:
• 12 oz. bath bomb molds
Steps:
1. In a large bowl, whisk baking soda, Epsom salts, citric acid, and cornstarch until thoroughly mixed. If adding powdered dye, whisk until desired color is achieved.
2. In a small bowl, mix coconut oil, water, and essential oil.
3. Add the wet ingredients to the dry VERY SLOWLY, until the mixture resembles wet sand. The citric acid will react to the liquid, so it's important to do this as slowly as possible.
4. Pack the mixture into one half of the mold, overfilling slightly. Repeat in the other half, then press together. Let sit for 2-3 minutes.
5. Gently tap both sides of the mold and remove bath bomb. Let sit for 24 hours before using.
*makes four 12 0z. bath bombs*
Bath Salts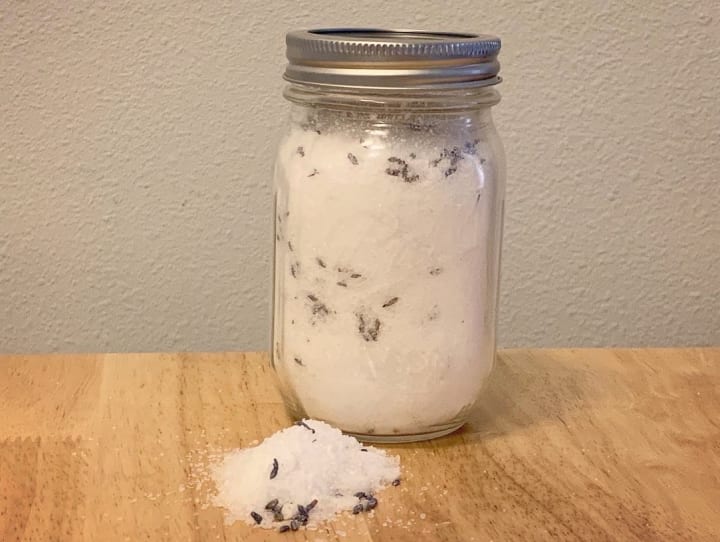 A simpler alternative to a bath bomb, Epsom salts are a lovely way to elevate a self-care bath. You can add flower petals (I love using lavender) or CBD oil for some extra relaxation. Sometimes I even add powdered coconut milk, which smells incredible! This is the most flexible product on this list, so feel free to play around with the ingredients and make what's best for you!
Ingredients:
• 2 cups Epsom salts
• ½ cup coarse sea salt
• ½ cup baking soda
• 25-30 drops essential oils
• ½ tbs. dried flowers (optional)
Materials:
• 16 oz. jar
Steps:
1. In a large bowl, whisk Epsom salts, sea salt, and baking powder until thoroughly combined. If using dried flowers, add now.
2. Add essential oils and stir well. Adjust amount according to the strength desired.
3. Pour mixture into jar. Shake well before use.
*fills one 16 oz. jar*
Soy Candles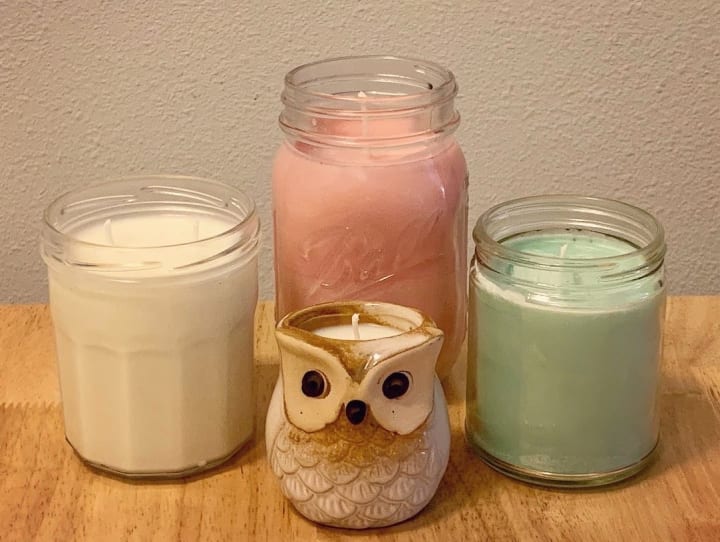 After three years of making candles for birthdays, anniversaries, and holidays, I'd like to think I'm pretty good at candle-making. However, this is the trickiest craft on this list; you can do everything right, but a lot rides on how the candle cools. Sometimes the dye isn't distributed properly, or the wicks get bumped in the cooling stage and create an uneven surface. Sometimes the scent is so faint once cool, you can barely smell it. These are the steps, but you'll definitely have to practice. Don't be discouraged if things don't work out perfectly! If it smells good and it burns, it's a success.
Ingredients:
• 3 cups soy wax
• 20-25 drops fragrance oil (for candles, I love using these oils)
• powdered dye or crayons (optional)
Materials:
• 16 oz. jar
• 1-2 wicks (use 2 if jar has a wide mouth)
Steps:
1. Using super glue, attach wick to center of jar. Let glue harden completely.
2. Melt soy wax:
a. Using a microwave-safe bowl, melt wax in the microwave in 30-second intervals. Remove and stir every 30 seconds, repeating until fully melted. If using crayons for coloring, add at any point and ensure the crayon is fully melted. If using dye, add now and stir until completely combined, with no lumps.
b. Over medium-low heat, melt wax in a microwave-safe bowl over a small saucepan. Add a small amount of water to the saucepan, but don't let the bowl touch the water. If using crayons to color candles, add and stir until completely melted. Stir gently until wax is fully melted and remove from heat. If using dye, add now and stir until completely combined, with no lumps.
3. Carefully stir in fragrance oil, adjusting to achieve desired scent. The scent will grow fainter as the candle hardens, so add more for a stronger scent.
4. Pour wax into jar. Use a spoon to pour wax in safely, or melt wax in a glass measuring cup with a spout for an easy pour.
5. Once filled, use a clothespin or two pens to keep the wick balanced and centered. Let sit for 24 hours to fully harden. Once cooled, trim wick.
*makes one 16 oz. candle*
Brown Sugar Body Scrub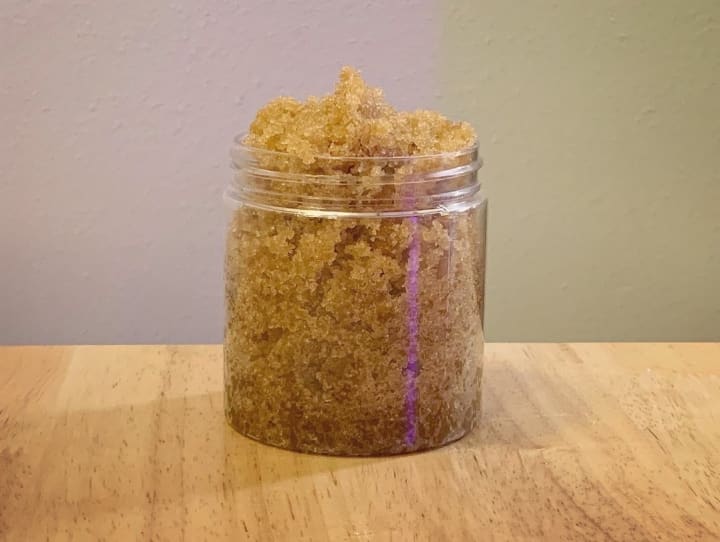 This brown sugar body scrub is my go-to product in the shower. It smells amazing, and it's a great exfoliator! I use brown sugar and coconut oil, but you can also use granulated (white) sugar and a different oil, like almond or olive oil. Use whatever works best for your skin.
But remember: sugar is too coarse to use on your face, so stick to using this on your body.
Ingredients:
• ¾ cup brown sugar
• 1 tbs honey
• ¼ cup coconut oil
• 20-23 drops essential oil (optional)
Materials:
• 10 oz. jar
Steps:
1. In a small bowl, thoroughly combine the honey and sugar.
2. Add coconut oil and mix until combined. If using essential oil, add this now.
3. Using a spoon, scoop scrub into jar. Shake well before use.
*fills one 10 oz. jar*