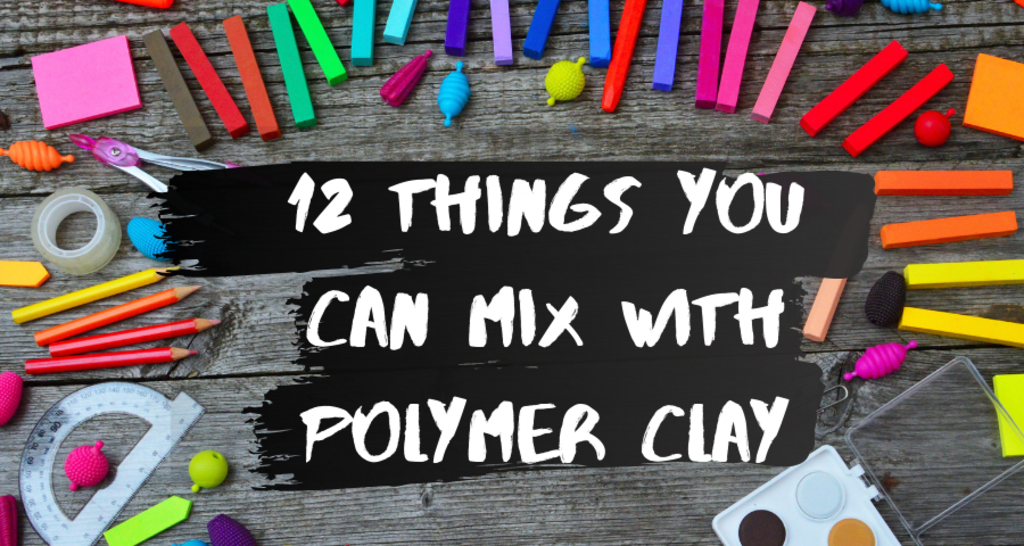 I don't know about you... but I am obsessed with polymer clay! I love to experiment and mix colours all the time. I really want to stretch the limits and get creative... but in the meantime, I should probably master the basics.
1. Other brands of polymer clay

"There's no problem with mixing different brands together, and you may want to do this often to obtain the properties of both clays. For example, many clayworkers mix Sculpey with Fimo to get a clay that's easier to work than Fimo, but stronger than Sculpey. You mix clay simply by conditioning the two kinds together, or by working conditioned clay until it's thoroughly blended."—Jeanne DeVoto (Clay Spot)
Fun Tip: Mix different colours with Translucent polymer clay!
2. Other colours of polymer clay

You can buy polymer clay pre-made in all kinds of gorgeous colours... but the truth is, you can make all of those colours too.
3. Pastels

"Chalk pastels come in many colours and quality standards, ranging from Student Grade to Artist Grade. The artist grade chalk pastels tend to have a higher pigment level than the student grade ones. Chalk pastels stick very well to polymer clay and usually don't need to be sealed unless they will receive high wear, or you are worried about them getting dirty. You can use any polymer clay safe finishes to seal your chalk pastels if you wish."—Cindy (Polymer Clay Tutor from Beads and Beading)
4. Pearl Ex Mica Powders
Make anything metallic with the impressive... but also expensive... PearlEx Mica Powder. There are lots of other powders you can mix polymer clay... however, I have only tried Pearl Ex, and I can certainly say that I am impressed.
5. Oil Paint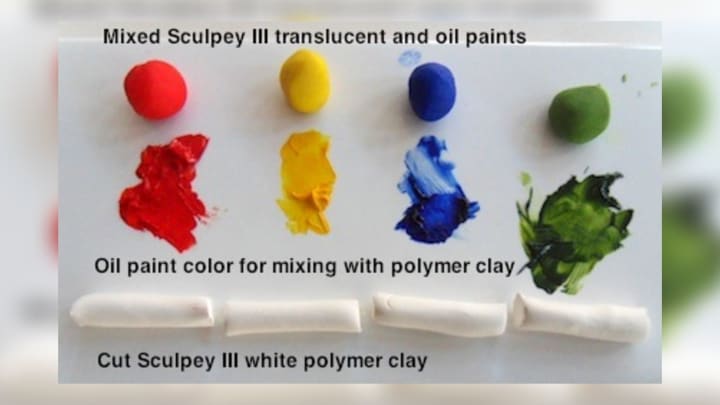 "Mixing oil paint can create your own unique colours by even blending with the standard colours, expanding more vibrant colours, to widen the kaleidoscope of polymer clay."—Garie Sims
Note: Thin coats are best when using oil paint with polymer clay because it takes so long to dry.
6. Ink

"The Piñata series from Jacquard and the Adirondack series from Ranger are especially popular with polymer clay artists for their vivid, transparent colours and the numerous effects they can achieve. For opaque, metallic, or iridescent colours, try products such as Posh Impressions' Rainbow Ink and the Daler-Rowney Pearlescent Acrylics."—Polymer Clay Web
Pro Tip: Some inks will need to be heat set or sealed... but some seem to be okay without them.
Fun Ideas:
Stamp images onto cured or uncured polymer clay with rubber stamps.
Hand-paint inks onto polymer clay.
Mix inks into liquid clay to tint it.
Mix inks into translucent or pale coloured clay to tint it.
Drop ink on shaving-foam-covered clay for marbling techniques.
7. Glitter

Fun Tip: Try mixing translucent polymer clay and glitter together!
8. Microbeads

Pro Tip: "It is a good idea once cooled to seal the beads with a varnish to protect the applied materials from wear and tear."—Over The Rainbow
9. Clear Microbeads

I wanted to put clear microbeads in their own category, because there really is a lot more you can do with clear microbeads as opposed to metallic microbeads. Clear microbeads can be used to make a subtle texture. I personally love to use clear microbeads, and all kinds of cute candy kawaii charms.
10. Sand

"I've tried to mix sand with many colours but the result with white clay is the nicest."—Alice (Longue Vue Design)
Pro Tip: Make sure the sand is dry.
11. Aluminum Foil / Metal Frame
Aluminum Foil makes a great center for larger pieces.
12. Clay Softener / Liquid Polymer Clay

Clay softener and liquid polymer clay are great for technical purposes... but did you know:
Technical: Clay softener improves the texture of dry, crumbly clay for a better consistency.
Creative: You can mix clay softener with any colour of clay to make 'icing' for your polymer clay cakes, donuts, and other tiny foods.
13. Glow In The Dark Pigment

Note: You can also buy glow in the dark polymer clay pre-mixed... but where is the fun and creativity in that? If you experiment with mixing pigments, you try different colours and maybe even get a stronger glow.
AND So Much More! So Get Crafting!

"Try and find out what's the best for you. After all, it's all about exploring, experimenting and find your own style right?"—Alice (Longue Vue Design)
You can bake clay on any object that will withstand the relatively low temperatures polymer clay is baked at. Wood, cardboard, glass, metal, and many plastics are suitable. For plastic items, you can try running them through a dishwasher (hot settings) to test its melting temperature. (Burning plastic fumes can be toxic to breathe so take care!)
What NOT to mix with polymer clay...
While I don't want to stump your creativity, there are a few ground rules and few more suggestions... but only a few!
Anything dangerous (rusty metal, sharp metal, broken glass etc.)
Spray paint
Solvents
Nail polish (some work, most don't)
Sharpie (it works but it fades on polymer clay)
"The solvent in nail polish will begin to soften and dissolve your polymer clay, even baked clay, making it sticky and gooey over time."—Ginger Allman (From The Blue Bottle Tree)

Hello. Nice to meet you! How are you? Hmm... this feels like a really one-sided conversation... why don't you follow me on social media so I can get to know you too!
About the Author
I started blogging about two years ago and my collection of blogs and articles is getting pretty impressive. I've taken online classes for writing and even some classes about the art of blogging itself. It would be really awesome if you join the adventure and maybe even help me think of what to write about next. If you would like to submit some feedback or ideas, you can always tweet me on Twitter.
Like the story? Share it on social media!
Thank you for reading my article. Would it be okay if I ask another favour though? Would it be okay if you share this on your Facebook page or Twitter? If you can't share, there is a tiny little donate box at the bottom too. No pressure though, just thought I would mention.
Work Cited
"About Polymer Clay - Things You Need to Know & Frequently Asked Questions." 2wards Polymer Clay.
Allman, Ginger Davis. "10 Simple Polymer Clay Tips (That You Surely Knew - but Maybe Not?)." The Blue Bottle Tree, 15 Aug. 2019.
Allman, Ginger Davis. "Coloring Translucent Polymer Clay with Alcohol Inks." The Blue Bottle Tree, 15 Aug. 2019.
Allman, Ginger Davis. "Pearl Ex Color Chart and Comparison Tool." The Blue Bottle Tree, 14 Aug. 2019.
CoolRiceBunnies. "How To: Polymer Clay Frosting/Icing." YouTube, YouTube, 24 June 2013.
DeVoto, Jeanne A. E. "Polymer Clay FAQ: Choosing & Mixing." Polymer Clay FAQ | Choosing & Mixing.
"How to Add Sparkle to Polymer Clay Beads." Over the Rainbow Pty Ltd.
"How to Create Striking Texture." Longue Vue Design.
Ingrid. "Polymer Clay Glitter Gems: Crafty Amino." Crafty | Aminoapps.com, AminoApps, 6 Oct. 2015.
"Mixing And Applying Chalk Pastels With Polymer Clay." Polymer Clay Tutor Bead and Jewelry Making Tutorials.
PiecesbyMegan. "GLOW-IN-THE-DARK GHOST CHARM POLYMER CLAY TUTORIAL -PIECESBYMEGAN." YouTube, YouTube, 8 Oct. 2016.
Pugdemonium, Sarah Johnson -. "Polymer Clay Snow Cone Charm Tutorial." YouTube, YouTube, 18 July 2015.
Sakana, and Janellebv. "Sculpey® Clay Softener." Arts & Crafts, 23 Sept. 2018.
Sims, Garie. "Adding Oil Paint To Polymer Clay." Adding Oil Paint To Polymer Clay, Can Create Your Own Colored Translucent Clay And Colored Clay.
Web, Polymer Clay. "Inks." Inks & Polymer Clay.