10 Tips for Starting a YouTube Channel In 2023
Tips for Starting a YouTube Channel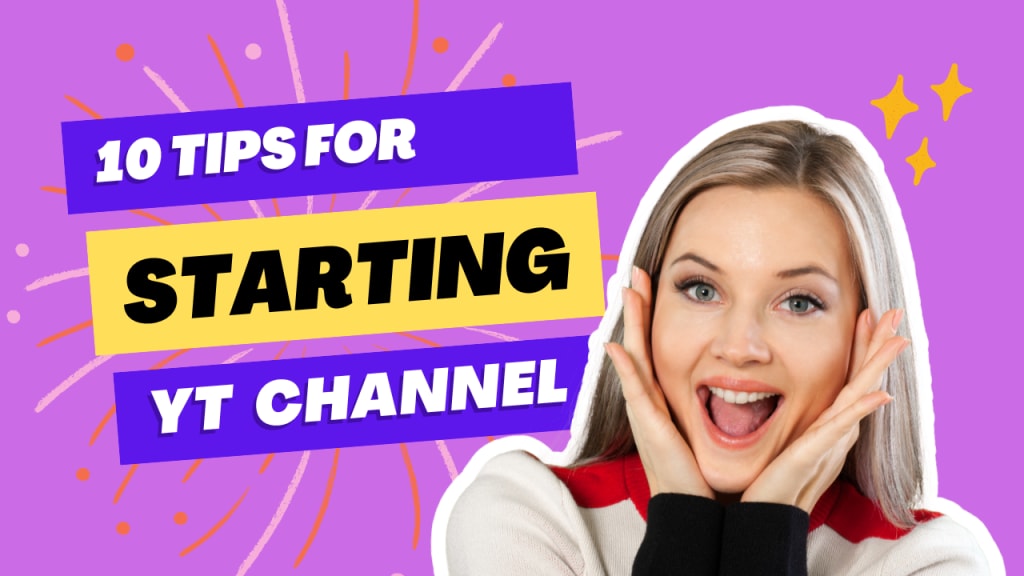 With the continuous expansion of the video blogging culture, any tech-savvy adult may be attracted to learn how to build a YouTube channel. After all, it's a fun and participatory activity that has the potential to convert you into a popular online personality, as well as help you meet new people, get free items from corporations, and, of course, earn a very good living.
However, if you want to become a YouTube success story, earn a consistent growth in followers, or at the very least create good material that receives a lot of views and likes, you'll need to do more than just become a contributing member on YouTube.
The most viewed YouTube channels target their content and postings with a few key criteria in mind. Paying close attention to your process, audience, analytics, and SEO are crucial to ranking among the fastest-growing YouTube channels.
Here are a couple of helpful tips to ensure that you make the most of your venture into the world of vlogging and content creation.
Set Up Your YouTube Channel
It is simple to create a new YouTube Channel. It is advantageous if you already have a Gmail account, as this allows you to link your new channel to your email address.
1. Sign in to YouTube
2. Click your picture in the top right corner (desktop version)
3. Select "Create a Channel"
4. Decide if you want to use the name associated with your email address or create a custom channel name
5. Add details to the "about" section
6. Customize the look of your channel with a cover photo and profile picture
7. Upload your first video
Add playlists, fill out your profile with more details, customize your YouTube account settings, and link to your other social media platforms.
Tips and Tricks for starting a Successful YouTube Channel as a Beginner in 2023
Now that you've created your YouTube account, it's time to establish the groundwork for a successful channel. As a newbie, it's critical to comprehend these stages or you'll waste a lot of time and money.
Knowing how to create a YouTube video is a critical first step. You should obtain the necessary equipment, practise utilising it, and begin producing polished material.
1. Find the Best Video Equipment
2. Use the Best Audio and Video Equipment for Your YouTube Channel
3. Start with Simple Editing Software
Tips for Creating Great Content
1. Plan Your Content
2. Look for Inspiration
3. Nail Your Intro
How to Market Your YouTube Channel
1. Optimize Your Videos for Search and SEO
2. Build Your Network with Social Media
3. Connect with Your Viewers
4. Ignore All the Negative Comments
5. Upload Videos Regularly
6. Diversify Your Content with YouTube Shorts
7. Promote Your Videos
8. Embed Your Videos
Understand YouTube's Algorithm 2023
YouTube relies on an AI-powered algorithm to help viewers find the best content to watch. You'll need to grasp how the algorithm works if you want to get in front of more people. This will assist you in optimising your content, publishing tactics, and title techniques.
Viewer Specific
The YouTube algorithm prioritises the viewer over the content. In practice, this implies that each viewer receives unique video recommendations based on their past search history, subscriptions, likes, and general viewing behaviour.
To decide what videos to recommend, YouTube also focuses on the quality of potential video suggestions. How does YouTube assess quality in a video? They pay attention to sharing statistics, how long viewers watch your video before they click away, and how many likes, comments, and subscriptions your video receives. Speaking of…
About the Creator
As a skillful blogger and a student pursuing a BS in Botany, you possess a unique blend of creative and scientific skills. Through your writing, you can share your passion for nature and educate others on the wonders of the plant kingdom.
Reader insights
Be the first to share your insights about this piece.
Add your insights