You Will Never Get Any Organic Traffic If You Are Making These 7 Mistakes
If you're a website owner or content marketer, you've likely experienced this a few times before: your site Organic traffic suddenly drops, and you're at a loss to explain it.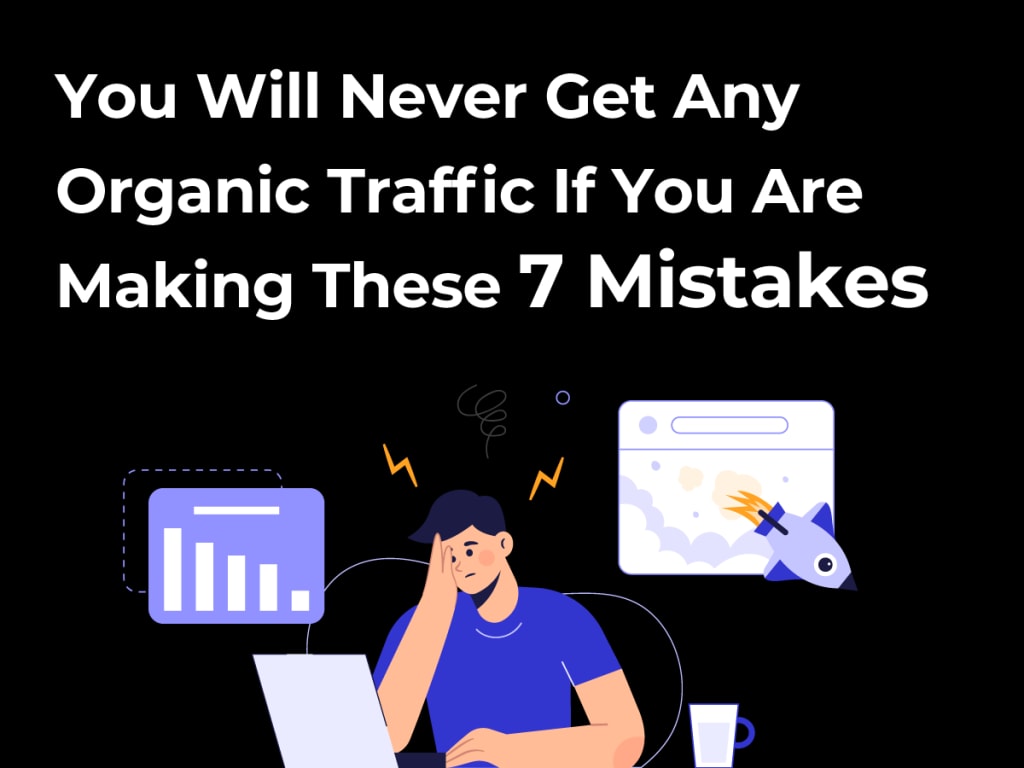 Organic Traffic
If you're a website owner or content marketer, you've likely experienced this a few times before: your site Organic traffic suddenly drops, and you're at a loss to explain it.
There could be many culprits behind this, with a new Google algorithm change likely first in your mind. Whenever your organic traffic drops, you go through the usual reactions. There's panic, confusion, and uncertainty about how to make things go in the right direction again.
One thing's for sure, though it's best to get to the bottom of it as soon as possible to prevent more ranking, conversion, and sales losses.
Here, we have gathered seven common mistakes that most SEO Experts have made at least once in their profession in order to get Organic traffic in their website. So, now take a deep breath and check them respectively. We hope after fixing them, you will get your desired position at Google.
SEO Research For Organic Traffic Strategy
Site-wide SEO optimization is one of the most effective ways to increase organic traffic. Including organic keywords and long-tail search terms in on-page content, headers, meta-descriptions, and image alt-tags will help your pages rank and generate organic traffic on search engines by making an organic traffic strategy.
(1) Initial Website Audit
To ensure that your business is one of a kind, you must know what your competitors are up to. Analyzing your competitors' websites from time to time can help you formulate strategies for better business performance.
According to experts, you should get your website audited annually or bi-annually, depending on how large your website is.
You must also get an audit done right after you release your website, as it can immediately check and fix any issues & also understand the current organic traffic of the website.
(2) Keyword Research
The most significant benefit of keyword research is it can help your company or organization break into new markets. It also strengthens your visibility. It also helps define content that centers around a specific theme or audience also get new ways to generate organic traffic for the website.
Are you wondering how to conduct our keyword research? Use a combination of tools from Google. Then pick your chosen keywords, and double-check the keywords by looking them up on Google. If a keyword search pulls up content from similar companies or organizations, know that you have found a winning batch of keywords.
(3) Ideal Audience
Once you have your potential audiences, create whatever you want and share it with the world, as long as each creation is designed to appeal to at least one of those audiences.
This exercise allows you to test the waters of various target audiences without fully committing or feeling too restricted in your approach.
It also gives you data and the ability to sample various audiences to get a clear sense of what you enjoy and what works for you before honing in on a specific audience to generate the organic traffic.
(4) Competitor Analysis
Finding your competition begins with research. Use keywords that describe your company in a Google search. Be thorough and search every term and combination of terms you can think of, including terms that cover your indirect competitors.
Identify the top search results for businesses in your product or service area. Determine how your offerings compare to theirs and what differences stand out in order to generate organic traffic.
(5) On-Page SEO
On-Page SEO refers to the practice of adding high-quality content on your web pages to improve its ranking in search engines. It ensures that the site has expert information, authority, and credibility, increasing organic SEO traffic.
Title Tag
Title tags are probably an essential part of on-page optimization. Include your target keyword in your title tag, but make sure it's compelling and enticing enough for people to click on your link.
Title tags should be unique, descriptive, and keyword-rich. Please ensure they are relevant to the content on the page and include your keywords to order to generate organic traffic.
Meta Description
Meta descriptions of the web pages and their contents are displayed in SERPS under the heading of the meta tag. By optimizing meta descriptions, you can improve the perception of what your site offers, all changes, perception of the quality of results, and CTR.
URL Mapping
URL mapping is matching keywords to URLs on your website to ensure you are using the best possible pages to rank for each keyword. Let's dive right in with an example to help explain this concept, why it's essential, and how you can get started.
If a customer is searching for a product, ensure you have a keyword ranked on the search result page and the pages available on your website.
Heading Tag
Your header tags provide structure and content for your article. Each header should give the reader an idea of the information they can glean. Heading tags function as indicators utilized in HTML code to help structure your website or page in a way that allows Google to read and understand your content. Specifically, each HTML heading tag ranges from H1 to H6 to create a hierarchical structure for your page.
Interlinking
Internal links can be defined as text links between two pages that share a similar domain, and developing these links is known as internal link building. Inbound links are also essential to help users reach their desired content. Link your pages with target keywords to have greater search engine rankings.
Images
Images should also be used to support the content on your page, and use ALT tags and descriptive titles should appear in image searches too. User experience, among other things, should be satisfactory, which can be attained by image optimization.
Schema
It is a code that provides information to search engines to understand your language. This helps provide users with better, more accurate information in the rich snippets displayed beneath the page title.
(6) Off-Page SEO
Off-page SEO refers to everything you can do outside of your website to help you improve your SERP position & generate organic traffic.
Backlinks
Social Bookmarking
Social bookmarking is the best way to get visitors instantly. If you are going to use it, be sure to write an eye-catching tagline with quality content inside to get a boost in your article.
Blog Submission
Blog submission is an essential tool for SEO. You can write briefly about your already present content and post additional topics that link the technical terms to your website; you can also write about innovations in your field of research or other related things.
Image Submission
When you submit images to certain websites, it can help your website get better online exposure. Online visitors interested in images usually do an image search. They prefer to visit image submission sites where they can find better and more relevant images.
Article Submission
Under this, you explain a topic distinct from other articles in at least four hundred words. While writing articles, one must maintain the complete accuracy of the data provided and should avoid copying the material from the internet.
A unique article about a trending topic will boost your overall SEO ranking & generate organic traffic.
Guest Blogging
Guest blogging helps your business build authority. The more quality content you get out in the wild, the more people trust your brand. Of course, you need to offer solid information people can trust.
Directory Submission
Directory Submission is one of the best strategies for our website to gain popularity on the web. It is the essential step taken by marketers to upgrade the link reputation of a website. The quality of the incoming links enormously enhances search engine rankings & visibility of our site on the internet.
Influencer Outreach
Engaged audiences typically follow these content creators. Advertising to them across different social media platforms enables your company to extend the scope, improve brand awareness, and generate new leads for your sales funnel through buyer personas & generate organic traffic.
Web 2.0 Submission
One of the good reasons to get a web 2.0 site is to use its link benefits. Almost all modern-day web 2.0 sites enable users to link their websites to their profiles and bios. Social media platforms also allow users to publish site content to their pages so, use this tool & generate organic traffic.
Social Media
Social media SEO, or social SEO, combines social media and SEO strategies to improve your position in search, your website traffic, and, hopefully, your conversions.
(7) Social Media Presence
Social media presence benefits businesses in various ways because we live in a digital age, and most people rely on the internet to educate themselves. Therefore, what your business publishes online will solidify your credibility and reputation.
Your social media posts should showcase your industry knowledge, appeal to your client's interests, and reveal your brand's identity. if you want to increase your organic traffic with the help of Aiprog Marketing : Best Digital Marketing Company in Lucknow, Click here.
Publishing online content and establishing a social media presence is a way to communicate, meet consumer needs, and build trust before establishing a direct relationship.
About the Creator
AIPROG Pvt. Ltd. is a Digital Marketing company in Hyderabad and Lucknow. We are a team of passionate and dedicated developers and designers to make our customers stand out. AIPROG is a product-based IT software company.
Reader insights
Be the first to share your insights about this piece.
Add your insights