You Can Make A lot of Money Writing On Vocal
A guide for writers to make money on Vocal Media. A Case study of how I made over $500 on Vocal and going to build a passive income stream of $500/Month On Vocal.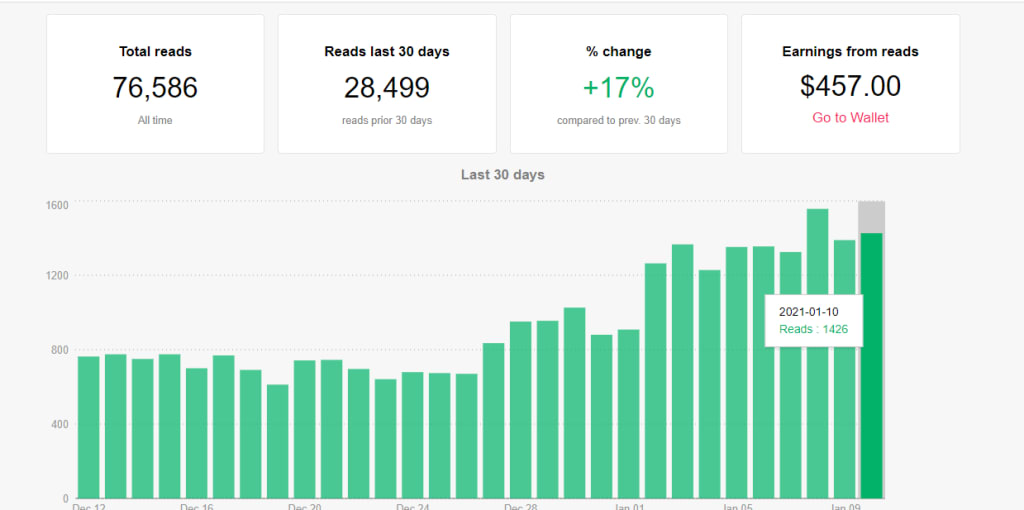 Making a lot of money writing on Vocal Media / Picture source: By the author
Vocal Media is a potential Medium.com alternative. You can make a passive income stream through your writing on Vocal. This is a guide that you need in order to start earning on Vocal, I am talking about $100+ a month on Vocal. I have made over $500 in total and on the way to reach $500 with this blueprint.
This article is dedicated to making money writing on Vocal Media and sharing my experience as a writer and how you can do that the same. I am going to make over $250 this month writing on Vocal Media. In this article, you will learn some of the things that might help you start writing on Vocal.
You might never hear about Vocal Media but the platform is quite revolutionary. Industry-wise, they are paying a good CPM.
What is Vocal Media?
Vocal Media a website owned and operated by a public limited company. They pay you based on the number of reads you have. A read is calculated when someone interacts with your story or reaches the end. There isn't just a single way to make money on Vocal but you can do that in many ways.
I write my first story on Vocal 6-months ago and publishing almost every day for the past 2 months. I have made over $500 till now and planning to reach $500 a month on Vocal.
If you are getting 1500 reads a day and you are a Vocal+ member then this means that you are going to make $9 a day. The good thing is, you can publish as many stories as you want.
Writing on Vocal is free. You don't need to pay anything in order to write and make money. You, as a normal creator, will be paid $3.8 per 1,000 reads but if you subscribe to Vocal+ membership which costs $9.99 a month, you will get $6 per 1,000 reads.
You can follow my way; first, write on Vocal without getting a Vocal+ subscription, and when you are making enough money, subscribe to Vocal+ membership.
Following is some of the benefits of being a Vocal+ member;
As a Vocal+ member, you can make $6 per 1,000 reads compared to $3.8 as a normal, non-vocal+ member.
On Vocal, there is another feature to make money and that is through "Tipping" You will be charged 2% of services charges as a Vocal+ member compared to 6% services charges on Tips when you aren't a Vocal+ member.
As a Vocal+ member, you can take part in challenges and make a huge amount of money.
There are two potential ways to make money on Vocal;
Through getting reads. If you focus on getting reads then this means you are building a passive income stream on Vocal.
The second way is to take part in Vocal challenges. They pay $500 to $250 to the top 3 position holders.
Sharing my experience as a writer and how to grow your earnings:
When I discovered Vocal Media, I thought "This is the platform I was waiting for" The first story I wrote on Vocal was written in two days and it was my big hit. This motivates me to give more time to Vocal. Till now, I have published over 150 articles on Vocal and planning to publish over 600 articles this year on Vocal.
Someday, I will write a post about "How you can build a system around your writing that generates you $2,000 a month" but I suppose I will take some time.
My system of making money on Vocal without writing too much:
The best minds create a system not to work for a system.
Following are some of the mistakes Vocal creators do and you can correct them:
I am actively browsing on Vocal and here are some of the mistakes I have seen writers mostly do.
The title: The weirdest part is when the title is just 2 to 5 words. Your title should be at least 10 words long and is directed to search engine queries. If you want to write on Vocal, learn search engine optimization. Watch 5 different videos about SEO and you have a basic understanding of SEO.
Writing less and complaining more: Someone once commented on my video on YouTube "The platform is a complete scam, I have 5 articles and didn't make any money" You should write more and more articles. I am publishing 2 to 3 articles every day on Vocal as a student. It takes me one and a half hours to write a 1,000+ words article. Publish more that is directed toward the search engines and you will make more money.
Longer posts are the answer: Bloggers who write 2,000+ words articles are more likely to get good results. Sometimes, when I have a keyword that has good search volume, I put extra effort to make one of the best articles on the Internet. Write a really long article targeting a single keyword. Vocal has a good domain authority and I am sure it will get ranked. Some writers do mistakes by just writing a 600-words article and submitting it to Vocal.
5 Platforms to get more reads on your Vocal Stories:
Quora Spaces: I owned a Quora space with the name "Blogging and Marketing" It has over 170,000 followers and generates over 1,000 to 2,000 reads a month. It is just because I share one or two times a month. You can create a Quora space right now and start generating more numbers reads on your Vocal stories.
Writing under the 500-words story on Medium: Do you know? You can have multiple accounts on Medium. In other Medium accounts, I publish a story under 500-words and add my Vocal Media links. Medium has a good domain authority which could help you to get more reads on your Vocal articles.
Pinterest: Pinterest is another website where I publish pins for every story. The good thing about Pinterest is "Google gives it a lot of preference" Why is Google doing it isn't the right question but instead we have to look into the future of getting more readers and views on our Vocal stories.
Making a video about your article: This is my favorite. You can make a video about an article and publish it to and add your Vocal publish an article in the description of the video. One of my articles on Medium has over 7,000 reads just from YouTube.
Share it on Facebook groups: There is an article published on the Vocal resources center, this writer made over $2160 in one week just from the traffic coming from the Facebook group, you can build a Facebook group and get thousands of reads every single day.
What's the road map for getting successful on Vocal?
When you make an account on Vocal and connect your Stripe. Now, to be successful on Vocal, you have to do something.
Write long-form content and frequently: Write almost every day. I write 3,000 words every day on Medium & Vocal. Write long-form content as it will get you more reads. A writer on Medium publishes 40-stories a month. Now, to be competent in this hard-wrench world, you have to write every single day and be frequent.
Interlinking: When you publish a story on Vocal, you should add a link to it when you are writing a story related to the same topic. This will purpose two things; it would help you in converting a single reader to multiple reads and the second thing is that it would help you in search engine optimization.
Be Consistent: There are some writers who are doing great on Vocal but the sad reality is 'They leave the platform' but if you are consistent, publishing every single day or twice a week, you will be successful on Vocal.
The point is;
Consistent learning and find opportunities is where you could make big on Vocal.
PS: You can make a lot of money on Vocal Media:
You can make a lot of money on Vocal. Write every single day, be consistent, and share your work with the social media platform I have mentioned. Also, don't forget that if you want to build a passive income stream through your writings on Vocal then you have to target search engine optimization (SEO) by getting ranked on Google search.
I hope this helps.
This article is originally published by the Author in his Substack newsletter: The Aamir Kamal newsletter