Yep, it's WITCHING HOUR folks
This week's review slot (number seven if you are counting) takes a look at a bumper collection of fright night stories from 22 great authors. If you love a creepy quick read, this is for you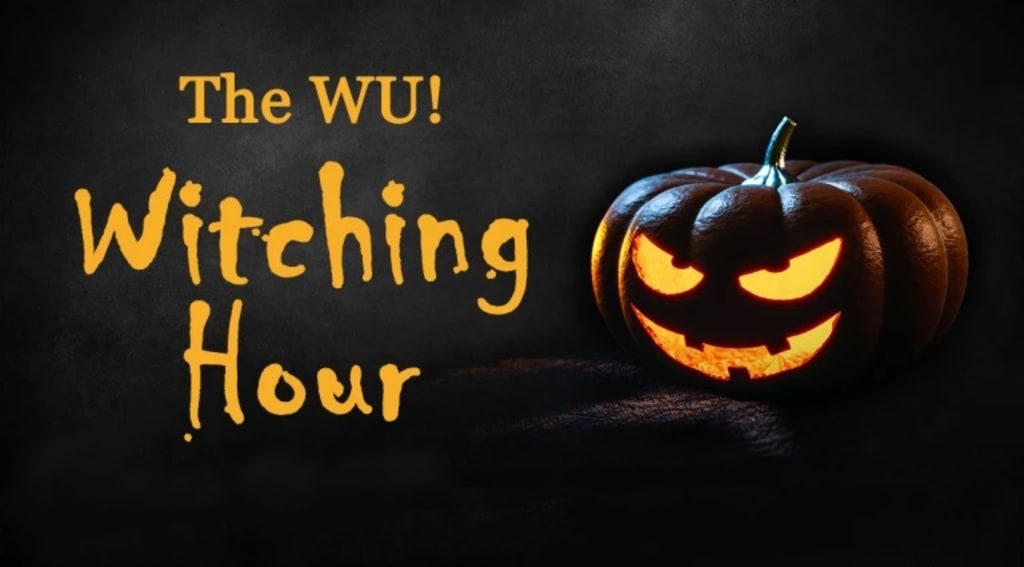 The WU! witching hour is a fab free collection of poems, flash, and short stories
For the latest reviews I have gone off-grid with a rundown of some brilliant spooky, scary, ghostly, ghoulish, shock horror, witchery and devilry stories, poems and flash fiction. All collected together by the wonderful and talented authors of the Writers Unite! Facebook group. A great read from 22 brilliant writers including yours truly. You will also find a lot of other super short stories on the WU! site along with details of what the group is about and how to join. Most of the stories in the WU! Witching Hour are written from word or picture prompts and include 100-word drabbles, other flash fiction, poems, and short stories up to 5,000 words. Something for everyone here and there are six parts. Here's my review of Part One and watch this space for others coming soon. Or just go read them all. If like me you love a spooky short read, you will not be disappointed. Oh, and if you like this review, please leave a comment at the end of the page to let me know. Likewise, if you would like me to review one of your works in a future episode of my weekly reviews slot.
For last week's reviews - week six - please: click here

To go straight to WU! Witching Hour: click here
WITCHING HOUR PART ONE
Comes the Night is a poem by Cheryl Ann Guido that tells of a candle-lit séance that strikes at our innermost fears. A timely lesson in why not to mess with unearthly forces.
Elaine Marie Carnegie-Padgett's The Witches' Ball is a coming-of-age story for one young witch determined to make her mark and learn how to master the art of spelling.
Creepy is a drabble (100-word story) which, I hope, speaks for itself. Just don't read it if you have a fear of spiders. One of my little contributions and please let me know what you think.
The Halloween Dance by Laura DePace tells, in verse, the tale of a ghoulish get together with ghosts, a haunted house, and an ethereal orchestra.
Calliope Njo's What's Next? presents a sinister scenario in a ruined house packed with cobwebs, dust balls, and an ominous bloodstained bed. Would anyone dare venture beyond the barricaded door?
Watch out for The Dead Of Night by Lisa Criss Griffin. Waking up to find oneself in the middle of an old cemetery in the dead of night? Who wouldn't find it highly disturbing? But at least you'd be able to get out alive. Wouldn't you?
Michele Sayre's What's Next? visit to a derelict house reveals more than just the dust and the debris. How will the two friends deal with the danger?
Seek and ye shall find, is the message in Lynn Miclea's Five Words poem. But in this case, do you really want to, and what will you discover when you do?
Dumb-assed Kid by Enzo Stephens tells the story of Billy Bob, whose painless and apparently senseless existence belies a hidden strength of character, as Billy Bob's pappy discovers.
D. A. Ratliff's Creepy flash may remind the reader that an irrational fear can make a lotta sense too. And you thought it was the trick-or-treaters that were supposed to be spooky...
There is always a hint of superstition and folklore about gypsies and Larry Trasciatti's Creepy drabble offers no exception. Nobody believes that stuff though, do they?
Those Among Us by Paula Shablo reminds folk that, though we sometimes feel that there are some among us we'd rather weren't, we should be grateful for small mercies and accept that it could be worse. Much, much worse!
Cheryl Ann Guido's offering to the What's Next? prompt creates a feeling that this may not be the elevator pitch she was looking for. Creepy or what?
D. A. Ratliff's The Invitation starts with a long drive to Martinsville, a treasured locket, and an appointment with destiny. Why go to all that trouble? Arriving at twilight does not bode well but did I mention the appointment with destiny?
Watch this space for a roundup of Witching Hour parts two to six
* * * * *
© Raymond G. Taylor, 2020-2022, all rights reserved. The author has asserted his right to be identified as the author of this work.
Please take a look at some of my other work here:
https://vocal.media/authors/raymond-g-taylor
I have recently published a collection of short stories Short and Sweet which is available in paperback and Kindle. It is available for a limited period from only $0.99 Get your copy now:
https://www.amazon.com/gp/product/B09HQ3QC1P/
Please visit the author on Facebook: Raymond.G.Taylor.author
About the Creator
Author based in Kent, England. A writer of fictional short stories in a wide range of genres, he has been a non-fiction writer since the 1980s. Non-fiction subjects include art, history, technology, business, law, and the human condition.
Reader insights
Be the first to share your insights about this piece.
Add your insights