Women Entrepreneurship In India
Importance of Women Entrepreneurship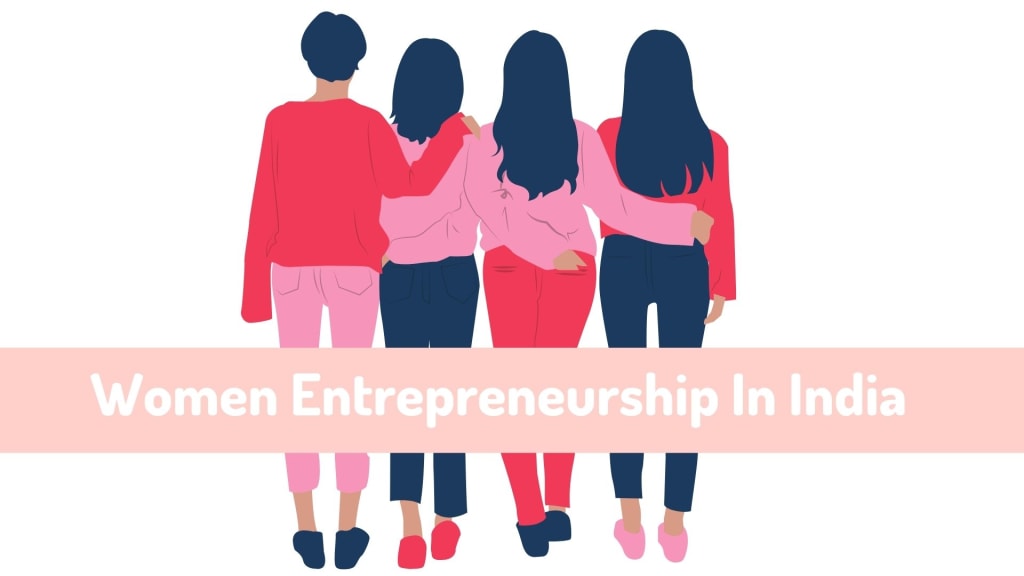 Women are usually considered weak members of society. However, they are breaking the barriers gradually and setting up their own company while exceeding their male counterparts in entrepreneurial journeys. Nearly half (48%) of India's population comprises women, and their participation in economic activities is around 25%.
Going by the records of Forbes India, women constitute about 30% of senior corporate management positions in India, which is higher than the 24% global average. However, due to the gender gap in the workforce, India is one of the lowest-ranked countries in the world, standing at 113th out of 135. Its rank lies 29th out of 31 countries in the 2015 Global Women Entrepreneurs Leader report by ACG Inc. Being the backbone of the family, women's social and economic growth is vital as we move forward in the 21st century.
How does one Define Women's Entrepreneurship?
According to the government of India, women entrepreneurship is defined as an enterprise owned and controlled by women with a minimum financial interest of 51% of the capital and providing at least 51% of the employment generated in the enterprise to women. It is based on the participation of women in equity and employment of a business enterprise.
Women entrepreneurs are those women who contemplate a business enterprise, initiate it, organise and amalgamate factors of production, operate the enterprise and go through risks and manage economic uncertainty involved in handling it.
"Women who innovate, initiate or adopt business actively are called women entrepreneurs," said Austrian economist Joseph Schumpeter.
Playing a pivotal role in society and inspiring others, women entrepreneurs generate more employment opportunities while independently establishing their enterprise and identity.
Women Entrepreneurs in India
Due to economic progress, improved access to education, urbanisation, liberal and democratic culture and recognition by society, there has been a gradual rise in women entrepreneurship in India.
One of the leading Women Entrepreneurs Association in the country is the Women Entrepreneurs Association of Maharashtra. (WIMA) and Women's Wing of National Alliance of Young Entrepreneurs.
Some of the Women Entrepreneurs In India are as follows:
Sunita Narain, an environmentalist and political activist, is a well-known social activist battling the importance of the Green concept of sustainable development. She has made India proud and has been currently chosen as the Society for Environmental Communications director. She was also awarded the prestigious Padma Shri award in 2005.
Sulajja Firodia Motwani, a leading name in Indian business, is presently the Joint Managing Director of Kinetic Engineering Ltd and handles the overall operations and business development strategies. She has been nominated as the business 'Face of the Millennium' by magazine India Today and as the 'Global Leader of Tomorrow' by the World Economic Forum'.
Mallika Srinivasan is the director of TAFE India and has been named as one of the top ten business women of the year in 2006. Her skills and strategies have assisted the company earn profits from a meager Rs. 85 core to a mammoth Rs. 2,900 cores. She is also a well-known figure in social services.
Dr Jatinder Kaur Arora has made India proud through her scientific research for the development of women. She is currently serving the prestigious post of a joint director in the Punjab State Council for Science and Technology and was honoured with the national award for her brilliant works.
Women entrepreneurs are usually found in the activities such as agro-business industries, offering services such as running a canteen or even a petrol pump, undertaking travel and tourism work, working as a subcontractor for providing raw material or for dispatching some services or spare parts to the large scale business unit, undertaking specific sales and marketing work.
Significance of Women in India's Entrepreneurship Sector
Women in India have been the victims of predefined gender roles. This broadly comprises hitting puberty, getting married off to a stranger without their consent, doubling up as a baby-making machine, and 'making a home'.
Women entrepreneurs have numerous qualities such as optimism, perseverance, hard work, patience, intelligence, etc. From pharma to designing, women entrepreneurs are positioned across sectors.
Indian women work in a dynamic culture as they are fast emerging as potential entrepreneurs. They explore the prospects of starting a new enterprise while undertaking risks and managing economic uncertainties.
Factors Influencing Women Entrepreneurship in India:
1) Family culture and traditions: It influences entrepreneurship. A woman entrepreneur will remain an entrepreneur if her family tradition is so or if she hails from a pioneer entrepreneur family.
2) Geographical factors and social factors: The society, the state and the area to which she hails also affect entrepreneurship.
The women entrepreneurs are restricted to metropolitan cities and urban areas, but they are successfully working in the rural areas.
Women also take up innovations with their unique approaches and conduct routine supervision as they coordinate administration.
Women have started dealing in consumer goods which have always been in demand in the market. Their utmost priority is in intermediate goods used in the production of other products, and primarily they are manufactured to the orders of huge companies.
They make balanced decisions, which are paramount for expanding her business network. Example: Someone has a tailoring shop but doesn't know how to sell its services to the military. So it becomes essential to help them out in filling out the tenders, getting their organisation registered and other related work.
Women companies are rapidly growing economies in almost all countries. Skills, knowledge and adaptability of the economy are significant reasons for women in the entrepreneurial sector.
business
Well I'm a graduate and working with "TrendyPuff" as a Digital Marketing Manger, have more than 6 years of experience. I assure you my digital marketing service fulfills your business desires.