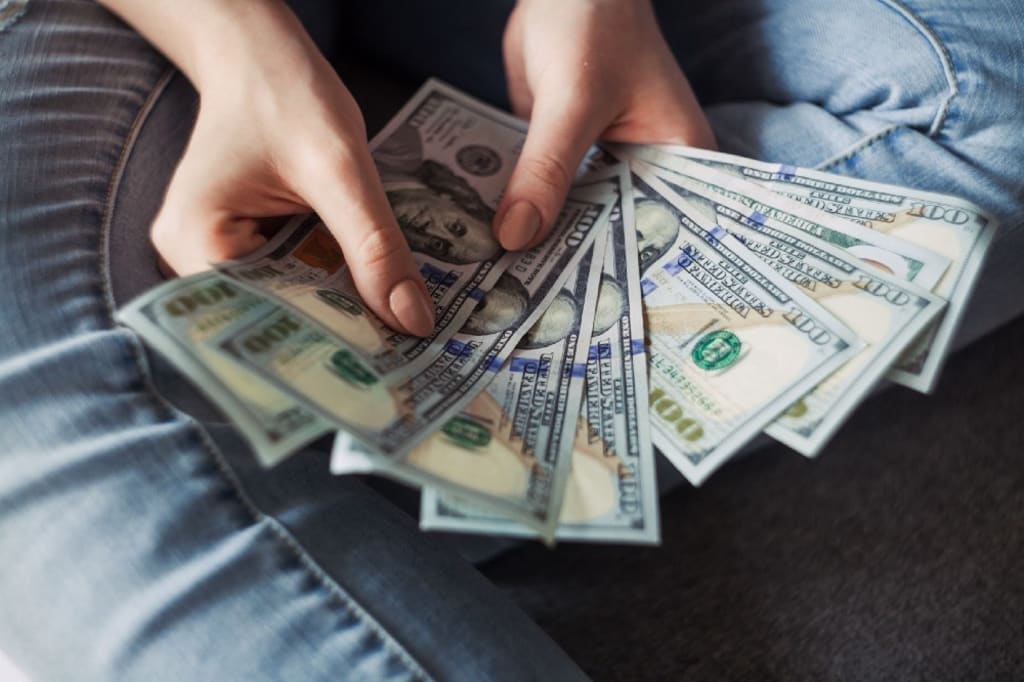 The first three we'll look at are great to supplement an income that you already have, such as from a full-time job.
The final three items on the list will be side hustles that could eventually lead to a full-time job.
1. A customer service representative or agent.
Many newer e-commerce companies, as well as some of your more traditional brick and mortar companies that you may have heard of, offer remote customer service positions.
Responding to emails from customers in response to frequently asked questions is usually what this entails.
You may have noticed some of those live chat help buttons while shopping on a website, and the people who respond to those are usually remote workers.
For any remote customer service position, it could also mean assisting customers if they had a problem with their order or even responding to angry comments on Facebook, Instagram, or wherever else that brand has a presence.
It will be beneficial for you to begin learning some of these different customer service management softwares and ticketing systems. Zendesk, Jira Live Agent, and Freshdesk are two popular ones that are widely used.
If you can demonstrate that you're already familiar with some of these, it'll help you stand out when these companies hire for remote positions.
2. Teach English on the Internet
Vipkid is one of the simplest platforms to use for this. What you'll be doing with vipkid is virtually teaching or tutoring children in China and assisting them in learning or improving their English skills. I've mentioned this in another video, but it's a great one.
If you're looking for a side hustle that's more flexible and on your own schedule, or if you're more of a digital nomad and find yourself travelling a lot and need location flexibility, vipkid allows you to open up your own time slots for whatever is most convenient for you.
You can do this from anywhere as long as you have a high-speed internet connection. I had a few friends do this after they graduated from college, and I know one person who did it on the side while working as an au pair in Paris.
Teaching can pay anywhere from $14 to $22 per hour.
So that's a pretty decent side gig.
If you decide to sign up for VIPKID, keep in mind the time zone.
If you live on the east coast of the United States, many of the most popular time slots will coincide with Beijing time.
However, if you travel to the west coast and are not a morning person, you may find it more difficult to open up some of those time slots during those peak times.
There are certainly people who can help.
That's just something to keep in mind, and if you're travelling to Australia or Southeast Asia, you'll most likely only be one or two hours out of Beijing's time zone. As a result, that could be a good option.
If you're over there, you'll need a bachelor's degree to work as a teacher for VIPkid.
You must also be eligible to work in the United States or Canada, and you must have prior experience working with children.
They want to see two years, but that could mean anything from working as a camp counsellor to babysitting. Some people keep their classes simple, while others go all out with their backgrounds and props, and there is a whole VIP Kids section on YouTube where teachers come up with these creative ideas.
So that's something to look into as well.
3.Affiliate marketing
Affiliate marketing is the practise of referring people to different companies, products, or services in exchange for a referral fee.
So all you need is a platform like youtube, a blog, or even your instagram page where you put the link in your bio or write an article about the product or service and put your links in there, and every time someone clicks on that link and buys the product or signs up for the service, you'll get a small commission, and the more people you refer, the more money you'll make, so there's no limit to how much money you can make.
However, the more you scale your audience on whatever platform you choose, the more likely it is that you'll be able to make more money from affiliate marketing. You'll typically find these companies through affiliate networks when you're doing affiliate marketing.
Clickbank, impact, radius, and share sale are a few of the most popular.
If you want to refer people to products from Amazon that you use. Amazon has an affiliate programme known as amazon associates.
Instead of signing up for a bunch of different affiliate networks first or if you're struggling to find something to refer people to one of the easiest things that you can do is grab an amazon affiliate link for any product on amazon and put that link wherever you want to start referring people to that product and you'll earn a small percentage that's based on the category of that product instead of going and signing up for a bunch of different affiliate networks first or if you're struggling to find something to refer people to one of
4. Work as an analyst
You could do this as a part-time job or as a full-time job.
Essentially, a data analyst gathers various data points in order to draw conclusions about various aspects of a company or service.
This could include anything from determining which features of a product are working or not working.
It could be analysing audience data from a website or identifying different trends that are occurring within a company or industry. For this job, some people go to school.
You don't, however, need a college diploma to get into it. You can learn it on your own or from YouTube videos, but Google also offers their own courses, which are relatively inexpensive when compared to other options.
Once you've gotten a handle on it, you can look for contracting or freelancing opportunities in data analytics.
You could find a part-time remote job with a larger company and eventually work your way up to making this your full-time job if you wanted to.
5. Work as a user experience (UX) or user interface (UI) designer
This could include anything from designing app interfaces to designing websites and ui. UX designers are well compensated, and there are numerous ways to get work in this field. You could work as a contractor or a freelancer.
You might be able to get a full-time job. You could start your own agency or provide ux and ui design consulting to businesses.
This is a job that takes a lot of time and skill to learn, especially at first, but you can learn a lot of it from YouTube, and if you need something more fast-paced and think you'd like to do this full-time, there are ui or ux design boot camps where you go through an intensive training programme.
Unfortunately, these can cost a few thousand dollars, but they are usually less than eight thousand.
If you're considering this as a college alternative, it can be a great option if you're looking for a part-time or full-time job, or even just trying to set your own rates for your own freelancing business.
You can always look up ux designer salaries on sites like Glassdoor or uxdesignersalaries.com, which will give you averages for various countries and states.
So if you're looking for an idea of where to set your rates, I'd look at those first and base your numbers off of that. Another tip for this when you're freelancing is to try to find clients who live out of state in some of those states that pay ux designers a higher salary. Clients from these states will often be looking for a little bit higher quality work at a higher price, which means you can more easily raise your rates as you get better.
6. Conducting website and application testing
After someone completes all of the ui and ux design, many companies will send it out to be tested to see if people will actually buy their product or if people can actually figure out how to use their app or website, and you can sign up to be one of the people who tests this. There are a number of different websites where you can do this, but one of the most popular is called user testing. They have a fairly simple sign-up process.
They give you instructions on how to do these reviews of these apps and websites, and then you'll be paid based on how long your review was if it was a recorded review or a live interview, but that's basically how it works with any of these websites.
Is that a company like Walmart will give them a page or a new website design to test out, and you'll be given that page along with a set of tasks to complete.
They'll ask you to walk through those tasks and verbalise what you're seeing and thinking as you go through the page, and then those companies will compile all of the reviews and walkthroughs and use that information to improve their websites and apps.
Many of these jobs will require you to be at least 18 years old.
Reader insights
Be the first to share your insights about this piece.
Add your insights